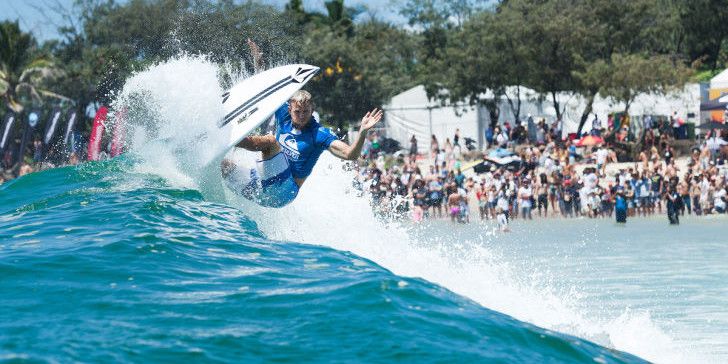 Quiksilver & Roxy Pros kick off on the Gold Coast. Photo: Dusty Payne © WSL/Kelly Cestari
World Surf League World Tour Men's & Women's event
Snapper Rocks, Queensland
28 February – 11 March 2015
2015 WSL CT  opening day finds Snapper rippable, Gold Coast Pro a go
Surf News Network, 27 February, 2015. Snapper Rocks, Queensland – The Quiksilver Pro Gold Coast kicked off with building 3-to-4-foot faces and big scores at Snapper Rocks. Drama unfolded in Heat 3 when goofyfooter Freddy Patacchia Jr. (HAW) took on two World Champions, Kelly Slater (USA) and C.J. Hobgood(USA). Slater, an 11-time World Champion, completed an impressive carving-360, but Patacchia answered with a flawless backhand attack for two scores in the excellent range (8.00 or above).
"I'm just happy that it's a new year," Patacchia said. "We get to start all over again from zero and show the judges and the fans what we've been working on in the offseason. I was able to pick off some pretty good waves out there and show what I've got. It felt great and I feel strong physically and mentally. It's only Round 1, but it's a good start."
Another standout surfer was John John Florence (HAW) who scored the season's first nine-pointer (a 9.07) for a roundhouse cutback and rail-to-rail surfing down the line in Heat 4. "I feel good and like the momentum is still going from last year," said Florence, who is starting the season ranked No. 3 in the world. "I learned a lot last year. It was so inspiring to watch Gabriel [Medina] win. I think it really pushed all us younger guys."

Gabriel Medina © WSL/Cestari
Along with the veterans on the Top 34, Tour rookies showed up in full effect. Matt Banting (AUS), who competed at the Gold Coast last year as a wildcard, owned the upset of the day. Up against three-time World Champ Mick Fanning (AUS), Banting unleashed powerful hacks to earn three excellent scores. Fanning returned to form to claim a 9.73 on his final wave but the rookie had already comboed the field.
"Coming in as one of the higher seeds in the QS (Qualifying Series) I didn't think I'd have to face Mick straight away," Banting said. "Having him and Freestone out here meant it was definitely a tough heat. It was so good to get a win so early in the year because I was so nervous going into it. I'm stoked to be here, in for the long run, and hopefully I'll get a few results this year and be back next year."
Wiggolly Dantas (BRA), another rookie, went blow-for-blow with reigning World Champion Gabriel Medina (BRA) in Heat 6. Dantas held the lead with two scores in the eight-point range, but Medina found a long, glassy wave that let him show off his technical prowess. He earned a 9.50 to win the heat.

Jordy Smith © WSL/Cestari
Dusty Payne (HAW), who is back on Tour after big results at the 2014Vans Triple Crown, proved to be yet another threat in the mix. After remaining relatively quiet for much of the heat, he completed a full rotation and multiple fins-free hacks down the line for a 9.67.
"I've been watching all morning and the guys making it through the heats are on the bigger waves, so that's what I tried to do," Payne said in his post-heat interview. "I want to be on this Tour for a long time. Hopefully I'll be here as long as Kelly's been here. He's a huge inspiration for me and I want to have a long and successful career like him."
When the men's competition resumes, up first will be Fanning against wildcard Reynolds in elimination Round 2.
Following Round 1 of the Quiksilver Pro the world's best female surfers took to the water for Round 1 of the Roxy Pro.

Silvana Lima © WSL/Cestari
Sally Fitzgibbons (AUS) began her 2015 campaign in Heat 2 against Courtney Conlogue (USA) and Nikki Van Dijk (AUS). The Australians went back and forth through most of the heat, but Conlogue came back in the final minutes to take the top spot. An impressive buzzer beater in the dying seconds saw Fitzgibbons light up Snapper Rocks and claim an excellent 9.23 for the win.
"I tried to go into that first Round nice and relaxed and feeling confident in my approach," Fitzgibbons said. "2015 is a new chapter for me. Heading into this next phase is about developing the things I'm passionate about. After publishing my first book it really inspired me and there's no time like the present to go out on my own and start a new business venture. I'm really excited about it and can't wait to see it come to fruition."
Silvana Lima (BRA) marked her return to the CT with an outstanding performing in Round 1. An in-form Lima posted two excellent scores, an 8.83 and a near-perfect 9.33 (the highest single-wave score of the Roxy Pro so far), to win the heat, upsetting reigning WSL Champion Stephanie Gilmore (AUS) in the process. Trials winner Bronte Macaulay (AUS) will join Gilmore in elimination Round 2.
"I'm here for the fight and I go out into the water to do my best," said Lima. "I feel confident – 100 percent, 1,000 percent – and I feel so great. This is the best surfing I've done in my life."

Courtney Conlogue © WSL/Cestari
Another exciting heat saw two-time Champion Carissa Moore (HAW) snatch the win from rookie Tatiana Weston-Webb (HAW) in the final moments of their Round 1 bout with Laura Enever (AUS). Moore's victory secures her place in Round 3, while her opponents will surf again in Round 2.
"Considering the conditions I'm stoked I got the win today," Moore said. "I've been working on having a strong overall game and being really enthusiastic and passionate about what I'm doing. I'm really excited and I'm looking forward to this season."
When the women's competition resumes, up first will be Conlogue against Erickson in elimination Round 2.
Event organizers will reconvene tomorrow morning at 7:30 a.m. local time to assess conditions for a possible 8 a.m. start.
Quiksilver Pro Gold Coast Round 1 Results:
Heat 1: Joel Parkinson (AUS) 15.16, Brett Simpson (USA) 11.87, Miguel Pupo (BRA) 11.00
Heat 2: Sebastian Zietz (HAW) 14.60, Michel Bourez (PYF) 14.44, Ricardo Christie (NZL) 8.94
Heat 3: Fredrick Patacchia (HAW) 17.06, Kelly Slater (USA) 14.43, C.J. Hobgood (USA) 12.50
Heat 4: John John Florence (HAW) 16.80, Glenn Hall (IRL) 12.84, Jadson Andre (BRA) 12.57
Heat 5: Matt Banting (AUS) 17.76, Mick Fanning (AUS) 17.06, Jack Freestone (AUS) 15.83
Heat 6: Gabriel Medina (BRA) 18.30, Wiggolly Dantas (BRA) 16.93, Dane Reynolds (USA) 8.27
Heat 7: Jordy Smith (ZAF) 16.14, Kai Otton (AUS) 15.03, Jeremy Flores (FRA) 12.67
Heat 8: Dusty Payne (HAW) 16.34, Adriano de Souza (BRA) 12.53, Filipe Toledo (BRA) 11.66
Heat 9: Bede Durbidge (AUS) 17.19, Taj Burrow (AUS) 15.80, Keanu Asing (HAW) 12.43
Heat 10: Matt Wilkinson (AUS) 13.44, Adrian Buchan (AUS) 13.44, Josh Kerr (AUS) 4.10
Heat 11: Julian Wilson (AUS) 15.43, Italo Ferreira (BRA) 14.97, Kolohe Andino (USA) 10.43
Heat 12: Nat Young (USA) 15.80, Adam Melling (AUS) 10.30, Owen Wright (AUS) 9.10
Quiksilver Pro Gold Coast Round 2 Match-Ups:
Heat 1: Mick Fanning (AUS) vs. Dane Reynolds (USA)
Heat 2: Kelly Slater (USA) vs. Jack Freestone (AUS)
Heat 3: Michel Bourez (PYF) vs. Glenn Hall (IRL)
Heat 4: Adriano de Souza (BRA) vs. C.J. Hobgood (USA)
Heat 5: Taj Burrow (AUS) vs. Ricardo Christie (NZL)
Heat 6: Josh Kerr (AUS) vs. Brett Simpson (USA)
Heat 7: Kolohe Andino (USA) vs. Jeremy Flores (FRA)
Heat 8: Owen Wright (AUS) vs. Keanu Asing (HAW)
Heat 9: Adrian Buchan (AUS) vs. Italo Ferreira (BRA)
Heat 10: Filipe Toledo (BRA) vs. Adam Melling (AUS)
Heat 11: Kai Otton (AUS) vs. Wiggolly Dantas (BRA)
Heat 12: Miguel Pupo (BRA) vs. Jadson Andre (BRA)
Roxy Pro Gold Coast Round 1 Results:
Heat 1: Malia Manuel (HAW) 13.80, Sage Erickson (USA) 13.33, Johanne Defay (FRA) 12.03
Heat 2: Sally Fitzgibbons (AUS) 16.56, Courtney Conlogue (USA) 16.30, Nikki Van Dijk (AUS) 12.50
Heat 3: Silvana Lima (BRA) 18.16, Stephanie Gilmore (AUS) 14.00, Bronte Macaulay (AUS) 9.73
Heat 4: Dimity Stoyle (AUS) 11.76, Alessa Quizon (HAW) 10.26, Tyler Wright (AUS) 6.97
Heat 5: Carissa Moore (HAW) 15.00, Tatiana Weston-Webb (HAW) 14.86, Laura Enever (AUS) 12.00
Heat 6: Lakey Peterson (USA) 15.40, Coco Ho (HAW) 14.13,  Bianca Buitendag (ZAF) 12.63
Roxy Pro Gold Coast Round 2 Match-Ups:
Heat 1: Courtney Conlogue (USA) vs. Sage Erickson (USA)
Heat 2: Johanne Defay (FRA) vs. Nikki Van Dijk (AUS)
Heat 3: Stephanie Gilmore (AUS) vs. Bronte Macaulay (AUS)
Heat 4: Tyler Wright (AUS) vs. Alessa Quizon (HAW)
Heat 5: Bianca Buitendag (ZAF) vs. Tatiana Weston-Webb (HAW)
Heat 6: Laura Enever (AUS) vs. Coco Ho (HAW)