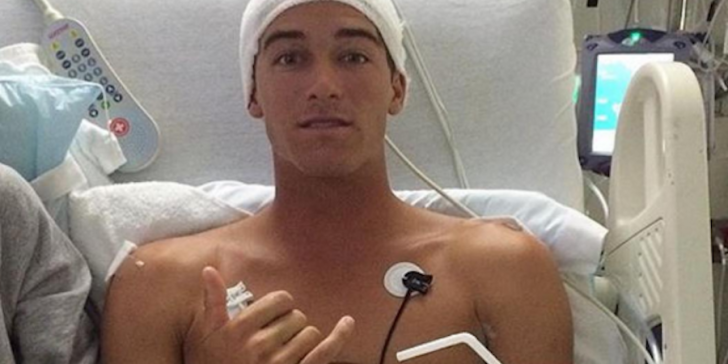 The entire North Shore was in a state of shock on Sunday as 22-year-old Floridian Evan Geiselman took a nasty wipeout at Pipeline. After pulling into a closeout, Evan reportedly hit his head and ended up unconscious; he was held under for three whole waves.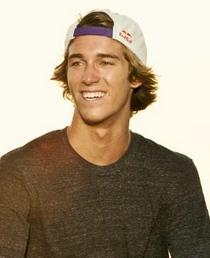 Evan Geiselman has been a competing surfer since the age of seven. He has won 12 East Coast Championship titles. He is the younger brother of professional surfer Eric Geiselman.
Although the lineup was fairly thin due to some wild conditions, Evan had someone looking out for him. Professional bodyboarder Andre Botha was in the water and helped get Evan to shore where Mick Fanning, Danny Fuller, and other surfers and lifeguards helped to get him stable. Evan was rushed to Queens Medical Center in Honolulu. On Sunday evening, he posted a photo to Instagram, letting the world know he was on his way to recovery and expressing his gratitude to Andre Botha.
And on Monday, Andre appeared to have visited Evan in the hospital. He posted a photo to his Instagram account with Evan smiling, throwing a shaka, a bandage around his head, and some medical wiring attached to his body. It's not clear whether the two were friends before, but after this harrowing incident, they certainly are now. Here's what
Andre wrote:
andre_botha_662 It makes me so Happy that @evangeiselman is doing well and throwing a Shaka! What a strong young man! Thank you so much to everyone for all the support and encouragement… For taking the time to express heartfelt Thank You's. I really appreciate all the Love. Not sure I'm worthy of such praise but for once in my life I can honestly say that I'm proud to be a human being. I also think it's important to thank all the people that are saving lives everyday and don't get the recognition and pats on the back that they deserve. Thank you @northshorelifeguardassociation you guys are the true heroes! Thank You everyone for your kindness. Lots of love‼️ @eric_geiselman
In case u missed it.