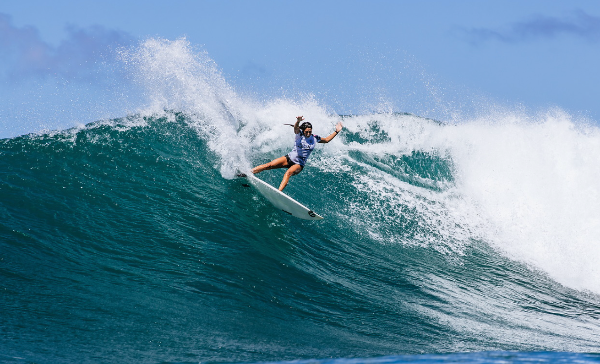 Presented by SHISEIDO
Barron takes out Kanoa and Brissa beats Malia…
3pm A new solid moderate NW (51001 easing 6'13sec, Hanalei 5′ 14s, Waimea 4′ 15s)
Pictured front page: Local charger Malia Manuel (HAW) advances to the Semifinals at Hurley Pro Sunset Beach Presented by SHISEIDO Credit: © WSL
SUNSET BEACH, Oahu, Hawaii/USA (Thursday, February 17, 2022) –  The Hurley Pro Sunset Beach presented by SHISEIDO hosted an action-packed day in six-to-ten foot surf for the women's Opening Round 1, Elimination Round 2, Round of 16, and Quarterfinals. The second stop on the World Surf League (WSL) Championship Tour (CT) saw 14 competitors eliminated from the draw to determine the final four surfers: Gabriela Bryan (HAW), Malia Manuel (HAW), Brisa Hennessy (CRI), and Bettylou Sakura Johnson (HAW) . The conditions are lining up for a potential Finals Day tomorrow, and event organizers will make the call tomorrow morning at 7:50 a.m. HST for a possible 8:00 a.m. start.
Rookies Eliminate WSL Champions Gilmore, Moore and Wright
Following yesterday's upsets during the men's competition, the women's Hurley Pro Sunset Beach presented by SHISEIDO also saw major shake-ups throughout the day. Rookie Gabriela Bryan (HAW) started things off by eliminating seven-time WSL Champion Stephanie Gilmore (AUS) after a close heat in the Round of 16. Both surfers scored waves in the 6-point range, but Gilmore's combined total was short of 0.72 and Bryan took the win.
"I basically just had a shocker out there," said Gilmore. "I couldn't really find my feet out there. It was a battle with Gabriela. I could always see her doing well out here and, unluckily for me, I got her in an early round. You got to just shake losses like this one off and now look forward to heading to Europe and that's really all you can do is keep pushing on and try to make the cut."
"A lot of the Rookies this year are from Hawaii and they're just so strong on their feet," continued Gilmore. "I was thinking about my early career and starting the year at my home break and how much of an advantage that was. So for these young girls having the comfort of your home break is really great for them."
Bryan moved on with confidence to the Quarterfinals where she faced rookie Luana Silva (HAW). Both Bryan and Silva scored excellent waves, but Bryan was able to close the heat combined score ahead of Silva and took the win, advancing to the Semifinals where she will face Malia Manuel (HAW).
"I'm so happy right now," said Bryan. "Luana is such a good friend of mine, she is probably one of my best friends on tour. It always sucks to come up against your friend. Now it will be a super good match between Malia and I. I've looked up to Malia my whole life coming from Hawaii, she is one of my inspirations. So it should be really fun going out there and having a heat with her."
Five-time World Champion Moore had to say goodbye to Sunset Beach after getting eliminated in Heat 5 of the Round of 16 by CT rookie Molly Picklum (AUS). Picklum advanced to the Quarterfinals to face Brisa Hennessy (CRI), but couldn't stop the CT veteran from advancing to the Semifinals.
"It's such an honor to be in the lineup with her," said Picklum. "I think you have to give your all to beat someone like Carissa, so I'm super excited to come out on top. I think it's great to be a rookie because we have nothing to lose. We deserve to be here, and to surf along with them. So it's just exciting."
Two-time WSL Champion Tyler Wright (AUS) started off the day with a solid performance, winning her first heat against India Robinson (AUS) and Gilmore. She went on to face local charger Manuel in the Round of 16. Wright's combined score of 11.77 (out of a possible 20) could not overcome Manuel's 14.33.
"Sunset and Malia really suit," said Wright. "I'm a really big fan of hers out here. I think she is one of the most underrated surfers on the tour. When she connects, she really does connect and get the biggest scores. Massive respect to Malia, she put on a good show."
World No. 1 Jones Wong Falls Early in Elimination Round, While Rookies Silva, Picklum and Robinson Finish in Equal 5th 
Event wildcard and current World No. 1 Moana Jones Wong (HAW) was eliminated from the competition in equal 17th place. Despite blitzing through heats at the Billabong Pro Pipeline, Jones Wong struggled to get through her opening heat at the Hurley Pro Sunset Beach against Moore and Bettylou Sakura Johnson (HAW), and had to face Gilmore and Silva in her second heat of the day. In a close battle, the three surfers used their 30-minute heat to improve their scores, switching places at the scoreboard throughout the heat. With seconds left on the clock, Silva scored a clutch final wave and eliminated Jones Wong from competition.
"I'm just so happy to have an opportunity to get another wildcard just down the road from Pipe," said Jones Wong. "I feel like I surfed well and I'm stoked. It's totally a dream come true to be here, and I'd hope to make it into the CT, that's always been a dream of mine. So, give me more wildcards, guys!"
Before getting eliminated by Bryan, Silva caused another major upset by eliminating 2021 World No. 2 Tatiana Weston-Webb (BRA) during Heat 3 of the Round of 16.
Last Quarterfinal of the day saw rookies India Robinson (AUS) and Sakura Johnson fight for their best result in the CT so far. Haleiwa local Sakura Johnson dominated the heat and locked in a spot at the Semifinals, where she will face Hennessy.
​​"My brain is exhausted, but I'm super stoked to make it to the next round," said Sakura Johnson. "I think that starting (the season) from home is always a strong start. You know the waves, you know the water, know exactly what to do. It kind of just plays in your hand, so you just get to surf more."
Hurley Pro Sunset Beach presented by SHISEIDO Women's Opening Round 1 Results:
HEAT 1: Molly Picklum (AUS) 12.50 DEF. Johanne Defay (FRA) 11.67, Gabriela Bryan (HAW) 9.27
HEAT 2: Malia Manuel (HAW) 14.00 DEF. Tatiana Weston-Webb (BRA) 9.40, Bronte Macaulay (AUS) 9.20
HEAT 3: Bettylou Sakura Johnson (HAW) 14.84 DEF. Carissa Moore (HAW) 11.43, Moana Jones Wong (HAW) 11.34
HEAT 4: Brisa Hennessy (CRI) 13.04 DEF. Sally Fitzgibbons (AUS) 13.00, Luana Silva (HAW) 7.84
HEAT 5: Courtney Conlogue (USA) 16.27 DEF. Lakey Peterson (USA) 10.00, Isabella Nichols (AUS) 6.00
HEAT 6: Tyler Wright (AUS) 14.43 DEF. India Robinson (AUS) 9.50, Stephanie Gilmore (AUS) 5.84
Hurley Pro Sunset Beach presented by SHISEIDO Women's Elimination Round 2 Results:
HEAT 1: Luana Silva (HAW) 12.30 DEF. Stephanie Gilmore (AUS) 11.33, Moana Jones Wong (HAW) 10.74
HEAT 2: Gabriela Bryan (HAW) 14.93 DEF. Isabella Nichols (AUS) 10.77, Bronte Macaulay (AUS) 2.17
Hurley Pro Sunset Beach presented by SHISEIDO Women's Round of 16 Results:
HEAT 1: Johanne Defay (FRA) 15.73 DEF. Courtney Conlogue (USA) 7.83
HEAT 2: Malia Manuel (HAW) 14.33 DEF. Tyler Wright (AUS) 11.77
HEAT 3: Luana Silva (HAW) 12.50 DEF. Tatiana Weston-Webb (BRA) 10.34
HEAT 4: Gabriela Bryan (HAW) 13.16 DEF. Stephanie Gilmore (AUS) 12.44
HEAT 5: Molly Picklum (AUS) 13.03 DEF. Carissa Moore (HAW) 11.20
HEAT 6: Brisa Hennessy (CRI) 12.34 DEF. Isabella Nichols (AUS) 10.27
HEAT 7: India Robinson (AUS) 14.77 DEF. Sally Fitzgibbons (AUS) 11.33
HEAT 8: Bettylou Sakura Johnson (HAW) 12.10 DEF. Lakey Peterson (USA) 10.23
Hurley Pro Sunset Beach presented by SHISEIDO Women's Quarterfinals Results:
HEAT 1: Malia Manuel (HAW) 11.67 DEF. Johanne Defay (FRA) 10.06
HEAT 2: Gabriela Bryan (HAW) 15.27 DEF. Luana Silva (HAW) 14.33
HEAT 3: Brisa Hennessy (CRI) 14.77 DEF. Molly Picklum (AUS) 13.16
HEAT 4: Bettylou Sakura Johnson (HAW) 9.16 DEF. India Robinson (AUS) 5.40
Hurley Pro Sunset Beach presented by SHISEIDO Women's Semifinals Matchups:
HEAT 1: Malia Manuel (HAW) vs. Gabriela Bryan (HAW)
HEAT 2: Brisa Hennessy (CRI) vs. Bettylou Sakura Johnson (HAW)
Hurley Pro Sunset Beach presented by SHISEIDO Men's Quarterfinals Matchups:
HEAT 1: Caio Ibelli (BRA) vs. Ezekiel Lau (HAW)
HEAT 2: Barron Mamiya (HAW) vs. Seth Moniz (HAW)
HEAT 3: Ethan Ewing (AUS) vs. Jake Marshall (USA)
HEAT 4: Jack Robinson (AUS) vs. Kanoa Igarashi (JPN)