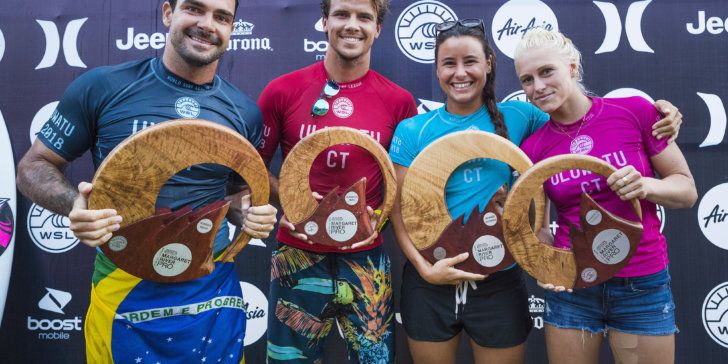 WILLIAN CARDOSO AND JOHANNE DEFAY CLAIM SENSATIONAL WINS AT ULUWATU CT 
– JULIAN WILSON AND TATIANA WESTON-WEBB FINISH RUNNERS-UP
– JULIAN WILSON REGAINS JEEP LEADER JERSEY, LAKEY PETERSON STILL HANGS ON
–  DEFAY TAKES THIRD CT VICTORY OF CAREER
– MORE INFORMATION AT WORLDSURFLEAGUE.COM
Men's Jeep Leaderboard (after Uluwatu CT)
1 – Julian Wilson (AUS) 27,215 pts
2 – Filipe Toledo (BRA)  25,900 pts
3 – Italo Ferreira (BRA) 24,995 pts
4 –  Gabriel Medina (BRA) 20,990 pts
5 –  Willian Cardoso (BRA) 19,740 pts
Women's Jeep Leaderboard (after Uluwatu CT)
1 – Lakey Peterson (USA) 35,630 pts
2 – Stephanie Gilmore (AUS) 35,575 pts
3 – Tatiana Weston-Webb (BRA) 29,160 pts
4 – Tyler Wright (AUS) 24,800 pts
5 – Johanne Defay (FRA) 22,305 pts
Uluwatu CT finalists from left-to-right, Willian Cardoso (BRA), Julian Wilson (AUS), Johanne Defay (FRA), and Tatiana Weston-Webb (BRA).
Credit: © WSL / Cestari
Location:   
 Uluwatu, Bali, Indonesia
Event window:
 June 8 –  

June 11, 2018

Today's call:
 Congratulations Willian Cardoso and Johanne Defay
Conditions:
 Clean 4 – 6 Foot (1.4 – 2 metres)
Uluwatu, Bali/Indonesia (Saturday, June 9, 2018) –  Johanne Defay (FRA) and Willian Cardoso (BRA) have won through a marathon day of surfing at the Uluwatu CT, the make-up event for Stop No. 3 on the World Surf League (WSL) Championship Tour (CT) on Bali's Bukit Peninsula. The iconic lefthander dished up pumping 4-to-6 foot (1.4 – 2 metre) waves for the Final day of competition that started running just after sunrise and saw the final siren sound moments before the sunset.
2018 CT Rookie Cardoso was the in-form surfer of the event, posting massive scores and dominating performances over both days of competition. The Final was no different as he came up against World Title threat Julian Wilson (AUS). Wilson kept busy in the Final, catching a number of waves, but struggled to find anything of substance, while the Brasilian picked off set waves and demolished them to post a 15.57 (out of a possible 20) heat total. After a frustratingly close loss in the Quarterfinals of the Corona Bali Protected, Cardoso was determined to not let another shot at a CT win slip through his grasp, and although Wilson put in a solid last ditch effort to grab the lead, Cardoso seemed destined to take the win.
"I feel like my heart is about to explode," Cardoso said. "After I got through my Quarterfinal, I was feeling good and starting to think I could go all the way. I saw Julian (Wilson) get a great wave at the end of the Final and I was a little worried. He needed a really big score and it wasn't enough. I have worked so hard to get to this moment. Thank you to everyone who has supported me over the years." 

Uluwatu CT Men's winner Willian Cardoso was on a tear in Bali.
Credit: © WSL / Sloane
Cardoso competed on the CT in 2015 as an injury replacement, but at 32-years-old is a rookie this season after a long Qualifying Series campaign. The Santa Catarina, Brazil local, claimed an emphatic win in pumping surf over some serious competitors to rocket 11 spots up the Jeep Leaderboard, from 16th to 5th.
"I had to be at my best today, I can't believe I won!" Added Cardoso. "Today I beat Julian Wilson, Mikey Wright and Filipe Toledo who are all amazing surfers. This is the best day of my life, I have waited so long for this moment."

 Willian Cardoso is chaired to victory at his maiden CT win.
Credit: © WSL / Cestari
The women's Final was an all-time, goofy versus natural-footer battle as Defay came up against 2018's most consistent surfer Tatiana Weston-Webb (BRA) at the Uluwatu racetrack. Weston-Webb looked in control of the 35-minute Final as Defay struggled to post the score she needed to take the lead. In the final minute, Defay found a set and went to work, narrowly flying past Weston-Webb by just 0.46 points, to take her first CT win since the Fiji Pro in 2016. With the third CT victory of her career, Defay moves into 5th place on the Jeep Leaderboard.  
"This is crazy," said Defay. "Everyone on Tour surfs so good and deserves to win, but I am glad it was my turn today. It was special for me to have my partner in the water to celebrate the win, you go through ups and downs as a professional athlete and to be able to share that moment with him was incredible."
"It's been a strange year for me," Defay continued. "I haven't gotten the results I want, but I feel like I've been surfing good. To win in perfect surf in Bali is a dream come true. Tatiana (Weston-Webb) was surfing so good today. I was expecting her to get 8-point-rides on every wave. In the end, I needed a 6 and it came down to my last wave, I knew it would be close. It was a great wave, but it has some bumps on it and I wobbled through some turns. Luckily for me, it was enough."
 Johanne Defay (FRA) taking the third CT victory of her career at the Uluwatu CT.
Credit: © WSL / Cestari
Although Wilson did not finish on top of the podium, he redeemed himself from a disappointing finish at the Corona Bali Protected last week. Another Final appearance this year places the Australian back on top of the Jeep Leaderboard as he chases his maiden WSL Title in 2018.
"It's been a really long day, and I'm burnt out right now," Wilson said. "I didn't get the result I wanted at Keramas last week, so to be able to switch gears and get a runner-up finish here at Uluwatu feels good. I'm not thinking too much about being back on top of the Jeep Leaderboard, it's nice, but it's only halfway through the season and there's a lot heats still to come. I'm excited to get home to my wife and daughter and reset for the Corona J-Bay Open."
\
 Julian Wilson (AUS) finishes runner-up at the Uluwatu CT.
Credit: © WSL / Cestari
Although Weston-Webb came short in the Final, her campaign through both events in Bali was phenomenal, taking down Stephanie Gilmore (AUS) in the Semifinals at Uluwatu and in the Quarterfinals at the Corona Bali Protected. Weston-Webb's second runner-up finish for 2018 solidifies her position in 3rd place on the Jeep Leaderboard.
"I was feeling so good at this event, I thought I was going to win," Weston-Webb said. "It really hurts to lose in the last minute, especially on such a close score, but that's competition. I'm really happy with how my year is going. My coaches and my boards and my support crew have all been great."
The women's Semifinal saw two Australian powerhouses, six-time WSL Champion Gilmore and reigning, two-time WSL Champion Tyler Wright (AUS) bow out with Equal 3rd place finishes. With this finish, Gilmore narrows the gap on the Jeep Leaderboard, now only 55 points behind current Jeep Ranking's Leader Lakey Peterson (USA), who finished in Equal 5th at the Uluwatu CT and is now sitting in 4th on the Jeep Leaderboard.
On his way to the Final, Cardoso needed to overcome the rampant wildcard 
Mikey Wright (AUS)
, who continued his history-making run at the elite level, finishing Equal 3rd at the Uluwatu CT.  All year, Wright has been known for big upsets against top seeds, and he continued the trend today by taking down 2014 WSL Champion Gabriel Medina (BRA). Wright now sits at 7th on the Jeep Leaderboard and is in good stead to qualify for the 2019 CT as a full-time competitor.
The Uluwatu CT was called on after the cancellation of the Margaret River Pro in April. The competitors' results and points for this event will be counted toward finishing the canceled event.The Uluwatu CT event is proudly supported by Jeep, Corona, Hurley, Boost Mobile and AirAsia.
The next stop on the WSL CT will be the Corona Open J-Bay, which opens July 2, 2018 for the men's and July 6, 2018 for the women's.
Uluwatu CT Men's Final Results:
1
– Willian Cardoso (BRA) 15.57
2
 – Julian Wilson (AUS) 14.43
Uluwatu CT Women's Final Results: 
1
 – Johanne Defay (FRA) 13.13
2
– Tatiana Weston-Webb (BRA) 12.67
Uluwatu CT Men's Semifinal Results: 
SF1:
Julian Wilson (AUS) 15.83 def. Kolohe Andino (USA) 14.53
SF2:
 Willian Cardoso (BRA) 13.77 def. Mikey Wright (AUS) 13.16
Uluwatu CT Women's Semifinal Results: 
SF1: Tatiana Weston-Webb (BRA) 14.50 def. Stephanie Gilmore (AUS) 2.50
SF2: Johanne Defay (FRA) 13.77 def. Tyler Wright (AUS) 13.73
Uluwatu CT Men's Quarterfinal Results: 
QF 1: Kolohe Andino (USA) 14.33 def. Conner Coffin (USA) 11.83
QF 2: Julian Wilson (AUS) 16.20 def. Jordy Smith (ZAF) 15.50
QF 3: Mikey Wright (AUS) 11.13 def. Gabriel Medina (BRA) 10.90
QF 4: Willian Cardoso (BRA) 14.24 def. Filipe Toledo (BRA) 11.67
Uluwatu CT Women's Quarterfinal Results: 
QF1: Tatiana Weston-Webb (BRA) 13.10 def. Carissa Moore (HAW) 12.66
QF2: Stephanie Gilmore (AUS) 11.83 def. Bronte Macaulay (AUS) 7.64
QF3: Johanne Defay (FRA) 13.00 def. Nikki Van Dijk (AUS) 6.97
QF4: Tyler Wright (AUS) 10.50 def. Lakey Peterson (USA) 9.84
Uluwatu CT Men's Round 4 Results: 
Heat 1: Kolohe Andino (USA) 9.34 def. Jordy Smith (ZAF) 9.10, Owen Wright (AUS) 8.47
Heat 2: Julian Wilson (AUS) 14.13 def. Conner Coffin (USA) 13.04, Michael Rodrigues (BRA) 11.50
Heat 3: Gabriel Medina (BRA) 17.07 def. Willian Cardoso (BRA) 14.66, Connor O'Leary (AUS) 14.63
Heat 4: Filipe Toledo (BRA) 10.50 def. Mikey Wright (AUS) 8.83, Joan Duru (FRA) 7.44
Uluwatu CT Men's Remaining Round 3 Results: 
Heat 10: Filipe Toledo (BRA) 12.54 def. Yago Dora (BRA) 11.83
Heat 11: Joan Duru (FRA) 12.67 def. Joel Parkinson (AUS) 11.70
Heat 12: John John Florence (HAW) vs. Mikey Wright (AUS)* (Wright progresses as Florence out injured)