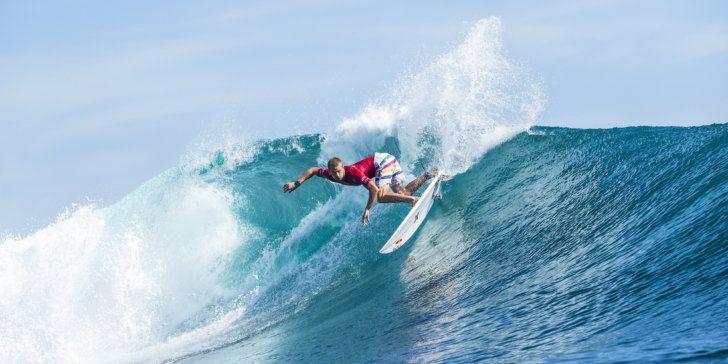 CURRENT JEEP LEADER ITALO FERREIRA IS ELIMINATED IN EQUAL 13TH PLACE
CALIFORNIAN KOLOHE ANDINO FINDS FORM AT ULUWATU
JULIAN WILSON AND GABRIEL MEDINA SNEAK PAST WILDCARDS
FUN SSW FOR THE WEEKEND
Kolohe Andino (USA) had a breakthrough performance today at the Uluwatu CT posting the highest single wave score of the round so far.
Credit: © WSL / Cestari
Location:   
 Uluwatu, Bali, Indonesia
Event window:
 

June 8 –  June 11, 2018

Today's call:
 Men's Round 3 Heats 1 – 9 completed
Conditions:
 Clean 3 – 4 Foot (1 – 1.7 metres)
Uluwatu, Bali/Indonesia (Friday, June 8, 2018) –  The Uluwatu CT, the make-up event for Stop No. 3 on the World Surf League (WSL) Championship Tour (CT), commenced today with men's Round 3 running through heats 1 – 9. Clean and pulsing 3-to-4 foot (1.2-1.5 metre) waves rolled through the Uluwatu lineup, offering up tubes and perfect walls for the world's best surfers. 
Californian standout Kolohe Andino (USA) hasn't had the ideal start to his season, only making it beyond Round 3 once. Keen to make amends for his last-place finish at the Corona Bali Protected, Andino looked focused coming into his Round 3 matchup with 2018 CT Rookie Jesse Mendes (BRA). In a classic goofy vs. natural foot battle, the two went wave-for-wave, pushing each other to perform to their best. While both competitors posted good scores, it was Andino's committed backhand attack that saw him post an excellent single wave score of 8.40 (out of a possible 10), the highest of the round so far, to take the win.
"It felt good to be pushed and still be able to hold on to the win," Andino said. "This year hasn't really gone to plan, but it only takes one event to turn that all around, so hopefully for me it's Uluwatu. I'm loving my time in Indonesia so far and I think the surf will be a lot better tomorrow. I'm really excited for the next round because this wave is insane."
The biggest upset of the day happened when 2018 CT Rookie Michael Rodrigues (BRA) took down current Jeep Leader Italo Ferreira (BRA) in Heat 4 of Round 3. Fresh off a win at the Corona Bali Protected, Ferreira was the man to beat at Uluwatu, as he sets his sights on a maiden World Title. Rodrigues' backhand was on point, going vertical through the critical sections to overcome his compatriot and set up a Round 4 matchup with Conner Coffin (USA) and Julian Wilson (AUS).
Italo Ferreira in the Jeep Leader Jersey comes off in Indo. WSL / KELLY CESTARI
"That's unbelievable — I'm so happy!" Rodrigues said. "I am so sad to knock Italo (Ferreira) out of this contest because I love him. When I'm in a heat I just go and do my best not to think about the competition or about what surfer I am up against, I just focus on myself and surfing my best. It worked for me today."
Michael Rodrigues, aka M-Rod causing the upset of the day.WSL / KELLY CESTARI
After an Equal 13th place finish at the Corona Bali Protected last week, Owen Wright (AUS)was eager to push deep into the draw at the Uluwatu CT but before he could do so would have to overcome Keanu Asing (HAW) in Heat 1 of Round 3. Known for his pinpoint backhand Asing was always going to be tough to beat and he posted the first solid score of the heat. Needing a solid number to retain the lead, Wright scooped into a solid set wave and got barrelled all the way down the line to clinch the win.
"It's great to be here competing in paradise," Wright said. "I've got a lot of great memories surfing here as a kid on family holidays. Plus I competed here for a CT 10 years ago. What makes this place incredible is how many surfers it can support at one time, along this thin stretch of coastline there are so many waves. I love it here. It feels good to make that heat and I feel this event is going to change up the rankings a lot."
Heat 3 was an all South African affair, as perennial title threat Jordy Smith (ZAF) took on 2018 CT Rookie Michael February (ZAF) in a historical matchup at Uluwatu. Smith's experience paid off as he waited patiently for set waves to post a heat total of 15.33 (out of a possible 20) to his countryman's 7.26. February struggled to find rhythm at Uluwatu leaving Smith to take the win and progress into Round 4 where he will matchup with Owen Wright (AUS) and Kolohe Andino (USA) in Heat 1 of Round 4.
Jordy Smith fitting his large frame into a tight tube.WSL / KELLY CESTARI
"I've had to forget about the bad results at the start of the year and approached Keramas care-free and hopefully I can do the same here," Smith said. "It's tough coming up against another South African, I want to see him do well and I'm sure he's going to get a big result soon, but this is our job and I had to go to work. We were calling that heat Zulu-watu because we're both African surfers competing against each other for the first time on the CT at Uluwatu — there's a lot of surf fans from back home here and you can really feel the support."
2014 WSL Champion Gabriel Medina (BRA) had the unenviable task of taking on event wildcard Jack Robinson (AUS) in Heat 7. Medina kept busy catching 12 waves but struggled to post a score of consequence. Robinson did the opposite, waiting for the bigger set waves that would open up and barrel. Only needing a mid-range score, Robinson was unable to find the wave he wanted and gifted Medina the heat win.
"That was a tough heat for me," Medina said. "Before today I hadn't been surfing in that spot, I was surfing down the reef, so I feel like I was out of position or catching the wrong waves. Jack is an amazing surfer, he almost came out of a nice barrel, so I feel good to get into Round 4. I caught a lot of waves, but not many of them were that good — I love this place so much I just hope I can get a lot more waves in the next heat."
Conner Coffin (USA) looked super comfortable out at Uluwatu, even finding a long barrel to post an excellent 8.00 point ride and dispatch Sebastian Zeitz (HAW) in Heat 5. Coffin will progress into Round 4 while Zeitz is eliminated in Equal 13th place.
After a shock Round 3 exit at Keramas, Julian Wilson (AUS) was pleased to progress through his heat against wildcard Kael Walsh (AUS). After the early exit of Italo Ferreira, Wilson will be hoping to regain his position at the top of the Jeep Leaderboard.
"I had a slow heat at Keramas which is a wave I love and now I had another slow heat at Uluwatu, another wave I love," Wilson said. "Hopefully I am due for a heat with a lot of waves. When you come up against a rookie or a wildcard, you really want to perform so that you can show why you deserve your spot on Tour and in the event, but I wasn't able to do much out there today. I love Bali, we are really lucky to have back-to-back events here. I'm not really thinking about the Jeep Leader Jersey right now, I don't want it now, I only want it when it counts and that's at the first event on Tour next year."
Michel Bourez (PYF) was unable to continue his form from the Corona Bali Pro Protected, going down to CT sophomore Conor O'Leary (AUS) in Heat 8 of Round 3. 2017 CT Rookie of The Year O'Leary will progress into Round 4 as he hunts for his first major result of the season.
The last heat of the day was another all-Brasilian matchup with 2015 WSL Champion Adriano de Souza (BRA) taking on Willian Cardoso (BRA) who is fresh off an impressive 5th place finish at the Corona Bali Protected. Both surfers were evenly matched, exchanging big turns and the lead throughout the 30-minute encounter, but it was Cardoso who edged out the veteran by a mere 0.63.
Event organizers will reconvene tomorrow morning at 6:00 a.m. local time for a possible 6:30 a.m. start at Uluwatu.
The Uluwatu CT will be broadcast LIVE on the WSL's Facebook page, WorldSurfLeague.com, and the WSL app. Also, check local listings for coverage from the WSL's broadcast partners.
The Uluwatu CT event is proudly supported by Jeep, Corona, Hurley,  Boost Mobile and AirAsia.
Uluwatu CT Men's Round 3 Results: 
Heat 1: Owen Wright (AUS) 13.43 def. Keanu Asing (HAW) 10.43
Heat 2: Kolohe Andino (USA) 14.47 def. Jesse Mendes (BRA) 14.33
Heat 3: Jordy Smith (ZAF) 15.33 def. Michael February (ZAF) 7.26
Heat 4: Michael Rodrigues (BRA) 14.77 def. Italo Ferreira (BRA) 12.93
Heat 5: Conner Coffin (USA) 14.77 def. Sebastian Zietz (HAW) 9.16
Heat 6: Julian Wilson (AUS) 8.34 def. Kael Walsh (AUS) 7.27
Heat 7: Gabriel Medina (BRA) 10.50 def. Jack Robinson (AUS) 4.20
Heat 8: Connor O'Leary (AUS) 11.06 def. Michel Bourez (PYF) 9.04
Heat 9: Willian Cardoso (BRA) 13.00 def. Adriano de Souza (BRA) 12.37
Remaining Uluwatu CT Men's Round 3 Matchups: 
Heat 10: Filipe Toledo (BRA) vs. Yago Dora (BRA)
Heat 11: Joel Parkinson (AUS) vs. Joan Duru (FRA)
Heat 12: John John Florence (HAW) vs. Mikey Wright (AUS)
Uluwatu CT Women's Quarterfinal Matchups: 
Heat 1: Carissa Moore (HAW) vs. Tatiana Weston-Webb (BRA)
Heat 2: Stephanie Gilmore (AUS) vs. Bronte Macaulay (AUS)
Heat 3: Nikki Van Dijk (AUS) vs. Johanne Defay (FRA)
Heat 4: Tyler Wright (AUS) vs. Lakey Peterson (USA)