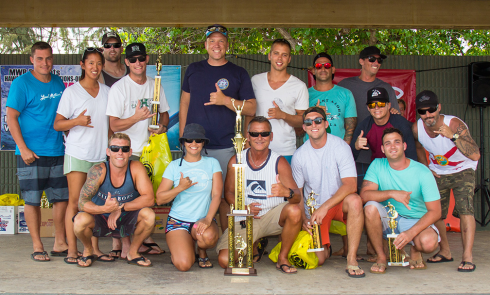 June 9, 2016 – Kailua, Hawaii – Members of the U.S. Coast Guard took first place in three of five Active-Duty divisions this past Saturday at the HIC/Quiksilver All-Military Surf Classic, clinching the prestigious "Top Branch" Award for the Coast Guard. Though small surf prevailed it couldn't dampen the fierce competitive spirit and camaraderie of the surfers at this annual event – which hit a milestone with it's tenth year running at Oahu's White Plains Beach.
Presented by MWR-Hawaii, the event is open to active duty and retired US Military and Department of Defense personnel, retirees, and their dependents. Over one hundred and forty surfers competed in fifteen divisions, including Open and Active Duty categories for shortboard and longboard surfing. It's quite a family affair with competitors ranging from military retirees in their sixties to a quickly expanding keiki division for kids twelve years old and under. Many of these military families can be found each weekend surfing this same stretch of beach on the former Barber's Point Naval Air Station.
The U.S. Coast Guard's domination of the Active Duty divisions was led by first place finishers Johnny Dodge – 30 and over Longboard, Brooks Koegel – 30 and over Shortboard, and Tyler Peterson – 17 to 29 Shortboard. Other notable performances came from Logan Harris with her first place finish against the boys and girls of the Keiki division, Austin Prevatt who won the 13 to 17 Open Shortboard with high-performance small wave surfing, and Preeya Prasao who styled her way to first place in the Open Women's Longboard division. Congratulations to all of the event champions and division finalists.
The All-Military Surf Classic is organized by Marvin Nuestro and the White Plains Lifeguard staff, with the support of MWR-Hawaii, whose mission it is to improve the lives of US Military Personnel and their families. A special mahalo to Quiksilver, Roxy for their continuous support of the All Military Surf Classic throughout the years.
Mahalo to all the brands that provided prizes for the finalists, including Quiksilver, Roxy, Amuse, Billabong, Bubble Gum, Catch Surf, Da Fin, FCS, Go Pole, Gorilla Grip, Hurley, Kicks, Knekt, Matunas Wax, Nose Guard Hawaii, On A Mission, Reef, Rip Curl, Skull Candy, Solarez, Sunbum, Vans, Von Zipper & Xcel.
Hawaiian Island Creations and Quiksilver are honored to support the men and women of the US Armed Forces who proudly serve our country.  Stay safe, keep surfing and enjoy the ride!
About HIC – Hawaiian Island Creations:
Since 1971 HIC has been providing Hawaii's best selection of quality surfboards, skateboards, clothing and accessories. Locally owned and operated, the HIC retail chain includes seven stores on Oahu, three on Maui, four on Hawaii Island, and two in Japan. Through a commitment to quality, service and aloha spirit, the brand has built a reputation as an icon of Hawaiian surfing recognized throughout the world. Enjoy the ride!
About Quiksilver:
Since it's beginnings in 1969, Quiksilver has combined function, fit, art and fashion to develop boardshorts and clothing for mountain and ocean lovers across the globe. While still sticking to the core roots of the mountain and the wave, Quiksilver has become recognized as the premium youth lifestyle and culture clothing brand within the action sports market. In addition to boardshorts, Quiksilver designs and produces an entire line of lifestyle apparel, wetsuits, and snow outerwear available across the globe. Our elite team of athletes have become icons throughout the world. Our mission is inspire the youth and progress as the world around us evolves.
FINAL RESULTS: ACTIVE-DUTY MILITARY:
Men's Shortboard – 17 to 29:
Tyler Peterson
John Ott
Zachary Borg
Daniel Jessurun
Kye Ball
Kyle Camoire
Men's Shortboard – 30 & Over:
Brooks Koegel
Dane Casson
Bruce Sotire
Zac Pennebacke
Robyn Hamilton & Ari Nelson (Tied)
Men's Longboard – 17 to 29
David Zoblocki
Marc Hernandez
David Gaylor
Colby Milhe
Robin Pietschmann
Ty Daniels
Men's Longboard – 30 & Over
John Dodge
John Knight
Jake Kiyohara
Ron Johnson
Glenn Acevedo
Josh Bates
Women's Longboard – All Ages
Lorna Blackburn
Julie Imahane
Melissa Cooper
Melissa Pascua
2016 Top Branch Award:  U.S Coast Guard
OPEN DIVISIONS – DEPARTMENT OF DEFENSE:
Keiki Boys & Girls – 12 & Under
Logan Harris
Helene Best
Jessi Velino
Caylem Best
Stone Stewart
Hannah Burnhill
Boy's Shortboard – 13 to 17
Austin Prevatt
Gage Bowers
Nalu Paz
Jacob Jakovenko
Mark Guillot
Men's Shortboard – 17 to 29
Hayden Bowers
Men's Shortboard – 30 & Over
Dennis Yamada
Charles Heisey
David Long
Brent Hopson
Jessie Lacuesta
Women's Shortboard – All Ages
Carmel Tomlinson
Monique Cleary
Kylee Norton
Arielle Paz
Jodi Dahlin
Lani Bergstrom
Women's Longboard – All Ages
Preeya Prasao
Lori Gaynor
Kylee Kaczmarek
Tracey Velino
Kapua Wamberg
Heather Myers
Men's Longboard 34 & under
Jimmy Covell
Jericho Piansay
Garrett Smoot
Nathan Smoot
Makena Magnani
Men's Longboard – 35 to 49
Wendall Villanueva
Matt Pothier
Steve Prevatt
Raul Pacheco
Kirby Scarborough
Cory Cameron
Men's Longboard – 50 to 59
Gino Bell
Layne Fitzpatrick
Robert Grover
Dennis kaczmarek
Charlie Flynn
Paul Bailey
Men's Longboard – 60 & Over
Mike Nii
Jim Covell
John Weikum
Buster Kellum
Herb Pruse