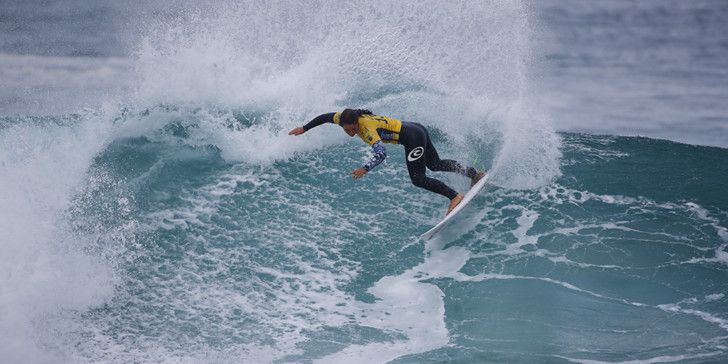 KEANU ASING WINS THE QS PRO! CARISSA MOORE WINS THE ROXY PRO! INDEED, WHEN THE SEMI & FINALS WERE CALLED ON AT THE ROXY PRO FRANCE COURTNEY CONLOGUE HAD TO FINISH AHEAD OF TYLER WRIGHT BUT LOST TO CARISSA  THUS GIVING THE WORLD TITLE TO MS. TYLER WRIGHT.
 Tyler Wright (AUS) clinches her maiden WSL Title today in France 
Image: © WSL /  Poullenot
Full story coming…His first ever Men's FINAL with Ewa Beach Boy Keanu Asing KICKS Gabriel Medina's rear! (Keanu beat John Florence in semis). This means he outperformed the 2 best surfers in the world right now.
| | |
| --- | --- |
| Location:    | Seignosse/Hossegor/Capbreton, Landes, Nouvelle-Aquitaine,  France |
| Event window: | October 4 – 15, 2016 |
| Today's call: | Finals Day is ON |
| | |
| --- | --- |
| Conditions: | Three-to-four foot |
SEIGNOSSE/HOSSEGOR/CAPBRETON, Landes, Nouvelle-Aquitaine / France (Wednesday, October 12, 2016) – The Quiksilver and Roxy Pro France, Stop No. 9 on the Samsung Galaxy World Surf League (WSL) Championship Tour (CT), have been called back ON in clean three-to-four foot peaks at the secondary venue of Guardians, and will resume the exciting battles that unfolded in France earlier this week.
"We've been waiting for such a long time at the main site and there are little waves out there but we really think here is going to be better,"  Jessi Miley-Dyer, WSL Commissioner said. "I'm really excited for finals day, there are still a couple of people plugging cables but we're going to try to start as soon as possible."
Keanu Asing (HAW) and John John Florence (HAW) will make Semifinal No.1 of the Quiksilver Pro France an all-Hawaiian battle as the World No. 1 Florence tries to further extend his lead while Asing will fight for important re-qualification points.
The Roxy Pro France could potentially crown this year's WSL Women's Champion as Jeep yellow jersey Tyler Wright (AUS) will fight for a spot in the Final against Tatiana Weston-Webb (HAW) in the opening Semifinal of the event.
The Quiksilver and Roxy Pro France will be webcast LIVE on worldsurfleague.com and via the WSL app.
QUIKSILVER PRO FRANCE SEMIFINAL MATCH-UPS:
SF 1: Keanu Asing (HAW) vs. John John Florence (HAW)
SF 2: Gabriel Medina (BRA) vs. Kolohe Andino (USA)
ROXY PRO FRANCE SEMIFINAL MATCH-UPS:
SF 1: Tatiana Weston-Webb (HAW) vs. Tyler Wright (AUS)
SF 2: Courtney Conlogue (USA) vs. Carissa Moore (HAW)