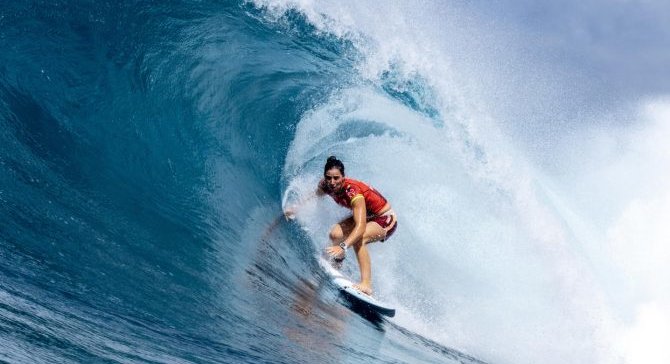 Front Page Photo: WSL / Keoki Saguibo
Australia's 2X World Champ Tyler Wright made history today as the first woman to win a Championship Tour event at Pipeline! Surf was 4-6′ Local Size with side offshores and tubes of steal.
Wright defeated Current World Champ Carissa Moore in the finals…with a ~3 point wave at the end of the heat. Had there been one more minute Carissa might of found the ~3points she needed to win…it was that close.
The Maui Pro presented by ROXY moved locations from Maui's famed Honolua Bay after a surfer died after a shark attack during the contest window.
Wright was pumped up about her historic victory,and it's significance for  the 2020/2021 season,
"I definitely don't take this for granted, to have this opportunity today is truly special," said Wright.
Note: that while today's event is the first official women's world tour event to happen at Pipeline, it's not the first competition. The WSL has held Women's 'Invitational' events 4times in the past six years at Pipeline. Some of the big names and performances came from the likes of Carissa Moore, Stephanie Gilmore, Tatiana Weston-Webb, Keala Kennelly, Courtney Conlogue et al.
More of this History making day on the way….