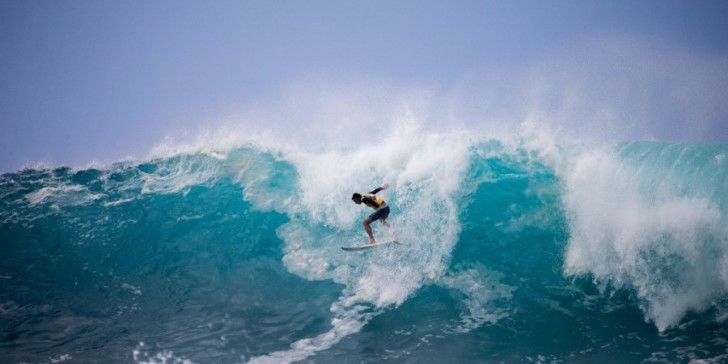 YOUNGEST COMPETITOR WYATT MCHALE SECURES BIG SCORE AT VOLCOM PIPE PRO
Tyler Newton from Hanalei drops into a Backdoor beast and earns a slot into the main event.
Image: WSL/Freesurf/Heff
| | |
| --- | --- |
| Location:    | Pipeline, North Shore, Oahu                                                   |
| Rating: | Men's QS3,000  |
| Event Window:    | January 29 – February 10 |
| | |
HALEIWA, Oahu/Hawaii (Thursday, February 2, 2017) —  North Shore's uprising talent was on hand today as Wyatt McHale, 15, proved his place in the lineup at the Volcom Pipe Pro, a highly-anticipated World Surf League (WSL) Qualifying Series (QS) 3,000 event. As the youngest competitor in the 112-man field, McHale shook up the competition by scoring an 8.50, the best wave ridden in the main event, and edged one step closer to a solid finish in the prestigious competition on hallowed ground.
McHale went against fellow young guns Noah Beschen (North Shore) and Kelson Lau (Maui), and Honolulu mainstay Gregg Nakamura in the second heat of the day. He scored the gem of a wave toward the end of the 25 minutes, which set the day's bar for barrels.

McHale behind the curtain on his 8.50 ride. Image: WSL/Freesurf/Heff
"I got lucky, I wasn't even in the priority order but I was kind of far down towards Off The Wall and it just swung wide and I got it and I made the barrel, threw my hands up and made sure the judges saw me, I was stoked," said McHale.
The junior plans to compete in all regional events for 2017 and has high hopes of qualifying for the Vans Triple Crown in November. But for now, he's just enjoying his first run at the Volcom Pipe Pro surfing amid some of the world's best, including current World Champion John John Florence (HAW) and 11x World Champion and defending event winner Kelly Slater (USA).
"It's cool going up against some of the heavier veterans being the youngest one in this event," McHale continued. "But I just really wanted to get a barrel and get a couple good waves, that's kind of my game plan."

Newton tucks into the best barrel of the day at Backdoor. Image: WSL/Freesurf/Keoki
Tyler Newton, 26, from Kauai's North Shore, turned heads after he scored a 9.0 in the Volcom Last Chance Qualifiers heat, which saw him advance into Round 2 of the main event. The 45-minute surf off featured eight notables including Dave Wassel, Tom Dosland, Kawai Lindo, Mark Healey, Derek Ho, Barron Mamiya, and Reef McIntosh and awarded the win to the surfer with the single best wave.
"I'm super stoked, I was actually just super stoked to be able to surf in the Last Chance heat in general, but to make it is really an honor," said Newton. "And it was an honor to surf with all those guys out there, so stoked."
Newton was a standout from the start and went head to head with Pipeline youngster and recent winner of the Sunset Pro Junior Barron Mamiya (HAW), who charged equally hard and tackled the waves, wipeouts and barrels with confidence.

Mamiya fought tooth and nail for a slot into the main round, but narrowly missed out. Image: WSL/Freesurf/Keoki
Wassel added to the excitement by pulling into multiple closeout waves, but it was hard for any of the other competitors to come close to advancing past Newton's 9-point ride.
"I've been watching it all day and I was kind of aiming at the Quiksilver house, straight out in front of it," continued Newton as he relived the excellent wave. "I just stuck to my game plan and it came through right in the spot, and I was stoked… I just try to read the ocean and be in tune and I felt like it was working. It doesn't work out always, but waves just kept coming to me and I'm super stoked about it. I'm just happy."
With more surf on the horizon but less than favorable conditions tomorrow, contest organizers will reconvene in the morning at 7am to determine a call for Friday, February 3. Hitting the water first once competition resumes will be Heat 1 of Round 2, which features current Hawaii Regional Champ Eli Olson, Chile's Manuel Selman, Hawaii's regional Junior Champ Noa Mizuno and Pipe extraordinaire Nathan Florence.

Florence advanced in first from Round 1 Heat 1 for waves like this. Image: WSL/Freesurf/Heff
Follow the action LIVE on WorldSurfLeague.com and RedBull.tv/volcompipepro. The Volcom Pipe Pro is also being broadcast on Oceanic Time Warner Cable so be sure to tune in to local SURF channels 250 and 1250HD.
RESULTS
Surfers shown 1st through 4th, all athletes from Hawaii unless otherwise noted.
Volcom Last Chance Qualifier Round
1st – Tyler Newton
Round of 112, 1st and 2nd advance, 3rd = 97th place, 4th = 105th place
H1: Nathan Florence, Mikey Bruneau, Kai Lenny, Jason Shibata
H2: Wyatt McHale, Gregg Nakamura, Kelson Lau, Noah Beschen
H3: Hank Gaskell, Koa Rothman, Alex Pendleton, Myles Padaca
H4: Ezra Sitt, Dylan Goodale, Landon McNamara, Evan Valiere
H5: Seth Moniz, Danny Fuller, Braiden Maither, Kevin Sullivan
H6: Turo Ariitu (PYF), Chris Foster, Sheldon Paishon, Kekoa Bacalso
H7: Kekoa Cazimero, Shayden Pacarro, Lance Gruver, Tereva David (PYF)
H8: Luke Shepardson, Ulualoha Napeahi, Takayuki Wakita, Logan Bediamol