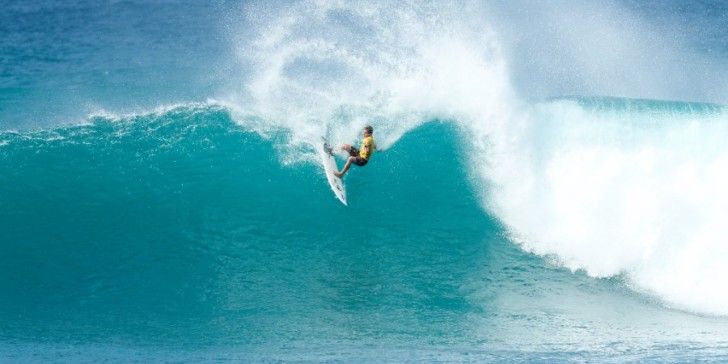 As forecasted, today we see Variable winds and a declining 14 sec 'buttery' NW. Sets are 4-6′ solid (up to double overhead) with great form and peeling down the reef. Chance of light onshore winds later. SNN 596-surf.
Day 3 of the Vans World Cup saw multiple 9-point rides in the double overhead surf at Sunset Beach with major qualification implications on the line. Round 3 featured fired up action from the world's best, including:
John John Florence (HAW) – Highest score of the day and event thus far went to the current World Champ, a 9.77, for gravity defying maneuvers that had the beach crowd on their feet. He and Billy Kemper (HAW) traded excellent scores throughout the heat, while Michael February (ZAF) and 15-year-old Vans wildcard Wyatt McHale fell short.
Kelly Slater (USA) – 11x World Champion was one of the few athletes to take a chance and go left at Sunset, but his highest score, a 6.83, was for a right with multiple sections. A win at this venue has evaded the G.O.A.T. (greatest surfer of all time) and his last Vans Triple Crown victory was in 1998. Slater is hungry for another heat win and moves onto Finals day.
O'Neill Massin (PYF) – The Tahitian went up against former World Champion Gabriel Medina (BRA) and proved he is here to win. Massin posted a 6.67 and 7.70 to advance in second and take out Bino Lopes (BRA), who sits in the No. 8 spot on the international Qualifying Series (QS) ratings.
Ricardo Christie (NZL) – The second highest wave of the event, Christie posted a 9.33 for a cutback rebounded into a well navigated barrel. After falling off the CT two years ago the athlete from New Zealand has been very inform this season and sets up for a potential re-qualification in 2018.
Koa Smith (HAW) – After starting in Round 1, Smith advanced yet again today and is onto the Final day of the Vans World Cup of Surfing. Smith made it through his heat in second with only two waves, a 6.60 and 8.90, behind Adrian Buchan (AUS).
FRIDAY News: Finn McGill (HAW) proved one of the most inform surfers at just 16 years old. Image: WSL / Cestari
| | |
| --- | --- |
| Event:    |       Vans World Cup of Surfing                                                |
| Location: |       Sunset Beach, North Shore, Oahu |
| Event Window: |       November 24 – December 6 |
| | |

NORTH SHORE, Oahu, Hawaii – (Friday, December 2, 2016) —
The best heat of the Vans World Cup thus far took place today in Round Two and saw the finest 20-and-under surfers tame wave face heights of up to 20 feet at Sunset Beach. The youngest competitors of the event,
Finn McGill
, 16,
Joshua Moniz
, 20, and
Griffin Colapinto
, 18, went head to head for the best performances of the day in a high-scoring affair. The World Surf League (WSL) Qualifying Series (QS) 10,000 event features the world's best athletes and is the final QS competition of the season, raising both the stakes and the bar in the water.McGill punched his way through the 30-minute heat by threading barrels and displacing water, but traded excellent scores with both Moniz and Colapinto along the way. The highest scoring wave of the heat, an 8.77, put McGill solidly ahead while the other two battled for second."This summer I grew about three or four inches and that helped me out a lot with my power and surfing bigger," said McGill. "I think that's helped me a lot at the professional level and surfing in all of these comps."France's Maxime Huscenot stayed busy as well against the young guns, but was unable to find scores above the 4-point range and was ultimately pushed out of the competition along with Colapinto, who missed out by less than half a point."I just went into that heat to just go have fun because Griffin and Josh, I've been surfing against them since I was eight years old in NSSA," said McGill in a post heat interview. "It was kind of like an old NSSA heat, we were laughing about that paddling out. I was so stoked to do good in that heat and make it. I literally just wanted to make one heat in this comp and I'm stoked to make two."
McGill and Moniz advanced into Round Three where top athletes like John John Florence (HAW), Kelly Slater (USA) and Gabriel Medina (BRA) are seeded. Day 3 of the Vans World Cup will run tomorrow with an 8am HST start in what is forecast to be 8-12ft. NW swell.
One of the only 9-point waves of the event was secured by Torrey Meister (HAW) for a standing barrel and a few powerful maneuvers. Judges awarded Meister a 9.23 – the highest single wave score of the day – for swift surfing and three turns following the tube. The Big Island surfer advanced well ahead of his competitors, while Bino Lopes (BRA) secured a slot in Round 3 behind Meister.
The other 9-point wave went to Patrick Gudauskas (USA) for a double over-head barrel and a stylish snap to intro the ride. The swell direction was ideal for A-frames like this and throughout the day, surfers vied for positioning to catch the gems.
Tahiti was well represented by O'Neill Massin and Mihimana Braye, both who advanced from Round Two for their powerful surfing and big wave techniques. This is the first time the two surfers have qualified for the Vans Triple Crown, which puts them in contention for the Vans Triple Crown Rookie Award, now that Colapinto has fallen short.
Massin's power performance saw him advance in first ahead of Mitch Crews (AUS) and will go on to surf in Round 3 against former World Champion Gabriel Medina (BRA), Nathan Florence (HAW) and Bino Lopes (BRA).
"The conditions are very good," said Massin. "Couple barrels, offshore wind, some good size, perfect!"
Frederico Morais (PRT) had a dominating performance over Michael February (ZAF), Krystian Kymerson (BRA) and Charles Martin (GLP) and secured one of the higher single wave scores of the day, an 8.50 for three powerful maneuvers. With a relaxed yet confident approach, Morais was calculated with his wave selection and used his opening ride, a 6.83, to back up his excellent score.
From Cascais, Portugal, Morais quickly found his place in the competitive lineup on the North Shore with a runner up finish at the Hawaiian Pro, the first event of the Vans Triple Crown. He now sits in the No. 10 spot on the international Qualifying Series (QS) and needs a solid place at the Vans World Cup to secure his place on the 2017 WSL Samsung Galaxy Championship Tour.
"It's a new feeling for me, number 10, and I know everyone is really close and I need to get some points," said Morais. "I don't have a really big result to change so I just need a few heats here. I love Sunset, the waves are really fun. We had a few lay days but today is really fun, hopefully tomorrow is the same."
Bede Durbidge (AUS) made a successful comeback after injuring his pelvis last year at the Billabong Pipe Masters. The surfer underwent tremendous physical therapy and made a full recovery in only a year. His time off was spent wisely by helping coach John John Florence and now the competitor is in full force with a heat win at Big Sunset.
Competition will resume at 8am HST tomorrow in continued overhead surf at Sunset Beach. The highly anticipated Round Three will see top surfers from the Championship Tour clash with QS warriors as the remaining 64 athletes battle for a place atop the podium.
RESULTS
Surfers shown 1st through 4th, all athletes from Hawaii unless otherwise noted.
Round of 64, 1st and 2nd advance, 3rd = 33rd place, 4th = 49th place
H1: Matt Wilkinson (AUS), Ezekiel Lau, Santiago Muniz (ARG), Mitch Coleborn (AUS)
Round of 96, 1st and 2nd advance, 3rd = 65th place, 4th = 81st place
H3: Ricardo Christie (NZL), Alex Ribeiro (BRA), Gony Zubizarreta (ESP), Noa Mizuno
H4: Michael Dunphy (USA), Lucas Silveira (BRA), Cooper Chapman (AUS), Michael Rodrigues (BRA)
H5: Soli Bailey (AUS), Koa Smith, Stu Kennedy (AUS), Luel Felipe (BRA)
H6: Ryan Callinan (AUS), Marc Lacomare (FRA), Elijah Gates, Kiron Jabour
H7: Frederico Morais (PRT), Michael February (ZAF), Krystian Kymerson (BRA), Charles Martin (GLP)
H8: Billy Kemper, Tanner Gudauskas (USA), Dion Atkinson (AUS), Kaimana Jaquias
H9: O'Neill Massin (PYF), Mitch Crews (AUS), Jacob Willcox (AUS), Victor Bernardo (BRA)
H10: Torrey Meister, Bino Lopes (BRA), Heitor Alves (BRA), Hizunome Bettero (BRA)
H11: Bede Durbidge (AUS), Mihimana Braye (PYF), Carlos Munoz (CRI), Granger Larsen
H12: Patrick Gudauskas (USA), Tom Whitaker (AUS), Shun Murakami (JPN), Brett Simpson (USA)
H13: Finn McGill, Josh Moniz, Griffin Colapinto (USA), Maxime Huscenot (FRA)
H14: Eli Olson, Adam Melling (AUS), Taumata Puhetini (PYF), Cody Young
H15: Aritz Aranburu (ESP), Jesse Mendes (BRA), Ramzi Boukhiam (MAR), Nomme Mignot (FRA)
H16: Yago Dora (BRA), Ian Crane (USA), Makai McNamara, Evan Geiselman (USA)