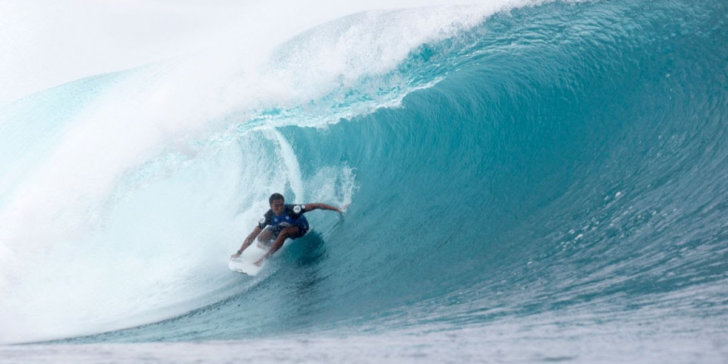 Surf's 3-4′ maybe 5′ on a 4′ NW and 4′ NE mix but conditions are bad due to strong gusty sideonshore NNE winds. Next chance is looking good with new bigger NW later Wednesday and especially Thursday-Friday. SNN.
Stage Set For Highly Anticipated Volcom Pipe Pro
– Volcom Celebrates 10 Years At One Of Surfing's Most Famous Waves
– Defending Champion Josh Moniz Returns To Defend His Title Against Heavily-Stacked Field
– Payne Returns To Pipeline, Has His Eyes Set On A Big 2019

 COVER SHOT: Defending Volcom Pipe Pro event champion Josh Moniz (HAW) is back to protect his title in 2019 against some Pipeline extraordinaires 
CREDIT: © WSL / Keoki Saguibo
Banzai Pipeline, North Shore, Oahu, Hawaii
Volcom Pipe Pro Men's QS 3,000
BANZAI PIPELINE, Oahu/Hawaii (Tuesday, January 22, 2019) – The World Surf League (WSL) Men's Qualifying Series (QS) returns to the world-renowned Pipeline January 29 – February 10 for the tenth annual Volcom Pipe Pro QS 3,000. The event includes 144 competitors on hand to vie for the prestigious event title and valuable points toward their 2019 Championship Tour (CT) qualification campaign. Josh Moniz (HAW) leads a star-studded lineup as defending champion as he takes on some of Pipeline's most notable chargers including two-time Pipe Pro runner-up Jamie O'Brien (HAW), Mason Ho (HAW), 18-year-old standout Barron Mamiya (HAW), former event winner Soli Bailey (AUS), and former CT competitor Dusty Payne (HAW) once more.

Moniz is ready and waiting for the starting horn at one of the world's most famous waves alongside his younger brother, and 2019 CT rookie, Seth.

"It's pretty crazy to be coming into this year at the Volcom Pipe Pro as the defending champion," Moniz said.  "Coming into events at Pipe I don't really look at it as an event I'm trying to win like a normal contest. I just try to get as many waves as I can and to just have fun. I would love to go back to back, but I'm just trying to get as barreled as I can before heading out for a full QS year. All the history of the sport that's happened at this wave is what makes this event so special. After watching Seth (Moniz) smash the QS last year and qualify, I can't wait to try and get there myself."

Following his horrific wipeout at Backdoor last year, former CT competitor Payne returns to Pipeline once more after a tough go at the 2018 Pipe Invitational. The Maui, Hawaii, native looks to start his year off in the right direction with a full QS season awaiting him.

"I'm really excited to get going this year with Sunset and then the Volcom Pipe Pro," Payne said. "I feel like I've had enough time away from competition and I'm ready to go. After surfing in the Invitational, it was challenging but I'm looking forward to this one. I'm just happy to be healthy and my goal this year is to give myself a fighting chance at qualifying at the end of the season."

Hawaii/ Tahiti Nui Tour Manager Marty Thomas will be on the calls each morning to work with competitors and ensure competition is run in the best conditions during the twelve-day waiting period.

"The North Pacific has been very active this winter surf season providing swell after swell," Thomas said. "We'll be keeping a close eye on the forecast as we near the start of the waiting period, and if the current trend continues we should have some great waves for this year's Volcom Pipe Pro."

In addition to consistently delivering some of the best barrels and most historic heats on the tour, the Volcom Pipe Pro is one of the most popular and most watched events. Nearly three-quarters of a million people tuned in for the 2018 live webcast. This elite event is also Deep Blue-certified, a certification that sets the standard for sustainability & minimizing environmental impact. In 2016, it was recognized by the WSL as the season's cleanest, most "Ocean Friendly" event. For 2019, Volcom's commitment to sustainability goes even further to make the Volcom Pipe Pro not just the most exciting but also the most progressive event in professional surfing.

"We are so excited to once again host the Volcom Pipe Pro in 2019. There have been so many historic moments from events past that we aim to exceed in the future," says Volcom's VP of Surf Brad Dougherty. "Our goal is to produce a world-class event while continually pushing our sustainability efforts. Pipeline is one of the most prolific waves in the world and we are honored to be part of such an amazing contest."

The 2018 Volcom Pipe Pro will run on the four biggest and best days of surf within the holding period, determined by contest officials, and will be broadcast LIVE via worldsurfleague.com, the WSL app and volcom.com/pipepro. Tune into Spectrum SURF Channel for their live and replay television coverage of the 2018 Volcom Pipe Pro on digital channels 250 SD and 1250 HD across the state of Hawaii. Fans can watch every minute of the Volcom Pipe Pro live and on-demand on Red Bull TV, available at redbull.tv or as a free downloadable app.

For more information about the Volcom Pipe Pro, visit worldsurfleague.comand volcom.com.

About Volcom
Inspired by creative spirit, Volcom was founded in 1991 and creates products for the persistent who are true to their passions. We were born to chase what we are true to. It's not that we want to… WE HAVE TO. We have a vision that turns obstacles into opportunity, a creative courage to tempt the impossible… And embrace the strange. Telling us to push further…To try again. Endlessly seeking elevation, we are all connected by this same internal force. Forever we chase that intoxicating moment when our vision is realized…The world around us goes quiet…And for brief moments, we are more than alive. Volcom, True To This.

About Red Bull TV
Red Bull TV features beyond the ordinary live events and videos featuring inspirational stories covering sports, music and lifestyle entertainment. Anytime, anywhere. Red Bull TV is available on the web, connected TVs, gaming consoles, mobile devices, and more.
About the WSL The World Surf League (WSL) is dedicated to celebrating the world's best surfing on the world's best waves through a variety of best-in-class audience platforms. The organization, headquartered in Santa Monica, is a global sport with regional offices in Australasia, Africa, North America, South America, Hawaii, Japan and Europe.

The WSL has been championing the world's best surfing since 1976, annually running more than 180 global events across the Men's and Women's Championship Tours, the Big Wave Tour, Qualifying Series, Junior and Longboard Championships, as well as the WSL Big Wave Awards. The League possesses a deep appreciation for the sport's rich heritage while promoting progression, innovation and performance at the highest levels, and in doing so crowns the undisputed Men's and Women's World Champions across all tours.

Showcasing the world's best surfing on its digital platform at worldsurfleague.com, the WSL has a passionate global fan base with millions tuning in to see world-class athletes like Kelly Slater, Stephanie Gilmore, Tyler Wright, John Florence, Lakey Peterson, Paige Alms, Kai Lenny, Taylor Jensen, Honolua Blomfield, Carissa Moore, Gabriel Medina, Courtney Conlogue and more battle on the most dynamic field of play of any global sport.

For more information, please visit worldsurfleague.com.