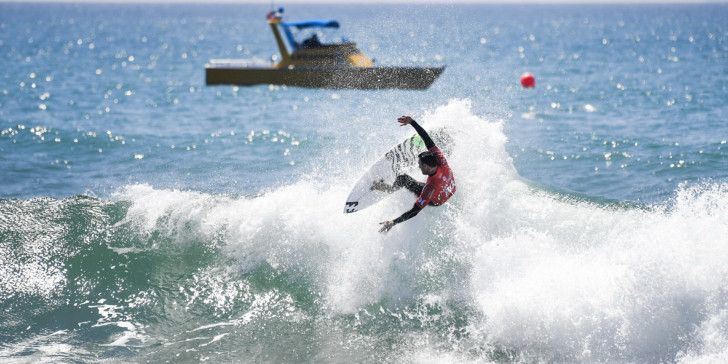 – WATCH THE WORLD'S BEST SURFERS BATTLE FOR THE EVENT TITLE
– WOMEN'S SEMIFINALS CALLED ON FOR 8:00 A.M. START
– LIVE AT WORLDSURFLEAGUE.COM
2012 WSL Champion Joel Parkinson (AUS) will battle event wildcard Tanner Gudauskas (USA) in the second Semifinal match-up of the Hurley Pro at Trestles.
Image: © WSL / Kirstin
| | |
| --- | --- |
| Location:    | Lower Trestles, San Clemente, California |
| Event window: | September 7 – 18, 2016 |
| Today's call: | Women's and Men's Semifinals & Finals called ON |
| | |
| --- | --- |
| Conditions: | 3 – 4 foot (1 metre) |
SAN CLEMENTE, California/USA (Wednesday, September 14, 2016) – The Hurley Pro and Swatch Women's Pro at Trestles, Stops No. 8 and 7 respectively on the World Surf League (WSL) Samsung Galaxy Championship Tour (CT), will recommence today with the women's Semifinals called ON for an 8:00 a.m. start followed by the men's Semifinals, women's Finals and men's Finals in three-to-four foot (1 metre) waves at the world-renowned cobblestone break of Lower Trestles.
"We've woken up this morning and we have really nice crisp, clean conditions out there, so we are going to go straight into Finals day," WSL Deputy Commissioner, Jessi Miley-Dyer, said. "We'll get started with with the women's Semifinals and then go straight into the men's Semis, and then run both Finals. We're going to give them 35 minutes today, it is still a little slow as we're starting to see that hurricane swell fill in and there's plenty of waves. Should be really good."
With the field narrowed to only four men and four women, the stage is set for an exciting final day of competition.
Up first this morning will be current Jeep Rankings Leader Tyler Wright (AUS) against California-native Sage Erickson (USA). Wright will have a chance to continue her winning form against Erickson in the first women's Semifinal.
Six-time WSL Champion Stephanie Gilmore (AUS) will then face first-time SemifinalistNikki Van Dijk (AUS) for an opportunity to secure her first Finals appearance of the 2016 season.
In the men's draw, the powerful style of Jordy Smith (ZAF) will clash with the aerial attack and improved rail game of Filipe Toledo (BRA) in Semifinal 1 for a spot in the Finals. Both have been crowned champions here, but Toledo has yet to do so at the CT level.
Event wildcard and hometown hero Tanner Gudauskas (USA) will battle 2012 WSL Champion Joel Parkinson (AUS) in the Second Semifinal match-up to keep his dream run in motion.
The event is also being carried by the WSL's LIVE broadcast partners Fox Sports Australia, CBS Sports in the United States, ESPN Brasil, Globosat in Brazil, Edgesport, Sky NZ, Sport TV in Portugal, Canal + Deportes in Spain, Channel Nine, MCS France, Starhub in Singapore, and Oceanic Time Warner Cable 250 & 1250 in Hawaii.
For more information, check out WorldSurfLeague.com
Swatch Women's Pro Semifinal Match-Ups:
SF 1: Sage Erickson (USA) vs. Tyler Wright (AUS)
SF 2: Nikki Van Dijk (AUS) vs. Stephanie Gilmore (AUS)
Men's Hurley Pro Semifinal Match-Ups:
SF 1: Jordy Smith (ZAF) vs. Filipe Toledo (BRA)
SF 2: Tanner Gudauskas (USA) vs. Joel Parkinson (AUS)