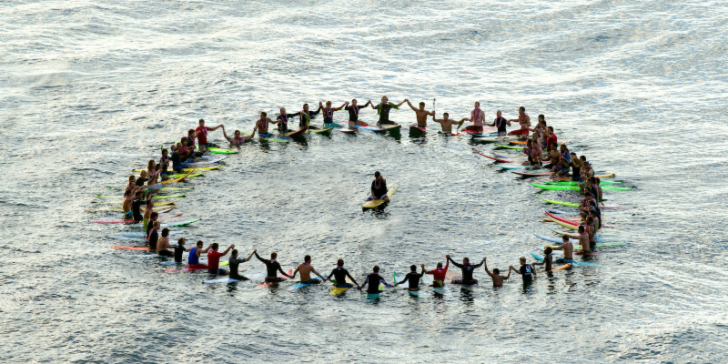 The Eddie Aikau Invitational at Waimea Bay is the most prestigious & culturally significant surf contest in the world.
Though 'The Eddie' started in 1984 at Sunset Beach, it's been held at Waimea Bay ever since.
The surfing event is the first which held standards so literally 'high' that it would not run annually (only as Mother Nature had allowed).
Surf at the Bay had to be 15-25′ average with contestable conditions for a full 8 'prime' hours.
The waiting period has always been between December 1 through February 28.
This year, this latest swell… had too many questions & doubts about the XL WNW (290-310).
The angle. There's partial shadowing by Ni'ihau and Kauai (anything under 294 degrees).
Also, the beast of a storm kept its distance (~1500 miles) thus more swell decay and trickery for Waimea's special bathymetry. 
Lastly, consistency plays into the mix.
10am WW3 shows 10′ 18 sec at Waimea. It dropped to 8′ 18 sec so that's all she wrote on this one… normally 10-18sec would easily be enough for 20′ sets on a NW but again the above factors playing in.
There's a small pack in Memory of Eddie Aikau who would probably surf 8 hours straight 🙂 SNN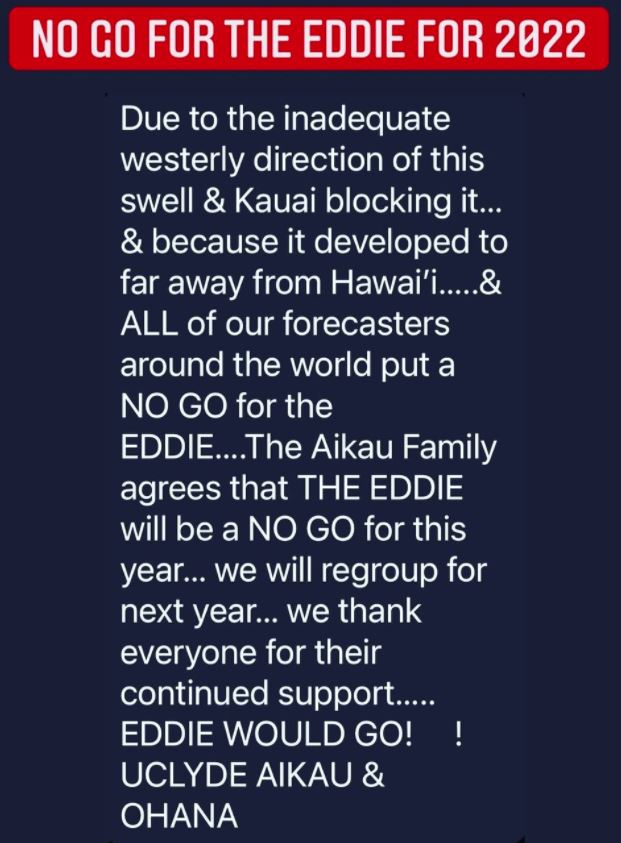 The BIG WNW is not expected to hit Waimea Bay up to the Aikau 'Ohana standard.
Uncle Clyde Aikau sent message out late today.
E Ola Eddie Aikau!!!
From Tuesday
"Clyde wants to do it if it's just 20′ feet Chris Owens on KHON News 943pm last night.
End of 3 month waiting period is end of this month.