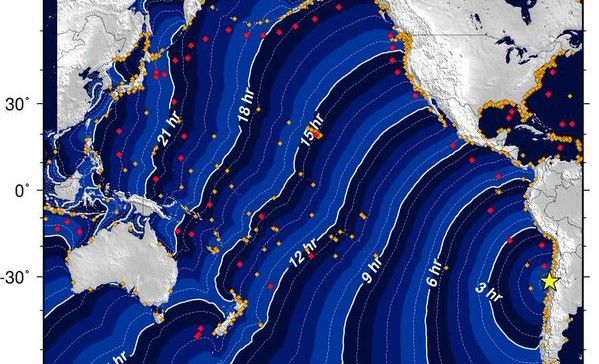 We're in the clear. High tide was 630am this morning and the tsunami has some more cycles but have lowered enough for no more advsy.
Early pre dawn: Surf peaked at 3′ for Hilo, 2′ for Kahalui and 3′ inches for Honolulu.
Wednesday's update: Tsunami Slams Chile After Deadly Magnitude-8.3 Earthquake Wednesday; Hawaii, Southern California  Under Tsunami Advisories
Surf generation is not expected to be significant. These types of non wind generated waves are not surfable, move much faster and a far trickier to predict.
311am HI time is when we expect to see minor changes in tidal flow and surges.
For the latest hourly updates go HERE
Local TV stations will be up late through the night into the morning shows to keep abreast of impacts which are not expected to be more than moderate if that.
What's the difference between watches, advisory's and warnings? (read below).
Still, Tsunami advisories are in effect for Hawaii and Southern California after a powerful magnitude-8.3 earthquake struck the Pacific Ocean waters just off the coast of Chile Wednesday afternoon, generating a dangerous 15-foot tsunami along parts of the Chilean coast. Chileans continued to assess the damage as strong aftershocks continued deep into the night, and authorities said at least five people died as a result of earthquake-related incidents.
The tsunami is expected to fan out across much of the Pacific Ocean, though the worst of its power is expected to be focused westward toward French Polynesia, including Tahiti. Nonetheless, the two U.S. government agencies responsible for tsunami forecasting say tsunami waves of 1 to 3 feet may reach Hawaii early Thursday morning, while a tsunami of less than 1 foot is expected to reach southern California around the same time.
U.S. Threat Believed Modest
Tsunami waves are expected to propagate across much of the Pacific Ocean as a result of Wednesday's earthquake.
The brunt of the wave energy is expected to travel toward the west toward French Polynesia, including Tahiti. Tsunami waves of 1 to 3 meters (3 to 10 feet) are possible there, according to the PTWC.
In the U.S., the PTWC has issued a tsunami advisory for Hawaii. The bulletin said a major tsunami is not expected, but "sea level changes and strong currents" may endanger swimmers and boaters Thursday.
The agency projects the first tsunami waves to arrive around 3:11 a.m. Hawaiian time (9:11 a.m. EDT) Thursday. Tsunami waves around Hawaii are expected to be in the 0.3- to 1-meter (1- to 3-foot) range.
The Hawaii Emergency Management Agency said state officials are standing by, awaiting updates from the warning center.
On the Big Island, officials were bracing to be the first island affected, county spokesman Ilihia Gionson said. Officials were gathered Wednesday in the county's emergency operations center in Hilo, he said.
"It's too early to tell," he said. "This early it's best to just stay informed."
The U.S. government's National Tsunami Warning Center has issued a tsunami warning for southern California, including coastal areas of the counties of San Luis Obispo, Santa Barbara, Ventura, Los Angeles, Orange and San Diego. NTWC said tsunami waves of less than 1 foot above normal tide levels can be expected.
Such waves are not a danger to those on land, but they can create unusual and dangerous currents posing a danger to swimmers and boaters. People along the coast of southern California are advised to avoid the water until the tsunami threat subsides.
Chile's Earthquake History
A magnitude-8.8 quake and ensuing tsunami in south-central Chile in 2010 killed more than 500 people, destroyed 220,000 homes, and washed away docks, riverfronts and seaside resorts. That quake released so much energy, it actually it shortened the Earth's day by a fraction of a second by changing the planet's rotation.
The quake had huge ramifications, both political and practical, prompting the Andean nation to improve its alert systems for both quakes and tsunamis.
Chile is one of the world's most earthquake-prone countries because just off the coast, the Nazca tectonic plate plunges beneath the South American plate, pushing the towering Andes cordillera to ever-higher altitudes.
The strongest earthquake ever recorded on Earth happened in Chile – a magnitude-9.5 tremor in 1960 that killed more than 5,000 people.
What is a Tsunami Watch?
A tsunami watch is issued to alert emergency management officials and the public of an event which may later impact the watch area. The watch area may be upgraded to a warning or canceled based on updated information and analysis. Therefore, emergency management officials and the public should prepare to take action. Watches are normally issued based on seismic information without confirmation that a destructive tsunami is underway.
What is a Tsunami Advisory?
A tsunami advisory is issued due to the threat of a potential tsunami which may produce strong currents or waves dangerous to those in or near the water. Coastal regions historically prone to damage due to strong currents induced by tsunamis are at the greatest risk. The threat may continue for several hours after the arrival of the initial wave, but significant widespread inundation is not expected for areas under an advisory. Appropriate actions to be taken by local officials may include closing beaches, evacuating harbors and marinas, and the repositioning of ships to deep waters when there is time to safely do so. Advisories are normally updated to continue the advisory, expand/contract affected areas, upgrade to a warning, or cancel the advisory.
What is a Tsunami Warning?
A tsunami warning is issued by PTWC when a potential tsunami with significant widespread inundation is imminent or expected. Warnings alert the public that widespread, dangerous coastal flooding accompanied by powerful currents is possible and may continue for several hours after arrival of the initial wave. Warnings also alert emergency management officials to take action for the entire tsunami hazard zone. Appropriate actions to be taken by local officials may include the evacuation of low-lying coastal areas, and the repositioning of ships to deep waters when there is time to safely do so. Warnings may be updated, adjusted geographically, downgraded, or canceled. To provide the earliest possible alert, initial warnings are normally based only on seismic information.
Hawaii Tsunami History
1946
A 7.1 earthquake hit the Aleutian Islands sending a massive tsunami towards the Big Island of Hawaii on April 1st. It killed 159 people and caused over 26 million dollars in damage.
1952
An 8.2 earthquake off of the Kamchatka Peninsula in the former USSR generated a tsunami on November 4th that caused close to a million dollars in damage, but no one was killed.
1957
Another earthquake from the Aleutian Islands sent a tsunami that caused approximately 5 million dollars in damage on March 9th.
1960
An 8.3 earthquake from Chile killed 61 people in Hilo, Hawaii on May 23rd and caused over 23 million dollars in damage.
1975
Off the coast of the Big Island on November 29th, an earthquake generated a tsunami killing 2 campers at Halape Beach Park.
2010
We had a little scare in the beginning of 2010, but nothing came of it other than some irregular tides.