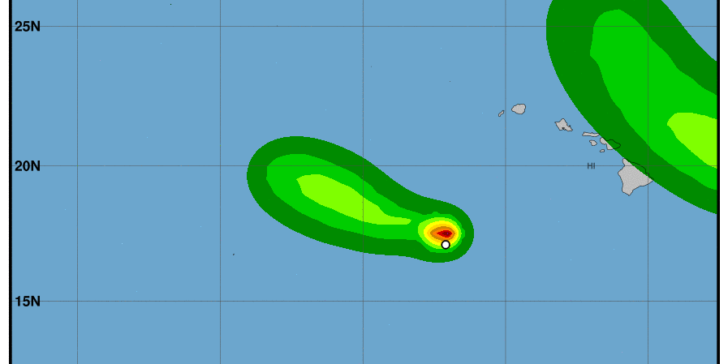 ERICK

Tropical Storm Erick Discussion #29
NWS Central Pacific Hurricane Center Honolulu 
500 AM HST Sat Aug 3rd

Strong west-southwesterly vertical wind shear will continue to weaken Erick over the next couple days. 
The tropical cyclone is expected to become a Tropical Depression later today, a remnant low tonight, 
with dissipation into a trough expected Sunday night.

Deep convection briefly developed over the low level circulation
center of Erick overnight, with the tropical cyclone then
accelerating westward as the convection collapsed. Strong
west-southwesterly shear continues to affect the tropical cyclone,
indicating 45knots of shear over the system. 

Erick is being steered westward by a low-mid level ridge to the
north. The increasingly shallow system is expected to make a turn
toward the west-northwest shortly, with this general motion then
continuing through Sunday at a slightly slower forward speed... 

FLOSSIE:

Tropical Storm Flossie Discussion #25
NWS Central Pacific Hurricane Center Honolulu 
500 AM HST Sat Aug 03 


In about 36-48 hours, Flossie will arrive in an area where westerly
vertical wind shear increases to 30-40 kt, and this unrelenting
shear will lead to the demise of Flossie, especially as it moves
over cooler water in the later forecast periods. 

Flossie doesn't have the most impressive satellite signature this morning, but deep convection continues to develop 
close to where the low-level circulation center (LLCC) is suspected to be. Finding and tracking Flossie's 
obscured LLCC remains a challenge, but it is estimated to be on the western edge of the deep convection. 
Flossie is expected to move toward the west-northwest over the next 48 hours, 
steered by a low- to mid-level ridge centered to the north. On days 3 and 4, 
Flossie will round the western edge of the ridge, and Flossie will turn toward the northwest, 
with a slowing in forward speed. Model spread increases at that time, as is typically the case with recurving cyclones...
 Although the environment in which Flossie is currently embedded is not conducive for a hurricane, 
it is marginally supportive of a tropical storm. 
Low- to mid-level easterly flow and relatively light winds aloft are allowing the LLCC to remain in relative proximity to the deep convection, 
despite vertical wind shear values near 20 kt.