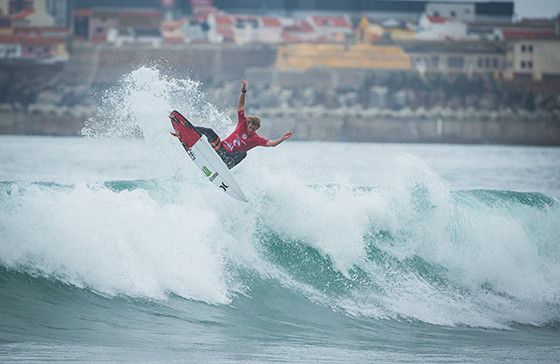 – FLORENCE DOMINATES WITH AERIAL HEROICS
– WSL NO.3 WRIGHT AND NO.4 WILSON ELIMINATED IN ROUND 2
Photo: John John Florence (HAW) scored the day's biggest heat total with aerials.
WSL / Kirstin Scholtz
| | |
| --- | --- |
| Location:    | Peniche/Cascais, Portugal |
| Event window: | October 20 – 31, 2015 |
| Today's call: | Round 2 / Heats 1-7 Completed – Next Call 7AM Tomorrow |
| Conditions: | Three-to-Four Foot Surf on Day 5 |
SNN: SUPERTUBOS, Peniche/Portugal (Saturday, October 24, 2015) – The Moche Rip Curl Pro Portugal, Stop No. 10 on the 2015 Samsung Galaxy World Surf League (WSL) Men's Championship Tour (CT), resumed in bumpy three-to-four foot (1 metre) surf at Supertubos this morning and completed seven heats of the second round of competition. Today's tricky conditions delivered significant upsets as event wildcards eliminated World Title race contenders.
Injury replacement Caio Ibelli (BRA), 22, who is currently 2nd on the Qualifying Series (QS) rankings and will likely be a full-time CT competitor next season, claimed his first-ever CT heat win today, eliminating current WSL No. 3 Owen Wright (AUS). Ibelli displayed an impressive air-game to collect his highest score and apply pressure on his opponent early, before backing it up with a solid three-turn forehand wave to advance into Round 3 and effectively dashing the Australian's hope at the 2015 Title.
"Checking the waves before my heat I realized I couldn't really plan anything," Ibelli said. "Every three minutes, the rip completely changes the lineup. So I just tried to keep busy and move around to try to be in position for the good ones. It's my first heat win ever on the CT, it feels great."
Wright, who measures in a 6'3", was humble but disappointed in this morning's defeat.
"Given my size, these conditions just aren't the best for me," Wright said. "I know that. I felt like I still put together an okay heat. I could have maybe selected some bigger waves, but it was tough for me out there. Hats off to Caio (Ibelli). He's had a really good year on the QS and I suppose they surf these conditions a lot there. This is the first time I've surfed these conditions all year."
"As far as the World Title campaign, today's loss is devastating to that," Wright continued. "I'm pretty upset about it. Today's conditions are not indicative of what we've been battling in all year so to have a critical heat going down in that is disappointing. I think it probably ends my campaign for this season. Perhaps if I win Pipe and the other contenders do poorly here and in Hawaii, I'll have a shot, but it's unlikely at this stage."
Event Wildcard Mason Ho (HAW), 27, produced the second major upset of the day in the Round 2 elimination of WSL No. 4 Julian Wilson (AUS). Ho found a clean little barrel to put a solid opening score on the board, before sitting patiently for more than 10 minutes while Wilson occupied an entirely different peak. In the dying moments of the bout, Ho took it to the air and stomped a clean forehand rotation to overtake Wilson and take the win.
"It's cool to have my Dad over here to watch me compete.  We made a plan and stuck to it even though at times I thought I should go camp with Julian, but I got a couple of opportunities and luckily I landed everything," Ho said. "When you're a kid who grew up surfing like me, you really want to be on tour, and you want to win a World Title. I'm older now and I've learned a lot, and hopefully I'll win a title someday."
Wilson's disappointment at his early elimination was palpable.
"I'm shattered to be honest," Wilson said. "The conditions today are better than when I surfed my first round and we had a good heat. Mason (Ho) was able to get an air at the end and turn the heat. You work so hard all year to get in the title race and then it comes down to these conditions. It's a tough pill to swallow for sure."
John John Florence (HAW), 23, claimed the day's most exciting performance with a solid display of aerial maneuvers to dispatch Glenn Hall (IRL) in a one-sided battle at Supertubos. Florence bounced back from a disappointing first heat yesterday to bring his A-game and light up the Portuguese crowds every time he took to the air in the Peniche beachbreaks.
"I hope it gets bigger for sure, it's pretty slow and small right now," Florence said. "I like the high tide better, it's not so fast and it allows us to get a couple turns on a wave. I'm still learning at each event and I'm really stoked to win that heat. I was a little nervous because Glenn is such a strong surfer. I have the rest of the year to prepare and get ready for 2016, so I'm taking advantage of each heat to see what works."
Current WSL No. 2 Adriano De Souza (BRA), 28, regrouped after yesterday's Round 1 loss to put on a dominant performance in his elimination of local hero Tiago Pires (PRT) in this morning's opening Round 2 heat. The win keeps De Souza's title hopes alive.
"For me it was really tough — Tiago is one of my best friends and I didn't want to match him in my draw," De Souza said. "Tiago and I were fighting for opportunities out there, so I"m happy to make it to Round 3.  I have a dream to win this World Title, and I've worked extremely hard to achieve it."
Degrading conditions on the higher tide forced organizers to put a halt to the competition shortly after noon.  Surfers and event officials will reconvene tomorrow morning at 7 a.m. to assess conditions for a possible re-start.
Up first when the event resumes will be Kai Otton (AUS) against C.J. Hobgood (USA) at the Moche Rip Curl Pro Portugal.
WNW swell eases on Saturday. Storm activity recently over the North Atlantic sets up a reinforcing pulse of WNW swell Sunday PM and into Monday. Solid swell for Tuesday and Wednesday of next week but onshore winds are expected. NW/WNW swell continues for the back half of next week and into next Saturday but local winds remain dicey. Surfline.
The Moche Rip Curl Pro Portugal will run from October 20 – 31, 2015 and be LIVE via webcast on WorldSurfLeague.com
Fans around the world can also follow the broadcast LIVE on OC 250 for Hawaii, Fox Sports in Australia, MCS Extreme in France, EDGE Sports in China, South Korea, Malaysia and other territories and on Globo TV in Brazil.
Moche Rip Curl Pro Portugal Round 2 Results:
Heat 1: Adriano De Souza (BRA) 12.43 def. Tiago Pires (PRT) 6.17
Heat 2: Caio Ibelli (BRA) 13.33 def. Owen Wright (AUS) 12.37
Heat 3: Mason Ho (HAW) 13.93 def. Julian Wilson (AUS) 13.06
Heat 4: Italo Ferreira (BRA) 11.50 def. Tomas Hermes (BRA) 9.74
Heat 5: Jeremy Flores (FRA) 12.76 def. Aritz Aranburu (ESP) 12.00
Heat 6: Ricardo Christie (NZL) 10.73  def. Wiggolly Dantas (BRA) 8.70
Heat 7: John John Florence (HAW) 16.20 def. Glenn Hall (IRL) 8.70
Remaining Moche Rip Curl Pro Portugal Round 2 Match-Ups:
Heat 8: Kai Otton (AUS) vs. C.J Hobgood (USA)
Heat 9: Joel Parkinson (AUS) vs. Adam Melling (AUS)
Heat 10: Adrian Buchan (AUS) vs. Sebastian Zietz (HAW)
Heat 11: Jadson Andre (BRA) vs. Kolohe Andino (USA)
Heat 12: Miguel Pupo (BRA) vs. Michel Bourez (PYF)