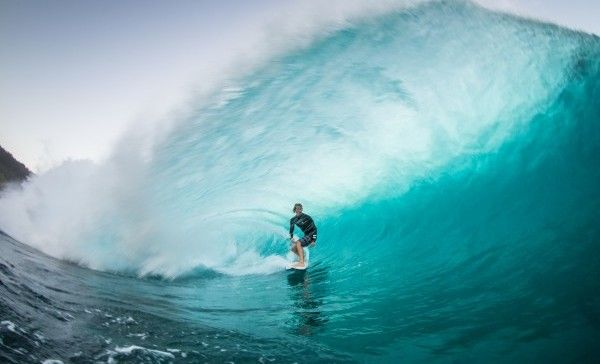 JJF at hom at Pipe © Brent Bielmann
Surf News Network, 27 May, 2015.  Oceanside, California – Today Transworld released their most recent Exposure-Meter, rating how professional surfers rank against one another in the publicity department. Hawaiian hellraiser John John Florence topped the charts this round, over fellow Americans Dane Reynolds (3rd) and Kolohe Andino (2nd).
According to the report, written by Kelsey Smith, and citing the report made by Transworld's Mike Lewis, "While JJF still has a strong grip on his Surf EM crown from last year, some top contenders are steadily inching their way into the mix. Dane Reynolds moved up through the end of April to third place overall, and Noa Deane scored Mover of the month… With a solid boost on the Ad front, John John Florence extended his lead over the rest of pack to nearly 5k, after logging 3,500 points on the month."
Finishing out the top ten, in order, were Noa Deane, Julian Wilson, Gabrielle Medina, Dusty Payne, Jordy Smith, Mick Fanning, and Albee Layer.