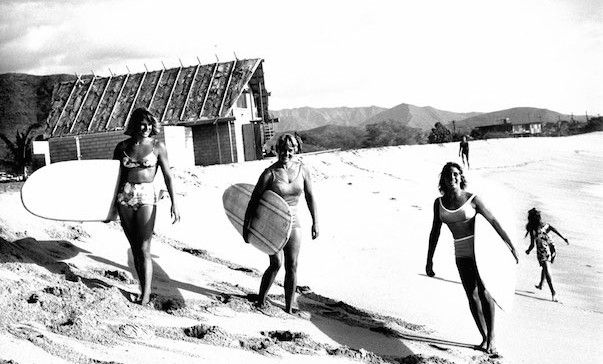 Photo: The Calhoun Family. Photo courtesy of  LeRoy Grannis.
"Trailblazers in Women's Surfing" will be on display at SHACC through mid June, then it will travel south to be featured at the American Association of University Women's National Convention, June 18 – 21, at the Sheraton San Diego Hotel and Marina. -CS  Story by Carolyn Sotka of Scuttlefish
If you are in San Clemente, California this weekend be sure to check out the "Trailblazers in Women's Surfing" exhibit at the Surfing Heritage and Culture Center (SHACC). The exhibit opens April 25th from 6:00 – 9:00 pm and highlights the contributions and achievements of the world's most influential female surfers during a timeline that spans over a century.
Image courtesy of Ron Church.
Beyond paying homage to surfing's earliest trailblazers, such as Hawaiian Princess Ka'iulani, Australian Isobel Letham, and Mary Ann Hawkins who was a champion surfer and swimmer during the 1930s and 1940s, the exhibit highlights accomplishments of champions from each decade, including Linda Benson, Joyce Hoffman, Rell Sunn, Jericho Poppler, Margo Oberg, Gail Couper, Lynn Boyer, Debbie Beacham, Frieda Zamba, Lisa Andersen, Layne Beachley, Keala Kennelly, Cori Schumacher, Stephanie Gilmore, Bethany Hamilton, Carissa Moore and others.
Jericho Poppler. Photo courtesy of Jeff Divine. 
To complement the historical perspective, the exhibit will showcase the evolution of significant surfboards over time, and display other artifacts and memorabilia such as wetsuits, bathing suits, boardshorts, photographs and more.
According to SHACC's Executive Director, Paul Strauch, "Trailblazers in Women's Surfing" provides an engaging overview of women's involvement and achievements in the sport from the early 1900s to today.  "So many of these individual stories about personal determination and challenging the status quo in a male dominated sport will be inspirational for current and future generations of women surfers," Strauch said. "Visitors are going to leave this exhibit with a much better understanding of the impact women have had and continue to have on the sport of surfing."
Carissa Moore. Photo courtesy of Jason Kenworthy/A-Frame Photo.