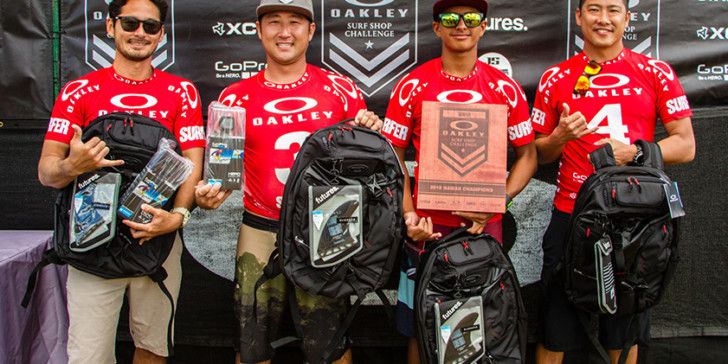 Team Town & Country (L-R) Ryan Sugihara, Garrett Sugihara, Robert Grilho, Travis Hashimoto © Oakley/Ladd
Oakley Surf Shop Challenge
Ala Moana Bowls, Honolulu Oahu
19 July 2016
Team will travel to Lower Trestles for National Oakley Surf Shop Challenge Championships
Surf News Network, 20 July, 2016 – ­Town & Country Surf Factory secured the win at the seventh and final leg of the 2016 Oakley Surf Shop challenge at Ala Moana Bowls. The single-day event matched up Hawaii¹s favorite wave-sliding retailers in four-man teams to battle for a golden ticket to the national championship at Lower Trestles in San Clemente,
California, October 6-7.
With building swell looking promising for the contest and the teams excited to represent their respective shops, the event kicked off with lots of energy.  Round 1 was full of paddle races to the channel marker and making sure team members claimed their best waves to get a chance to double (aka whammy) their score.  In the end, HIC Ala Moana, T&C Surf Factory, Town & Country, and Hi-Tech secured their spots into the Final.
The Final was a close race for the last few waves of the heat to determine the winner, but T&C Surf Factory had a clutch couple waves in the last set to put them on top of the leader board and that¹s where they stayed.
Ironically, T&C was the only team that did not have a professional surfer in their mix and still took the win. They will join the other finalists from six other regions on Oct. 6-7 at Lower Trestles in San Clemente, California.
Hawaii Final Results:
1 ­ T & C Surf Factory (32.42 pts)
2 ­ HIC Ala Moana (30.02 pts)
3 ­ Town & Country (29.55 pts)
4 ­ Hi-Tech (23.33 pts)
2016 Oakley Surf Shop Finalists:
Southwest ­ Surf Ride
Mid-Atlantic ­ Sweetwater Surf Shop
Northeast ­ Heritage Surf & Sport
Southeast ­ Quiet Flight
Northwest ­ Pacific Wave
West ­ Huntington Surf and Sport
Hawaii ­ Town & Country Surf Factory