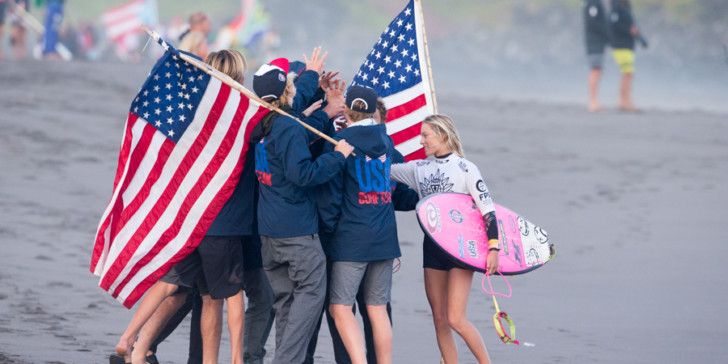 Competition Intensifies with Repechage Rounds
Team USA gathers to celebrate Alyssa Spencer's Repechage Round 2 victory. Photo: ISA / Miguel Rezendes
On Day 4 of the 2016 VISSLA ISA World Junior Surfing Championship the competition intensified as the international field of competitors navigated through 36 Repechage heats, looking for a route back into the Main Event.
As competitors were eliminated, the top performing teams began to emerge from the pack, solidifying their intentions to make a run at the Team Gold Medal. Team USA, France, Hawaii, Australia and Japan are currently in the lead, with all of their competitors remaining in the competition. Team Portugal, Costa Rica, Brazil, Peru and Argentina remain close behind in the chase, all with one eliminated athlete.
Tuesday morning kicked off the Girls U-18 and U-16 Repechage Rounds in jumbled, 4-5 foot surf.
USA's Alyssa Spencer, the only athlete on Team USA that competed on their 2015 Junior Gold Medal team, showed her competition prowess and experience and earned the highest heat total in Repechage Round 2 with a score of 14.67. Spencer advanced onto Round 2 along with Peru's Daniella Rosas Vega (9.36), eliminating Costa Rica's Coral Wiggins (2.67) and Mexico's Metzly Olmos (1.33), who were unable to find waves with scoring potential in the mixed up surf.
Due to the record amount of competitors, there will only be two elimination Repechage Rounds, feeding the winners of Repechage Round 2 into Round 3 of the Main Event. Moving forward from Main Event Round 3, all heats will be single elimination.
Chile's Natalia Escobar did well to find waves with open faces to advance through the Girls U-18 Repechage Round 2 and back into the Main Event, taking first place in her heat with a total of 9.90.
"This ISA World Championship has been an unforgettable experience," exclaimed Escobar. "Each of us will remember this for our whole lives. I'm having a great time. In Chile we have a wave that is a lot like this and we trained there all year. This has helped us a lot and I think it was a great move by our coaches."
The U-18 and U-16 Boys continued, finishing off the first Repechage Round that began on the previous day.
Austria's Jonas Bachan redeemed himself after coming up short in his Main Event Round 1 heat, falling victim to Weslley Dantas (BRA) and Yuki Nakashio (JPN) who displayed progressive, high performance Surfing. Bachan earned the highest score in the Round on Wednesday (13.70) and will compete in the second round of Repechage as he looks to advance back into the Main Event in Round 3.
Mexico's Jose Andrade, who took first place in his Repechage Round 1 heat, commented on the conditions and his path to representing Mexico in the event.
"The conditions are still very difficult and I did everything possible to get the result I wanted. I had three good waves. Many were close outs but one opened up to the right and I did a great snap.
"To represent Mexico I had to compete in qualifying tournaments to get to the National Championship where I finished second. I was offered the opportunity to represent my country in this competition and of course I proudly accepted."
The U-18 and U-16 Boys topped off the day with the second Round of the Main Event as the predicted swell started to fill in, creating well-overhead and unruly waves at Praia do Monte Verde.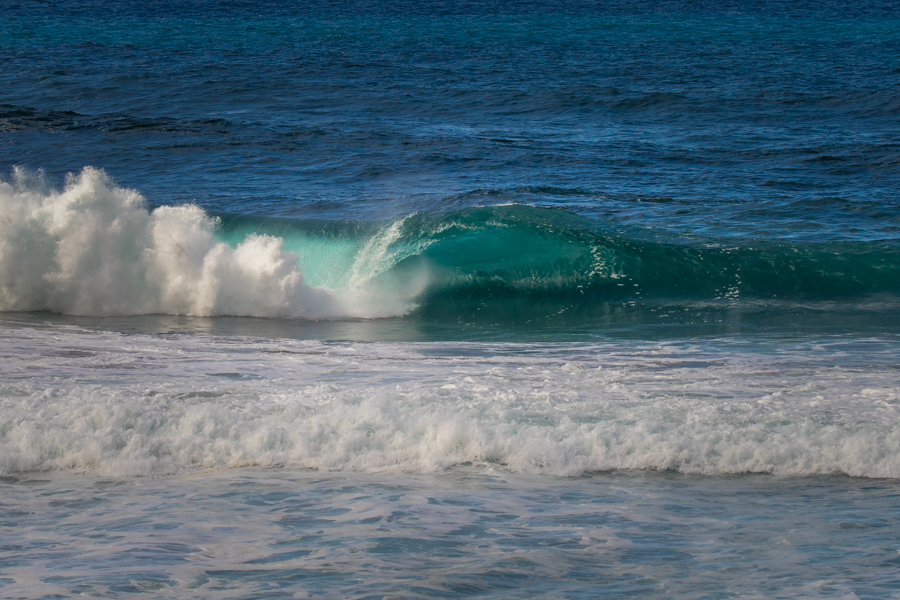 Peru's Alonso Correa and USA's Branden Jones were the standout surfers in the large swell, earning scores in the excellent range and notching the two highest heat totals of the Round with totals 17.20 and 16.10, respectively.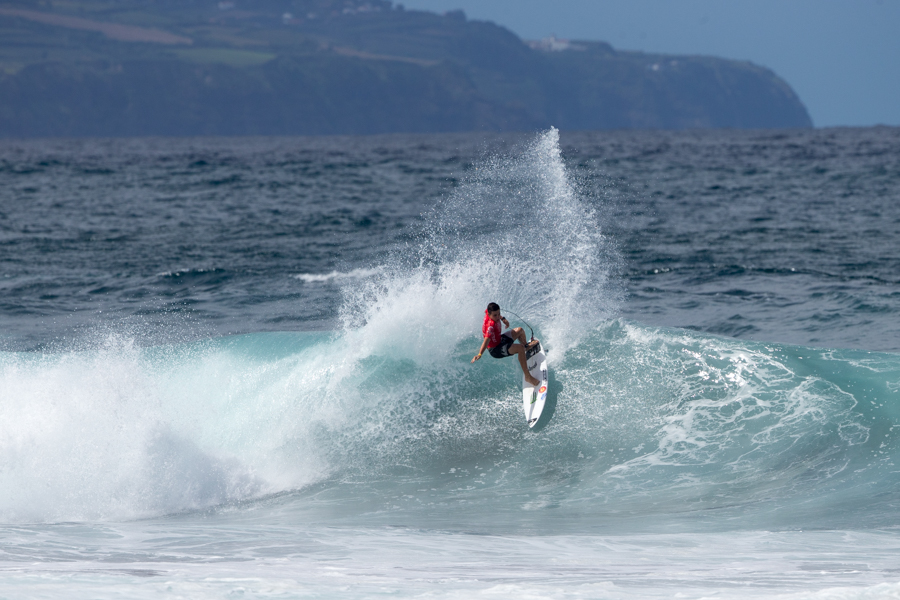 ISA President, Fernando Aguerre, said:
"The chase for the Gold Medals really begins to heat up as more competitors are eliminated from the event. The top countries are starting to make their presence known and make a move to pull away from the pack. It's still early in the competition, but over the next few days we will see which teams are the strongest and will compete for Gold."
A strong Northwest swell to fill in on Wednesday with well overhead surf. This strong swell will slowly fade over the remainder of the contest period, providing solid waves for the competition.Surfline.
View the full Surfline forecast here: http://isaworlds.com/juniors/2016/en/surfline-forecast/
The full results from the fifth day of competition can be viewed here: http://isaworlds.com/juniors/2016/en/results/
Podium 1
8:00am – 8:40am: 2 heats Main Event Round 2 Boys U-18
8:40am – 10:00am: 4 heats Main Event Round 2 Boys U-16
10:00am – 3:20pm: 16 heats Repechage Round 2 Boys U-18
3:20pm – 6:20pm: 9 heats Repechage Round 2 Boys U-16
Times in Azores Standard Time.
Tune in to watch the live action on www.isaworlds.com.