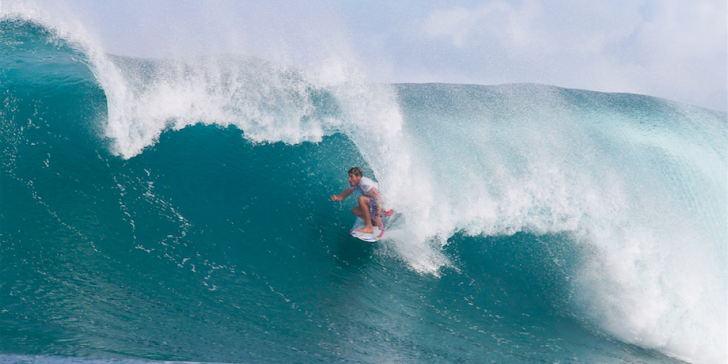 Jack Freestone (AUS) finds cover for a perfect 10-point barrel. WSL / Masurel
Location:    North Shore Oahu, Hawaii
Event:
Dates & Rating: Vans World Cup of Surfing – Event No. 2 of the Vans Triple Crown
November 24 – December 6, 2015
WSL Men's QS 10,000
The whole story below!

Here's Jacks 10 Attack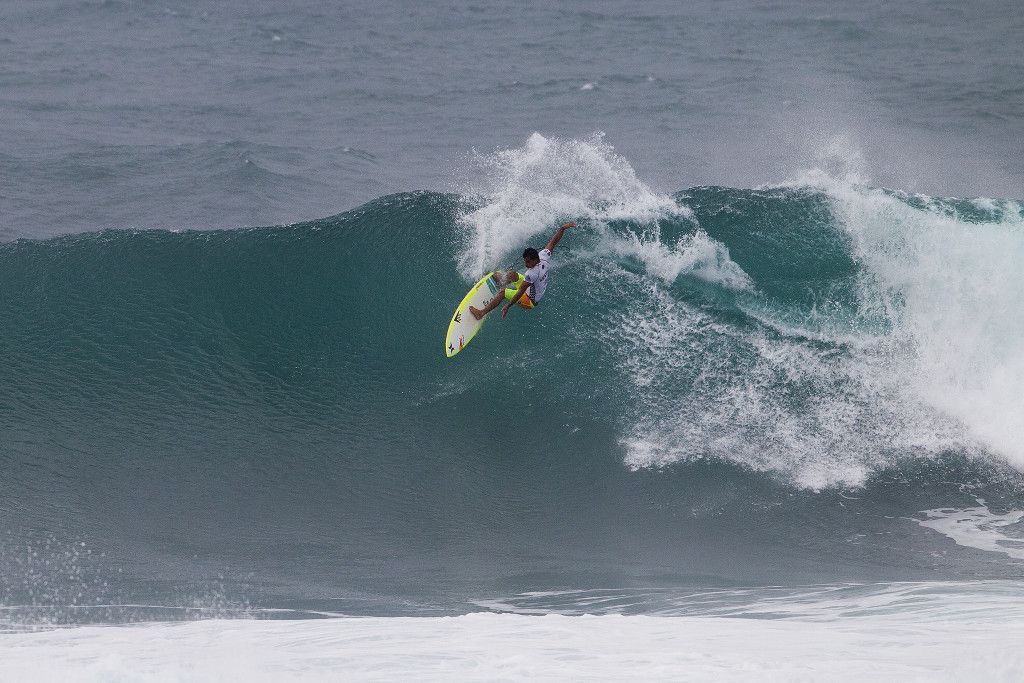 Michel Bourez during Round 3.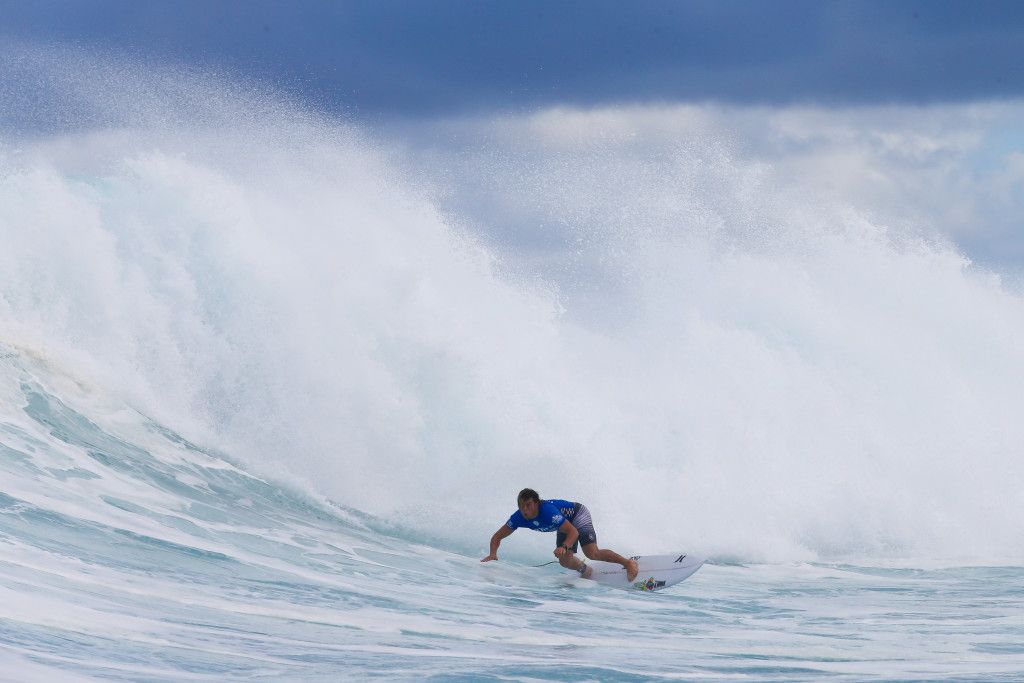 Conner Coffin (USA) .Vans World Cup 2015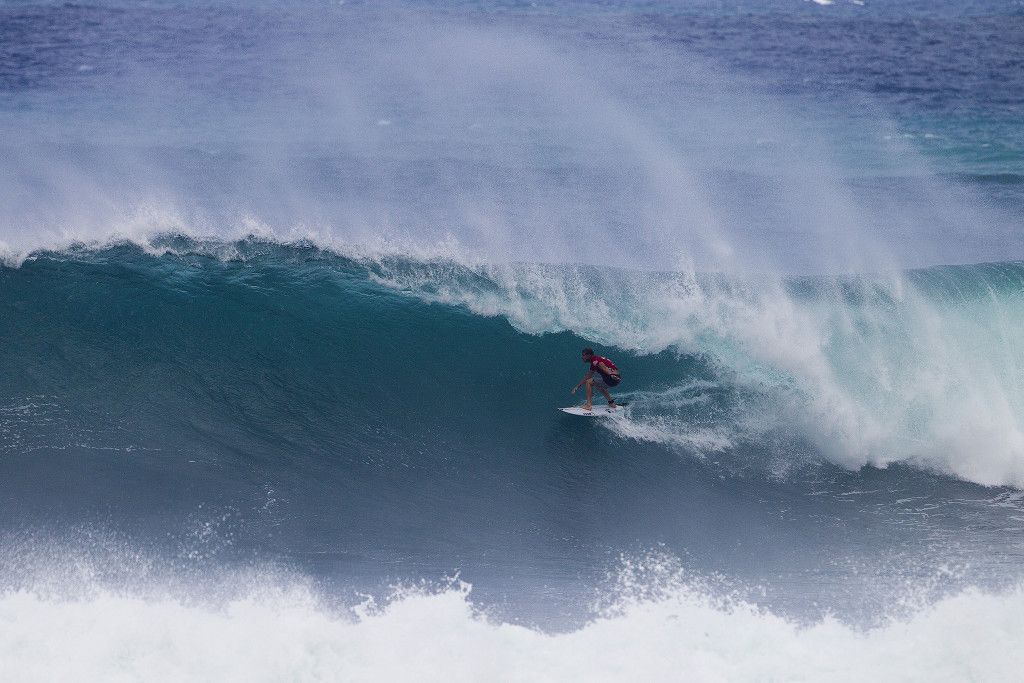 Mick Fanning of Australia (pictured) advancing through Round 3 in second place at the Vans World Cup of Surfing at Sunset Beach on Oahu, Hawaii on Wednesday December 2, 2015.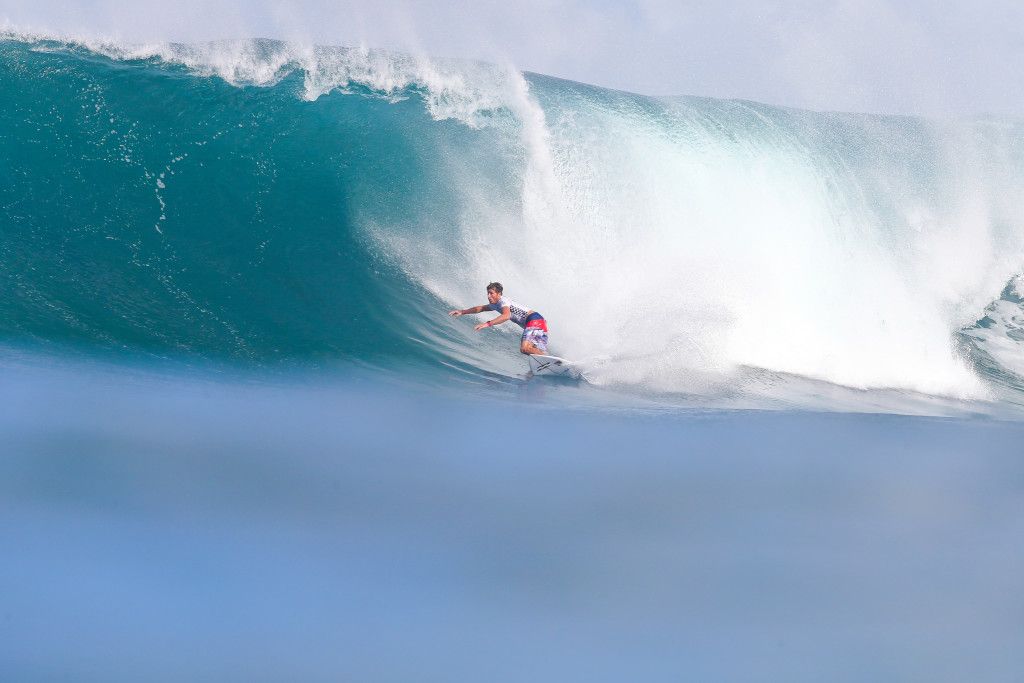 Jack Freestone (AUS) .Vans World Cup 2015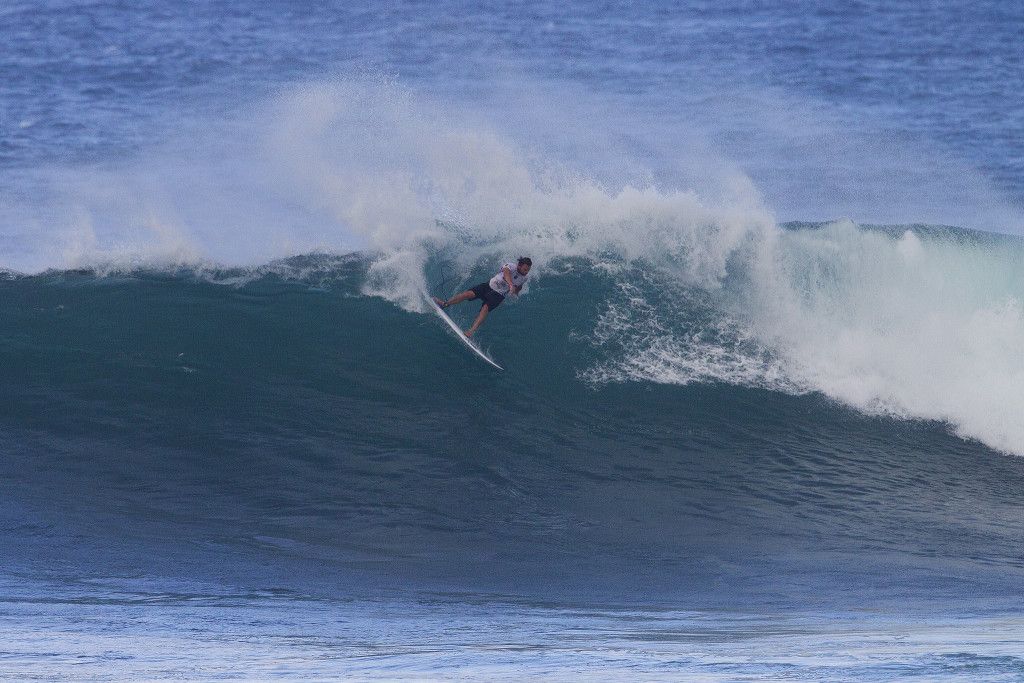 Dane Reynolds of the USA (pictured) winning his Round 3 heat at the Vans World Cup of Surfing at Sunset Beach on Oahu, Hawaii on Wednesday December 2, 2015.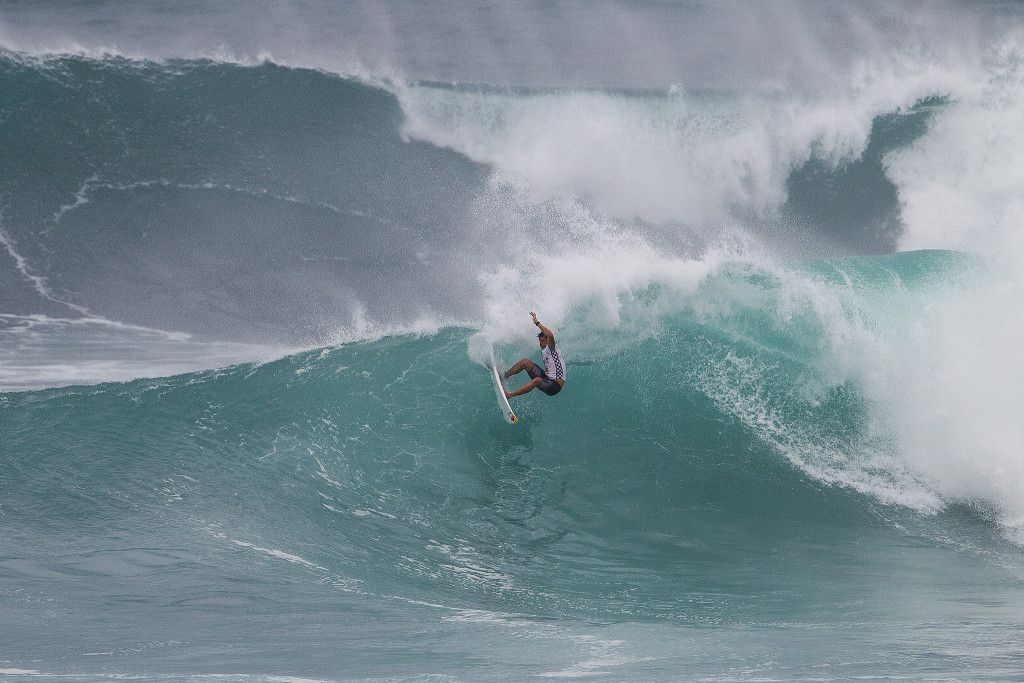 Ian Walsh of HAwaii (pictured) winning his Round 3 heat at the Vans World Cup of Surfing at Sunset Beach on Oahu, Hawaii on Wednesday December 2, 2015.

Sunset Beach, North Shore, Oahu, HAWAII – (Wednesday, December 2, 2015) — Vans World Cup of Surfing defending champion Michel Bourez (PYF) made event history today with the highest heat total of the 2015 Vans Triple Crown thus far, a near-perfect combined score of 18.60. Another record-shattering performance was made by Australia's Jack Freestone, who laid down the first perfect wave score of the series with an impressive 10-point barrel and a big finishing maneuver to advance.Tomorrow will see the concluding rounds of competition with Finals around 3:00pm. Frontrunners will surf an impressive four times to make it to the podium – the day will be filled with tireless action and inspiring athleticism, and best of all, a champion to hoist the Vans World Cup of Surfing trophy.
Bourez easily dominated his heat against Matt Wilkinson (AUS), Miguel Tudela (PER) and Bino Lopes (BRA), with two impressive scores, a 9.00 and 9.60. The Tahitian dedicated his performance to the late Teahupoo charger and fellow countryman Malik Joyeux, whose life is celebrated every December 2nd after passing away ten years ago.
"I have to surf my best out there for him," said Bourez. "It was such a good heat for me. I expected to have good waves like this today, so I'm stoked just to make it."
Freestone's 10-point barrel ride saw the 23-year-old maintain first place with a combined wave score of 17.67, while Sunset specialist Mason Ho (HAW), Aritz Aranburu (ESP) and Nat Young (USA) battled for second place advancement.
"Those ones are really hard to come by, especially when it's like this," said Freestone in response to his perfect 10. "I was just lucky to be in position, I was under Nat and Aritz and they both didn't even look at it. I just swooped on it and it just had the perfect shape on it."
Young, who sits comfortably in 10th position on the Championship Tour (CT) rankings, made it past Ho by just over a point with an 11.93 combined heat total, which sees the surfer advance onto the next round. Spanish standout Araburu was pushed out of the competition.
Ending the day in epic fashion was current World Champion Gabriel Medina (BRA) with a gravity-defying floater. With a flurry of waves in the final minutes of the heat, places shifted quickly and left everyone eagerly anticipating scores. Deivid Silva (BRA) moved from fourth to first place and Medina from third to second in the final seconds before the horn sounded. Ryan Callinan (AUS) and Connor O'Leary (AUS) were left behind, as Silva and Medina advanced in first and second respectively.
"Luckily I got that last one," said Medina. "I knew I needed a 6 or something, but I couldn't hear anything. I did two turns … that's what I had to do, a floater. That was a tough floater, it felt like an air when I was landing. Yeah, stoked to land that one and get the score."
Silva currently leads the Triple Crown Rookie of the Year status and needs a third place finish at Sunset to make the top ten in the Qualifying Series (QS) and ultimately qualify for the World Tour. Fresh off a QS6,000 win in Brazil, Silva is a serious contender in the tricky conditions and showed fierce talent to take down Medina.
Big wave surfer Ian Walsh (HAW), who leads the regional rankings, had a successful heat against Stuart Kennedy (AUS), Adriano De Souza (BRA) and Carlos Munoz. The athlete posted an 8.50 for a solid opening performance and continued to take on big Sunset with confidence and positioning to post another good score, a 7.27.
Championship Tour leader Mick Fanning (AUS) and entertaining freesurfer Dane Reynolds (USA) traded giant waves in an exciting heat that also included Joan Duru (FRA) and Noe Mar McGonagle (CRI). Reynolds narrowly thumped Fanning for first place by posting a 6.17 and an 8.77, just 0.45 points ahead. Both advanced into the next round.
Reynolds competed on a brand new Channel Islands surfboard, a fearless move for the 30-year-old. As a shaper himself, Dane has the ability to understand how a board will ride well before even testing it.
"I'm feeling good, that was the first time I rode this board," said Reynolds. "It's hard to feel confident when you haven't even stood up on a board yet, but I stood up on an insider, my first wave, and it felt pretty good… rail to rail transitions, and wasn't doing anything weird so I felt comfortable when I finally did stroke into a decent wave."
Conner Coffin (USA) was under pressure today to make his heat against Wiggolly Dantas (BRA), Sebastian Zietz (HAW) and Jack Robinson (AUS), since the California native needs a 13th place finish in this event to make the 2016 Championship Tour. Coffin made it through in second with a 6.33 and 4.83, while Robinson advanced in first with a combined heat score of 13.50. The 17-year-old Australian phenom looked incredibly cool under the high pressure of triple overhead waves.
The fourth and final day of the Vans World Cup will take place tomorrow with an 8AM start, and finals are expected to begin around 3:00pm. Wave faces are forecasted to be in the 8-12-foot range with occasional 15-footers gracing the Sunset lineup. Multiple champions will be crowned tomorrow, including the Vans World Cup of Surfing winner, WSL Regional Champion, and the Hawaiian Airlines Mile leader.
Round of 64 (1st and 2nd advance to next round)
Heat 1: Frederico Morais (PRT) 13.90pts, Jordy Smith (ZAF) 13.10pts, Seth Moniz (HAW) 12.96pts, Kanoa Igarashi (USA) 9.37pts
Heat 2: John John Florence (HAW) 11.66pts, Kolohe Andino (USA) 7.60pts, Benji Brand (HAW) 6.03pts, Hiroto Ohhara (JPN) 1.73pts
Heat 3: Jack Robinson (AUS) 13.50pts, Conner Coffin (USA) 11.16pts, Wiggolly Dantas (BRA) 10.60pts, Sebastian Zietz (HAW) 5.27pts
Heat 4: Ricardo Christie (NZL) 11.54pts, Italo Ferreira (BRA) 10.33pts, Kekoa Cazimero (HAW) 7.80pts, Alex Ribeiro (BRA) 7.60pts
Heat 5: Jack Freestone (AUS) 17.67pts, Nat Young (USA) 11.93pts, Mason Ho (HAW) 10.60pts, Aritz Aranburu (ESP) 9.40pts
Heat 6: Jesse Mendes (BRA) 7.07pts, Torrey Meister (HAW) 6.56pts, Bede Durbidge (AUS) 3.57pts, Adam Melling (AUS) 2.33pts
Heat 7: Adrian Buchan (AUS) 16.00pts, Marc Lacomare (FRA) 15.27pts, Jadson Andre (BRA) 8.23pts, Marco Giorgi (URY) 5.83pts
Heat 8: Dane Reynolds (USA) 14.94pts, Mick Fanning (AUS) 14.50pts, Joan Duru (FRA) 13.66pts, Noe Mar McGonagle (CRI) 9.20pts
Heat 9: Ian Walsh (HAW) 15.77pts, Stuart Kennedy (AUS) 11.10pts, Adriano De Souza (BRA) 9.50pts, Carlos Munoz (CRI) 7.57pts
Heat 10: Yadin Nicol (AUS) 17.40pts, Soli Bailey (AUS) 13.30pts, Kai Otton (AUS) 13.10pts, Keanu Asing (HAW) 10.50pts
Heat 11: Caio Ibelli (BRA) 13.40pts, Dusty Payne (HAW) 12.84pts, Jamie O'Brien (HAW) 8.17pts, Jeremy Flores (FRA) 5.30pts
Heat 12: Josh Kerr (AUS) 13.50pts, C.J. Hobgood (USA) 8.36pts, Pedro Henrique (PRT) 7.93pts, Patrick Gudauskas (USA) 7.00pts
Heat 13: Makuakai Rothman (HAW) 16.43pts, Julian Wilson (AUS) 13.30pts, Davey Cathels (AUS) 11.23pts, Joel Centeio (HAW) 6.63pts
Heat 14: Vasco Ribeiro (PRT) 16.67pts, Joel Parkinson (AUS) 12.57pts, Miguel Pupo (BRA) 9.70pts, Brent Dorrington (AUS) 8.23pts
Heat 15: Michel Bourez (PYF) 18.60pts, Matt Wilkinson (AUS) 12.50pts, Miguel Tudela (PER) 10.86pts, Bino Lopes (BRA) 6.10pts
Heat 16: Deivid Silva (BRA) 15.70pts, Gabriel Medina (BRA) 15.34pts, Ryan Callinan (AUS) 11.66pts, Connor O'Leary (AUS) 10.90pts