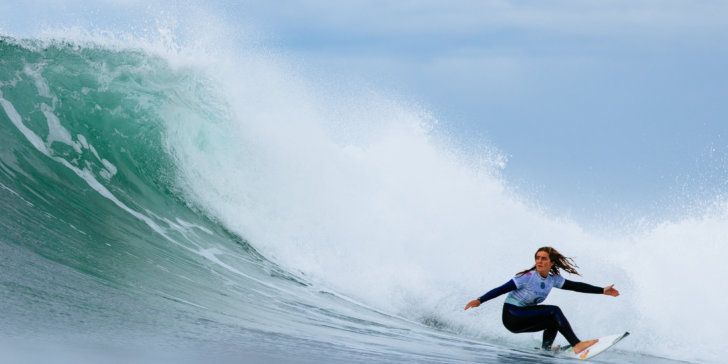 SHOCKING EARLY EXIT FOR 2X WSL CHAMPION WRIGHT
JEEP FRONTRUNNER PETERSON'S RUN ENDS AT STOP NO. 2
SMITH WINS CORONA HIGHLINE SPECIALTY HEAT
16-year-old Caroline Marks (USA) continues to overtake the world's best surfers at the Rip Curl Pro Bells Beach.
© WSL /  Sloane
Location:   
  Bells Beach, Victoria, Australia
Event window:
  March 28 – 

April 8, 2018

Today's call:
  Women's Round 3 complete
Conditions:
  3 – 4 foot (1 – 1.3 metre)
BELLS BEACH, Victoria/AUS (Sunday, April 1, 2018) – The Rip Curl Women's Pro Bells Beach, Stop No. 2 on the World Surf League (WSL) Championship Tour (CT), completed Round 3 today in three-to-four foot (1-1.3 metre) waves at the world-famous Bells Beach. The round witnessed major eliminations, narrowing the women's field to eight for the Quarterfinals.
In a shocking turn of events, two-time WSL Champion Tyler Wright (AUS) lost in Round 3 Heat 2 and leaves with a 9th place result. The Australian breezed through her opening heat at the Rip Curl Women's Pro but did not repeat her success today in Round 3. The 24-year-old now shifts her focus to the third and final stop on the Australian leg, the Margaret River Pro, which she won in 2016.
"I didn't feel like anything really went wrong out there," Wright said. "My boards felt on point, my surfing was good, overall I was happy with my performance, so I'm not too disappointed, to be honest. I did have one fall, which reduced my score on that wave but apart from that everything felt great. I've got a bit of time before Margaret River, so I'm just going to cruise for a week and the begin to focus on that."
Tatiana Weston-Webb (HAW) and 2009 Rip Curl Pro Bells Beach winner Silvana Lima (BRA)eliminated Wright in the second heat of the day. All three surfers had their fair share of opportunities, however, Weston-Webb asserted dominance with the event's highest score so far, a near-perfect 9.23 (out of a possible 10). Lima's second-place result in the heat edged out Wright by 1.17 points.
"I'm stoked to get the highest wave score of the event so far," Weston-Webb said. "That was a real gem and I felt really loose and settled. With my mobility training I've been doing down here, I'm feeling really comfortable out here and I'm very happy to make it through to the next round."
The upsets continued with current World No. 1 Lakey Peterson's (USA) elimination from the event by compatriots Caroline Marks and Sage Erickson. 2018 CT Rookie Marks locked in an early lead with a commanding 8.00 single-wave score (out of a possible 10). In a race to catch up to the rookie, Erickson punched in a 3.00 and 5.33 to just squeak past Peterson, who fell 1.40 points short of advancing.
"I'm so stoked to get through and get that good wave in that first exchange," said Marks. "The ocean went lully straight after, so I am happy I didn't wait any longer. I'm absolutely loving this learning experience and really enjoying this life on the tour."
"That was a total opportunity lost," Peterson said. "It was unfortunate that there were not a few more waves coming through out there for all three of us, but that's just how it goes sometimes in surfing. Sage [Erickson] and Caroline [Marks] surfed great heats, so I'm stoked for them. My surfing feels good at the moment, so I'll learn from my mistakes in that heat and move forward. I'm going to head to Margaret River early and get dialed in over there, I really want to do well there so that will be my focus now."
Stephanie Gilmore (AUS), six-time WSL Champion and three-time event winner, did not let herself fall into the list of upsets today with her win over Johanne Defay (FRA) and Coco Ho (HAW). Gilmore carved her way to a two-wave combination of 11.56, while Defay progressed in second place. Unable to find the waves to challenge, Ho was eliminated from the event.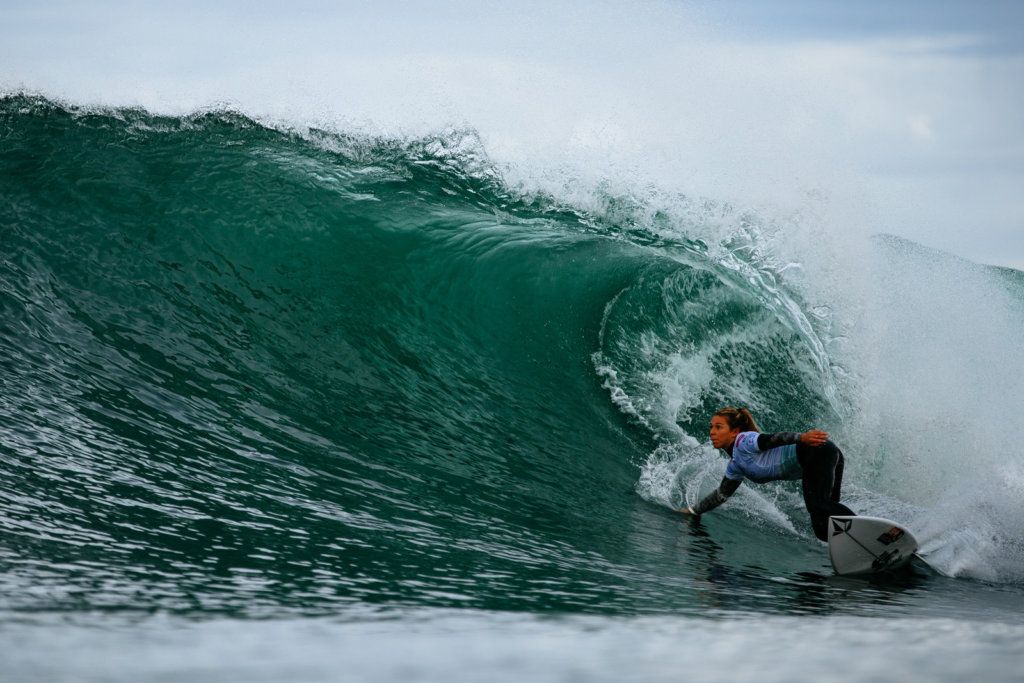 PHOTO: © WSL / Sloane 
Three-time WSL Champion Carissa Moore (HAW) also booked herself a spot in the Quarterfinals after a solid showing in her Round 3 matchup with Nikki Van Dijk (AUS) and trials winner Kobie Enright (AUS). Moore played a patient game, only catching four waves in the 40-minute heat and even posted an excellent 8.33 to move one step closer to a third Rip Curl Pro Bells Beach win. Van Dijk also advances to the Quarters with her second-place finish, while Enright exited in Equal 9th.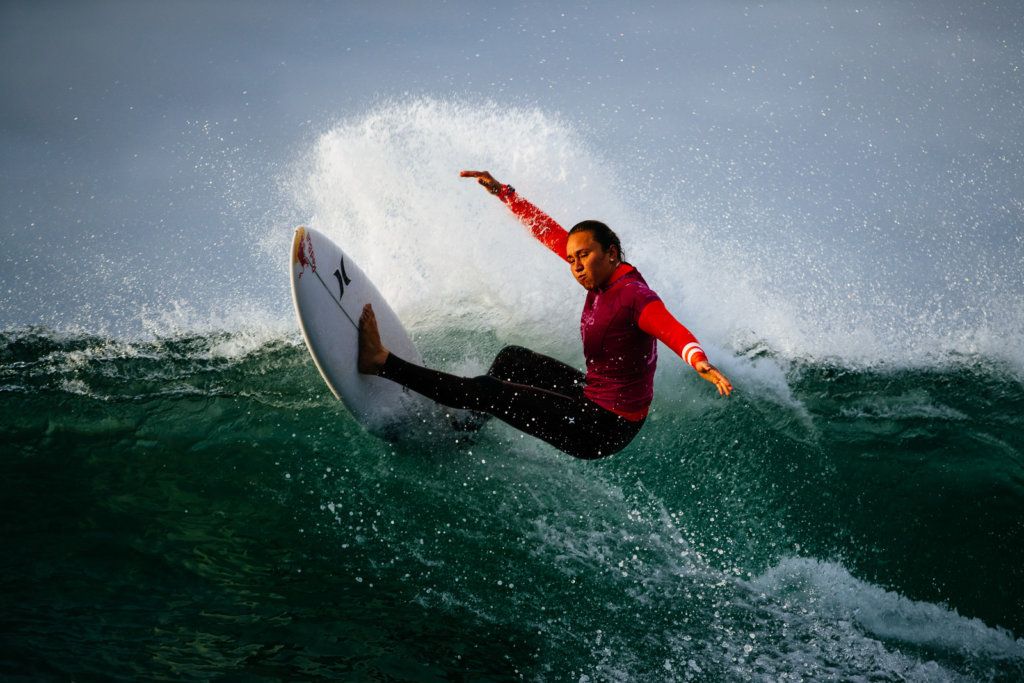 PHOTO: © WSL / Sloane
"Surfing those early round heats is always a little nerve-racking," Moore said. "The waves were slow so I was sitting and waiting a lot, which is always a little unsettling but I was stoked to find that excellent score. Coming to Bells is always amazing. It is such an iconic place with beautiful waves and to ring the Bell again would be such a massive honor."
The Corona Highline event, a single-heat expression session featuring four athletes, capped off the day's action. The specialty heat saw Matt Wilkinson (AUS), Jordy Smith (ZAF), Silvana Lima (BRA), and Johanne Defay (FRA) rule the Bells lineup on sustainable, twin-fin surfboards shaped by Gary McNeill.
The Corona Highline aims to not only showcase the elite competitors' individuality and style as they surf identical twin-fin surfboards but also some of the innovative and relevant solutions to marine plastic pollution. In addition to riding sustainable surfboards, the competitors used eco-fins made from fishnets salvaged from Chile and wore Parley Ocean Plastic™ jerseys upcycled from plastic.
The Corona Highline was broadcast on Facebook.com/WSL, where fans voted live for the winner. Jordy Smith earned the most votes and took out the Corona Highline for the second time.
Event organizers will reconvene tomorrow morning at 6:30 a.m. AEDT to make the next call.
Old/fading SW swell for Easter Sunday, but still plenty contestable with the women's event underway. Favorable offshore wind conditions for the morning, then turning onshore in the afternoon. More sizable swells stacking up for next week to keep surf elevated; next one due Mon/Tues (and looking pretty solid), then another by Thursday the 5th, and possibly one last swell on Sunday the 8th. For the most part, conditions next week are looking pretty good (although not so favorable on Monday). Surfline
Rip Curl Women's Pro Bells Beach Round 3 Results:
Heat 1: Carissa Moore (HAW) 13.06, Nikki Van Dijk (AUS) 10.13, Kobe Enright (AUS) 8.67
Heat 2: Tatiana Weston-Webb (HAW) 14.56, Silvana Lima (BRA) 13.67,  Tyler Wright (AUS) 12.50
Heat 3: Caroline Marks (USA) 12.17, Sage Erickson (USA) 8.33, Lakey Peterson (USA) 7.73
Heat 4: Stephanie Gilmore (AUS) 11.56, Johanne Defay (FRA) 10.22, Coco Ho (HAW) 7.93
Rip Curl Women's Pro Bells Beach Quarterfinal Matchups:
QF 1:Carissa Moore (HAW) vs. Silvana Lima (BRA)
QF 2: Tatiana Weston-Webb (HAW) vs. Nikki Van Dijk (AUS)
QF 3: Caroline Marks (USA) vs. Johanne Defay (FRA)
QF 4: Stephanie Gilmore (AUS) vs. Sage Erickson (USA)
Rip Curl Pro Bells Beach Round 3 Matchups:
Heat 1: Jordy Smith (ZAF) vs. Wade Carmichael (AUS)
Heat 2: Kolohe Andino (USA) vs. Michel Bourez (PYF)
Heat 3: Owen Wright (AUS) vs. Jesse Mendes (BRA)
Heat 4: Matt Wilkinson (AUS) vs. Griffin Colapinto (USA)
Heat 5: Mick Fanning (AUS) vs. Sebastian Zietz (HAW)
Heat 6: Julian Wilson (AUS) vs. Patrick Gudauskas (USA)
Heat 7: John John Florence (HAW) vs. Ezekiel Lau (HAW)
Heat 8: Joel Parkinson (AUS) vs. Frederico Morais (PRT)
Heat 9: Adriano de Souza (BRA) vs. Conner Coffin (USA)
Heat 10: Filipe Toledo (BRA) vs. Italo Ferreira (BRA)
Heat 11: Adrian Buchan (AUS) vs. Jeremy Flores (FRA)
Heat 12: Gabriel Medina (BRA) vs. Willian Cardoso (BRA)