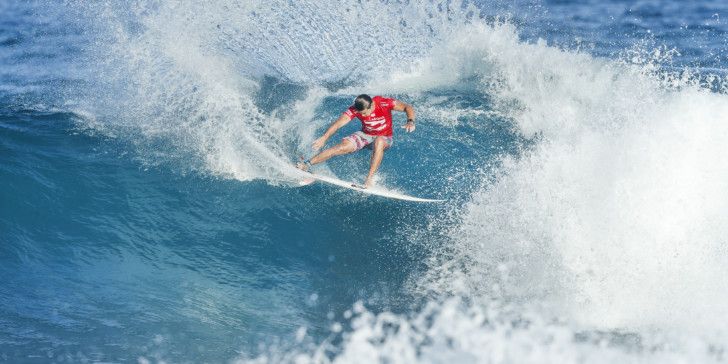 – 6X WSL CHAMPION GILMORE DOMINATES PIPELINE
– FLORENCE AND MEDINA JUMPSTART PIPE MASTER CAMPAIGNS WITH ROUND 1 VICTORIES
– RIBEIRO DEFEATS DEFENDING EVENT WINNER DE SOUZA IN CAREER-FIRST ROUND 1 WIN
2014 Pipe Master Julian Wilson (AUS) opened up Round 1 of the Billabong Pipe Masters in Memory of Andy Irons with a win against Wiggolly Dantas (BRA) and rookie Ryan Callinan (AUS). Wilson will advance straight to Round 3, while Dantas and Callinan will be relegated to elimination Round 2.
Image: © WSL /  Poullenot
| | |
| --- | --- |
| Location:    |   Banzai Pipeline, Oahu, Hawaii  |
| Event window: |   December 8 – 20, 2016 |
| Today's call: |   Round 1 & Women's Pipe Invitational complete  |
| Conditions: |   4 – 5 foot (1 – 1.5 metre) |
BANZAI PIPELINE, Oahu/Hawaii (Wednesday, December 14, 2016) – The Billabong Pipe Masters in Memory of Andy Irons witnessed heated match-ups as the world's best surfers fought for strong starts at the final stop on the 2016 Samsung Galaxy World Surf League (WSL) Championship Tour (CT). Today saw the completion of Round 1 and the Women's Pipe Invitational in four-to-five foot (1 – 1.5 metre) conditions at Pipeline.
Newly crowned WSL Champion John John Florence (HAW) confirmed his dominance on the CT with a commanding win against Jadson Andre (BRA) and event wildcard Gavin Beschen (HAW). The Round 1 Heat 6 match-up saw Florence deliver two excellent rides to earn the highest heat score of the Billabong Pipe Masters, a commanding 16.66. The local favorite will skip elimination Round 2 where Andre and Beschen will battle to stay alive in the event.
"There is a really supportive crowd here especially with being home," said Florence. "It is nice to have all of my family and friends here and I feel comfortable. Jadson [Andre] has been ripping and surfing really well in the past events at Haleiwa and Sunset. He has been fun to watch. Even today it was hard out there and the winner was going to be whoever found those sneaky double-ups. Jadson went off and did an air on that first one and I thought that he would do those the whole heat. It was a little nerve-wracking going up against him, but I was happy to come out on top."
Gabriel Medina (BRA), 2014 WSL Champion and defending Vans Triple Crown of Surfing winner, put on a show at Pipe in his Round 1 heat against rookie Kanoa Igarashi (USA) and former Pipe Master Bruce Irons (HAW). Medina unleashed big backside hacks at Backdoor to earn a 15.10 combined heat score, leaving Igarashi to chase a 9.43 and Irons to turn in two new scores.
"That was a fun heat," said Medina. "It is really challenging and tricky out there, but I am stoked to make it through. I got here just before [the Vans World Cup at] Sunset, but it feels like I have been here for two years. I cannot wait to go home after this event and hopefully the waves get better. It would be great to make the Final here at Pipe. I love this wave so it will be good."
Rookie Alex Ribeiro (BRA) played the spoiler today after defeating defending event winner Adriano de Souza (BRA) and fellow rookie Conner Coffin (USA) in Heat 7. De Souza took control for a majority of the heat with a solid 7.17 but was not able to find the second wave score necessary to fend off Ribeiro, who took the win with two 5-point rides.
"It was pretty hard out there because the waves were not too consistent," Ribeiro said. "I had a lot to fight through and it was really close at the end. Adriano [de Souza] opened with a 7.17 and only needed a 4.10. When he lost the last opportunity, I got the priority and just held the heat. I am stoked to make my first Round 1 win of the season. Next year I plan to come back stronger and ready to go."
Matt Wilkinson (AUS), current World No. 4 on the Jeep Leaderboard, narrowly clinched the win against Frederico Morais (PRT) and Nat Young (USA) in Round 1 Heat 3. Morais, current leader of the Vans Triple Crown of Surfing and qualifier on the 2017 CT, held the lead in the dying minutes of the heat with a 13.27 combined score, but a buzzer beater wave from Wilkinson moved him into second place by only a 0.07 point difference. Wilkinson will advance to Round 3, while Young and Morais surf again in Round 2.
"These are not the conditions that you usually expect at Pipe, but I knew I only needed average scores to get through," Wilkinson said. "That last exchange I had priority so I let the others go on the first few and I got the cleanest wave, which I knew I had to finish it off to win so I'm stoked. I've been sore in pain so I've been resting but I'm here for one reason so I'll deal with being in pain for 30 minutes. It's painful but when you're on a wave it goes away so I'll be fine."
Jordy Smith (ZAF), current No. 3 on the Jeep Rankings, will advance directly to Round 3 after defeating Keanu Asing (HAW) and Finn McGill (HAW) in Heat 4. Smith came into the heat with momentum from his recent victory at the Vans World Cup of Surfing. The South African showcased his power surfing to earn a 5.27 and 7.33 for the win. Asing trailed closely behind Smith, but could not find the required second wave score. Asing's requalification is at stake in this event and he will need a strong finish at Pipe to secure his position on the 2017 CT. McGill, who earned the wildcard entry after winning the Pipe Invitational, put on a solid fight in his first ever CT event, but fell short of advancing out of the heat.
"I've been loving my time out here in Hawaii and surfing so much," said Smith. "There hasn't been too much swell but I've been surfing everywhere I can and really enjoying my time at the end of the year. I've been riding my short boards a lot so I'm really familiar with them. It's still really tough out there but I just want to make each heat and take it as it comes."
11-time WSL Champion Kelly Slater (USA) stamped his authority at Pipe with his Round 1 Heat 10 win. Slater ignited his backhand to post two solid 6-point rides for a 12.70 heat total and the win over Kai Otton (AUS) and rookie Caio Ibelli (BRA).
"First off, congratulations to Finn McGill for his performance the other day and making it into this," Slater said. "I could feel that stoke like when I was 17 and got to go against Barton Lynch in Florida. That feeling when you are a teenager and get that chance is super fun and exciting. I really enjoy watching these events — as far as being in them it is a different story — but just watching the bubble unfold on our tour and qualifying. Seeing other guys so excited and focused and to have that pay off inspires me. To see that is rejuvenating. Obviously, I am feeding off of the young guys not the old guys, and I am getting glimpses of that same feeling when I first started."
Heat 8 witnessed an intense battle between 2010 Pipe Master Jeremy Flores (FRA), 2012 Pipe Master Joel Parkinson (AUS) and Stuart Kennedy (AUS). Flores came charging out the gates with a 7.83, but needed a backup score to take control away from Kennedy. Looking for only a marginal score to take the lead, Flores took advantage of one last opportunity to tie Kennedy's 9.00 combined score. Flores was able to take the win by having the higher single-wave score.
"I started with a pretty good score and thought that there would be plenty more for a backup score," Flores said. "I broke my board and then had to do the run-around. At the end, I was needing only a 1-point ride and I went on a left and fell. I got another one but then did not know what to do! I had a section and I did not know if I had to go huge or finish it. It is not your usual finish, but I got it done. I guess you need these lucky heats to get on a roll."
Julian Wilson (AUS), Miguel Pupo (BRA), Filipe Toledo (BRA), Italo Ferreira (BRA)and Michel Bourez (PYF) also claimed their tickets into Round 3 after winning their Round 1 match-ups.
The Women's Pipe Invitational, a WSL specialty event, took to the water following the conclusion of Men's Round 1 with 2016 WSL Champion Tyler Wright (AUS), six-time WSL Champion Stephanie Gilmore (AUS) and three-time WSL Champion Carissa Moore (HAW) battling for the win.

Caption: Six-time WSL Champion Stephanie Gilmore (AUS) put on a stunning performance at the Women's Pipe Invitational.
Image: © WSL /  Heff
Women's Pipe Invitational Results:
1 – Stephanie Gilmore (AUS) 17.00
2 – Tyler Wright (AUS) 10.00
3 – Carissa Moore (HAW) 7.23
The single-heat Final witnessed Gilmore claim victory with her impressive 17.00 combined score. Gilmore looked unstoppable as she unleashed a series of vertical snaps and smooth rail-carves to earn a near-perfect 9.00 and an excellent 8.00. Wright secured a 6.33 barrel ride at Backdoor, but was put into a combination with five minutes left on the clock. Defending event winner Moore was able to hunt down a barrel, but did not turn in the scores necessary to defeat the Australian. Gilmore finished sixth on the CT rankings this year and is preparing to do battle in 2017.
"It is really cool to win this, I mean I waited all year to do it but I am really happy to finally win something and against Carissa [Moore] and Tyler [Wright]," said Gilmore. "They are both the best surfers in my eyes. We are all so competitive and were out there laughing and being friends, but deep down we all want to get the best waves and get a really good score. I am feeling much stronger in my surfing. I feel like I am already on top of things so I am really excited for next year."
Event organizers will reconvene at 7:30 a.m. (local time) tomorrow to assess conditions and make the next call.
While uncertainty remains with specific details for the end of the week, confidence is increasing that we'll see sizable swell and onshore wind Fri-Sat (and onshore wind is possible Thur-Sun). As we have mentioned the past few days, this will be from two sources: a more distant storm near Japan and a nearby low that will flare up very close to the islands later this week.  
A broad spread of swell period and direction (300-350 at 9-16 seconds) is looking more and more likely to build primarily on Friday, before trending down on Saturday. We're going to bump surf size up from the past couple days and look for solidly double overhead surf on Friday and likely into Saturday, with sets to triple overhead possible. At this point, poor quality surf is expected with the broad swell mix and onshore flow. Surfline
The Billabong Pipe Masters will be webcast LIVE on WorldSurfLeague.com as well as the WSL app.
Oceanic Time Warner Cable 250 & 1250 in Hawaii, TNTV and Supersport.
Billabong Pipe Masters Round 1 Results:
Heat 1: Julian Wilson (AUS) 15.07, Wiggolly Dantas (BRA) 8.60, Ryan Callinan (AUS) 8.50
Heat 2: Miguel Pupo (BRA) 11.40, Kolohe Andino (USA) 9.33, Bede Durbidge (AUS) 5.40
Heat 3: Matt Wilkinson (AUS) 13.34, Frederico Morais (PRT) 13.27, Nat Young (USA) 12.40
Heat 4: Jordy Smith (ZAF) 12.60, Keanu Asing (HAW) 10.83, Finn McGill (HAW) 10.50
Heat 5: Gabriel Medina (BRA) 15.10, Kanoa Igarashi (USA) 11.24, Bruce Irons (HAW) 3.40
Heat 6: John John Florence (HAW) 16.66, Jadson Andre (BRA) 10.27, Gavin Beschen (HAW) 7.84
Heat 7: Alex Ribeiro (BRA) 11.27, Adriano de Souza (BRA) 10.54, Conner Coffin (USA) 10.27
Heat 8: Jeremy Flores (FRA) 9.00, Stuart Kennedy (AUS) 9.00, Joel Parkinson (AUS) 8.77
Heat 9: Filipe Toledo (BRA) 12.34, Josh Kerr (AUS) 12.03, Adam Melling (AUS) 9.37
Heat 10: Kelly Slater (USA) 12.70, Kai Otton (AUS) 11.90, Caio Ibelli (BRA) 11.50
Heat 11: Italo Ferreira (BRA) 10.50, Sebastian Zietz (HAW) 10.20, Jack Freestone (AUS) 9.07
Heat 12: Michel Bourez (PYF) 14.24, Adrian Buchan (AUS) 14.23, Davey Cathels (AUS) 13.23
Billabong Pipe Masters Round 2 Match-Ups:
Heat 1: Kolohe Andino (USA) vs. Gavin Beschen (HAW)
Heat 2: Adriano de Souza (BRA) vs. Bruce Irons (HAW)
Heat 3: Joel Parkinson (AUS) vs. Finn McGill (HAW)
Heat 4: Sebastian Zietz (HAW) vs. Frederico Morais (PRT)
Heat 5: Adrian Buchan (AUS) vs. Bede Durbidge (AUS)
Heat 6: Caio Ibelli (BRA) vs. Ryan Callinan (AUS)
Heat 7: Josh Kerr (AUS) vs. Adam Melling (AUS)
Heat 8: Stuart Kennedy (AUS) vs. Kai Otton (AUS)
Heat 9: Conner Coffin (USA) vs. Jack Freestone (AUS)
Heat 10: Wiggolly Dantas (BRA) vs. Davey Cathels (AUS)
Heat 11: Nat Young (USA) vs. Jadson Andre (BRA)
Heat 12: Keanu Asing (HAW) vs. Kanoa Igarashi (USA)