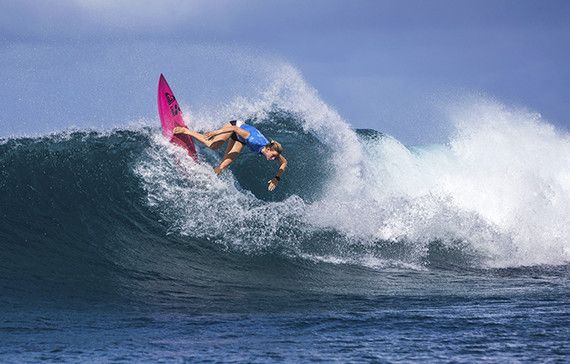 – BATTLE FOR REQUALIFICATION IGNITES AT HONOLUA BAY
– YOUNG HAWAIIAN BRISA HENNESSY WINS EVENT TRIALS, ADVANCES ON TO ROUND 3
Bianca Buitendag (ZAF) keeps her requalifcation hopes alive with the highest heat total of the day, a 16.27.
Image: © WSL /  Poullenot
| | |
| --- | --- |
| Location:    |   Honolua Bay, Maui/Hawaii  |
| Event window: |   November 23 – December 5, 2016 |
| Today's call: |   Event trials followed by Rounds 1 and 2 |
| Conditions: |   3 – 4 foot |
HONOLUA BAY, Maui/Hawaii (Wednesday, November 23, 2016) – The tenth and final stop on the 2016 Samsung Galaxy World Surf League (WSL) Women's Championship Tour (CT), the Maui Women's Pro, got underway today in three-to-four foot (1 metre) surf at Honolua Bay.
Competition opened with the trials where Brisa Hennessy (HAW) claimed the coveted wildcard into the main event and her second CT appearance of the 2016 season after defeating Mahina Maeda (HAW), Summer Macedo (HAW) and Bethany Hamilton (HAW).
The trials were followed by Round 1, which saw the higher-seeded surfers dominate the morning with five of the top six on the WSL Jeep Leaderboard winning through to Round 3. The day closed out with elimination Round 2 and some high-stakes match-ups for surfers looking to re-qualify for the 2017 CT.
Tyler Wright (AUS) looked powerful and in control in her first event since becoming WSL Champion. Wright built a 15.33 heat total in Round 1 with an excellent 8.00 backed up with a 7.33 to earn her place in Round 3. Despite a strong start from Bianca Buitendag (ZAF) and trials winner Hennessy, the pair were relegated to elimination Round 2.
"I've just been taking it all in and enjoying it since France, but I've been very busy," said Wright. "I haven't had a lot of time to surf coming into this event. I'm happy to be back in the water and definitely feeling more relaxed now."
Hennessy went on to deliver a big upset by dispatching current No. 5 on the Jeep Leaderboard Johanne Defay (FRA) in Round 2 while Buitendag, who needs a win in Maui to secure her place on the 2017 CT, came back with an outstanding display to keep her campaign alive with a 16.27 heat total, the highest of the day.
"I got to surf against Johanne Defay who I really look up to so I was really scared going into that," said Hennessy. "The waves are pretty fun once they come through so I just want to enjoy being here and surfing against the world's best. I didn't expect this to happen so I'm incredibly happy."
"I knew I had to make the most of my time here so this is a good start," said Buitendag. "I'm in a different situation now so I have more of a careless attitude at this point, which I think takes away all the unnecessary pressure that you usually carry with you."
Six-time WSL Champion Stephanie Gilmore (AUS) used her experience at Honolua Bay to stamp her authority on Round 1. The three-time event winner found a 9.50, the highest single-wave score of the day, to take a commanding win over opponents Malia Manuel (HAW) and Coco Ho (HAW) and advance to Round 3. Manuel and Ho both went on to win their Round 2 heats and will join Gilmore in the next round when competition resumes.
"I wasn't expecting a 9.50 but it felt really good and it was a nice wave so I'm really happy with that," said Gilmore. "This is such a beautiful place and such a good event and everyone wants to finish off the year strong and have a good result here. We'll see what happens, but next year is a clean slate. I didn't quite piece things together this year but hopefully next year I can be more consistent."


Stephanie Gilmore (AUS) claims a Round 1 win with the highest single-wave score of the day, an excellent 9.50.
Image: © WSL /  Poullenot
Two-time defending event winner Carissa Moore (HAW) also showcased her dominance with a Round 1 win. Moore turned in two strong 6-point rides to put the pressure on Lakey Peterson (USA) and Laura Enever (AUS), and went on to seal her win with an excellent 9-point ride. Peterson was not able to find the near-perfect score required to combat the three-time WSL Champion and was sent to Round 2 alongside Enever, who was fighting through a knee injury that she suffered while competing in the WSL Big Wave Tour Pe'ahi Challenge earlier this month.
"I was really nervous looking at the conditions," Moore said. "These are some of the conditions I struggle the most with and you have to be smart. I actually did the exact opposite of what I had planned to do, which was try to be patient and wait for the best waves. I just got a rhythm and luckily it worked out in the end."
Peterson went on to deliver an exciting Round 2 performance and post an excellent 9.17 to stay in the contest, while Enever was defeated by Ho and eliminated from the competition, leaving her requalification hopes in the balance.
"I'm not too disappointed," said Enever. "This has been one of my best years on tour with some great moments but a few mistakes at the start. If I make it, I make it, but if I don't I'm sure I'll have a lot of fun chasing swells and I'll look to be back the following year."
California-native and current No. 2 on the Jeep Leaderboard, Courtney Conlogue (USA), charged through her heat against Nikki Van Dijk (AUS) and rookie Chelsea Tuach (BRB) to advance directly to Round 3. Conlogue unleashed her signature front-hand carves to lock in an excellent 15.77 combined score for a commanding lead over Van Dijk and Tuach, who both went on to be eliminated in Round 2.
"They were definitely tricky conditions and the waves were really slow, but I happened to get on the right rhythm out here today," state Conlogue. "With the increasing tide, I know it would be inconsistent and I had to maximize on opportunities. My surfboards are feeling great. It is definitely adjusting things and trying new equipment for 2017."
Rookie Keely Andrew (AUS) set the pace in the opening heat of the day causing an upset with a confident Round 1 win, her third of the season, over Defay and Sally Fitzgibbons (AUS). The young Australian found the winning formula with an excellent 8.83 followed by a strong 7.00 backup score to advance straight through to Round 3. Fitzgibbons, 2015 event finalist, was sent home following a Round 2 loss at the hands of Peterson.
"I've come into this event with more of a relaxed vibe," explained Andrews. "I haven't qualified on the Qualifying Series so I am just going to try to have fun with it. The waves are really fun when they come through so I am having a good time. I went home and put in a lot of work at the gym, a lot of strength and power, and I am stoked it is paying off here. I am happy with how that first heat went."
Tatiana Weston-Webb (HAW) will also advance to Round 3 after narrowly defeatingSage Erickson (USA) and Alessa Quizon (HAW) in Round 1 Heat 2. Quizon went on to take a well-needed victory over Erickson in Round 2, who leaves the contest in equal 13th place.
Event organizers will reconvene at 7.30am (local time) tomorrow to assess conditions and make the next call.
Surfline, official forecaster for the WSL, are calling for:
Fun, but likely lully, NNW swell should be strongest Wednesday morning (watch for a building trend late Tuesday) from a recent storm near the Aleutian Islands. The good news is the swell direction is favorable for Honolua (325-340), while the not so good news is that this storm and swell we're not well aimed at the islands. This swell is slowly building on the Pauwela buoy off of North Maui and, thus far, is behaving close to model guidance.
The Maui Women's Pro will be webcast LIVE on WorldSurfLeague.com as well as the WSL app.
The event is also being carried by the WSL's LIVE broadcast partners Fox Sports Australia, CBS Sports in the United States, ESPN Brasil, Globosat, Edgesport, Sky NZ, Sport TV, Canal + Deportes, Channel Nine, MCS, Starhub, and Oceanic Time Warner Cable 250 & 1250 in Hawaii.
For more information, check out WorldSurfLeague.com
Maui Women's Pro Round 1 Results:
Heat 1: Keely Andrew (AUS) 15.83, Sally Fitzgibbons (AUS) 12.16, Johanne Defay (FRA) 11.60
Heat 2: Tatiana Weston-Webb (HAW) 11.83, Sage Erickson (USA) 9.83, Alessa Quizon (HAW) 6.70
Heat 3: Tyler Wright (AUS) 15.33, Bianca Buitendag (ZAF) 11.00, Brisa Hennessy (HAW) 10.90
Heat 4: Courtney Conlogue (USA) 15.77, Nikki Van Dijk (AUS) 9.50, Chelsea Tuach (BRB) 9.50
Heat 5: Carissa Moore (HAW) 15.83, Lakey Peterson (USA) 12.67, Laura Enever (AUS) 3.86
Heat 6: Stephanie Gilmore (AUS) 14.50, Malia Manuel (HAW) 13.00, Coco Ho (HAW) 8.60
Maui Women's Pro Round 2 Results:
Heat 1: Coco Ho (HAW) 14.24 def. Laura Enever (AUS) 8.50
Heat 2: Alessa Quizon (HAW) 11.76 def. Sage Erickson (USA) 10.76
Heat 3: Brisa Hennessy (HAW) 11.67 def. Johanne Defay (FRA) 11.26
Heat 4: Malia Manuel (HAW) 15.10 def. Chelsea Tuach (BRB) 12.36
Heat 5: Lakey Peterson (USA) 15.40 def. Sally Fitzgibbons (AUS) 13.50
Heat 6: Bianca Buitendag (ZAF) 16.27 def. Nikki Van Dijk (AUS) 10.33
Maui Women's Pro Round 3 Match-Ups:
Heat 1: Tatiana Weston-Webb (HAW), Stephanie Gilmore (AUS), Brisa Hennessy (HAW)
Heat 2: Tyler Wright (AUS), Coco Ho (HAW), Keely Andrew (AUS)
Heat 3: Courtney Conlogue (USA), Bianca Buitendag (ZAF), Alessa Quizon (HAW)
Heat 4: Carissa Moore (HAW), Malia Manuel (HAW), Lakey Peterson (USA)