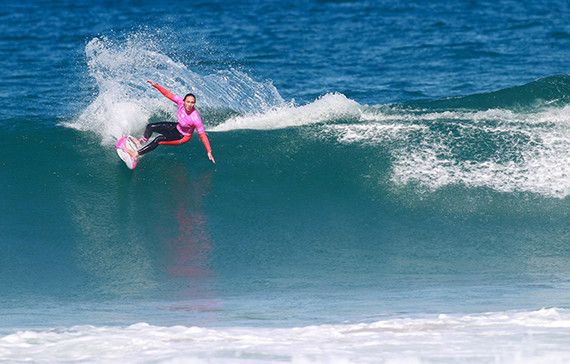 2 HAWAII GIRLS- WESTON-WEBB AND MOORE SECURE QUARTERFINAL BERTHS  ALONG WITH WRIGHT, CONLOGUE,
– REIGNING 3X WSL CHAMPION MOORE CLOSES THE DAY WITH PERFECT 10
 3X WSL Champion Carissa Moore (HAW) posts a Perfect 10 to sail through to the Quarterfinals.
Image: © WSL / Masurel
| | |
| --- | --- |
| Location:    | Guincho, Portugal |
| Event window: | September 24 – October 2, 2016 |
| Today's call: | Women's Rounds 1, 2 and 3 complete |
| | |
| --- | --- |
| Conditions: | Clean 2 – 5 foot (0.6 – 1.5 metre) surf |
CASCAIS, Portugal (Saturday, September 24, 2016) – Competition got underway today at the Cascais Women's Pro, Stop No. 8 of 10 on the Samsung Galaxy World Surf League (WSL) Championship Tour (CT). A full day of exciting action in excellent conditions at the back-up site of Guincho saw the world's best female surfers battle through Rounds 1, 2 and 3.
The opening day of competition concluded with Round 3 and impressive performances from the world's best. The top four surfers on the Jeep Leaderboard each earned their place in the Quarterfinals and the remaining four spots will be decided in Round 4 when competition continues.
Tatiana Weston-Webb (HAW), current No. 4 on the Jeep Leaderboard, was the first surfer to earn her place in the Quarterfinals after an exciting bout against Johanne Defay (FRA) and Alessa Quizon (HAW) in Round 3 Heat 1. Defay and Weston-Webb both kept busy, scouring the lineup for opportunities, and were separated by just 0.23 points in the closing minutes. A final attempt from Quizon wasn't enough and in the end it was Weston-Webb that took the win and her place in the Quarterfinals.
"I just felt like the wave count on that south podium was way higher than the other bank and it's been the better option at low tide these past few days," Weston-Webb analyzed. "It was so fun and I'm stoked it was just Johanne (Defay) and I for a while and we traded off waves. I'm happy to have gotten the win and jump straight to the Quarters."
After a slow start to Round 3 Heat 2 Jeep Leaderboard frontrunner Tyler Wright (AUS)got to work, posting the first score of significance (a 7.33) with less than 10 minutes remaining. Laura Enever (AUS) answered with a pair of mid-range scores to take first place. Wright fought back, looking to replace her low back-up score, and manufactured a 5.50 to edge the lead. Sage Erickson (USA) briefly took the top spot, but was relegated to second place when Wright's score came through. Wright will advance to the Quarterfinals and one step closer to clinching her maiden world title. Erickson and Enever will surf again in Round 4.
"My body's feeling amazing at the moment," Wright said. "I'm just going out there, reading the conditions and getting it done. It's been fantastic working with Micro (Glenn Hall) this year. I'm loving learning what I'm learning – I'm six years into my career and learning more than I ever have before."
Earlier in the day Wright looked confident and at ease in Round 1, defeating Keely Andrew (AUS) and wildcard Teresa Bonvalot (PRT) with a 13.17 heat score.
A thrilling Round 3 match-up saw Sally Fitzgibbons (AUS) take an early lead over No. 2 on the Jeep Leaderboard, Courtney Conlogue (USA), and Lakey Peterson (USA) in Heat 3. The stacked bout saw the Australian maintain her lead through the opening half of the heat, despite challenges from the defending event winner, and solidified it with a 7.33 and a 7.73. Conlogue answered with an excellent 8.50 for three solid maneuvers, but it wasn't enough to steal first place. An exciting exchange in the final minutes saw Conlogue take the lead with a 6.67 and then take a wave under Fitzgibbons' priority for a 7.37 and the win. Peterson was left in a combination situation and will have to surf again in Round 4 along with Fitzgibbons, while Conlogue will advance directly to the Quarterfinals.
"Initially I was more on the lefts and I heard Sally (Fitzgibbons) getting some scores on the rights, my plan was to catch a few of each so I just adapted and went straight to the rights," Conlogue admitted. "I knew I needed some solid scores and basically a re-start, but conditions were so glassy and amazing here at Guincho I had fun out there. I feel like I'm still learning — this whole process is meant to challenge you and I feel like at the end of the year you want to feel like you've overcome some of those obstacles and that's when you really grow."
The final heat of the day, Round 3 Heat 4, was an all-Hawaiian affair with current World No. 3 Carissa Moore (HAW), Coco Ho (HAW) and Malia Manuel (HAW) battling for their place in the Quarterfinals. Ho and Manuel got to work quickly, netting 14.66 and 13.16 heat totals, while Moore was left with only 1.30 points with half the heat gone. With 10 minutes remaining the reigning three-time WSL Champion asserted her dominance, finding back-to-back rides for a 7.03, an excellent 8.93 and the lead. Moore ended the heat with an incredible Perfect 10 for three critical turns, the first of the competition.
"I've been watching the waves all afternoon and it looked so fun," said Moore. "I had nothing to lose because these girls already had big scores so I just tried to do my best. The time was counting down and I had priority — I knew there was time for another wave and I was in the lead so pressure was off. I just got this beautiful wave and had fun on it, I'm stoked to get a 10. The fans are amazing here. I just felt so much love, everyone's super enthusiastic so I'm stoked to be here performing and it's great to have that support."
Earlier in the day elimination Round 2 saw six surfers make an early exit from the Cascais Women's Pro. Hawaiians Ho, Quizon and Manuel came back from Round 1 losses and dominated the opening three heats to dispatch Bianca Buitendag (ZAF),Nikki Van Dijk (AUS) and wildcard Bonvalot respectively, who all leave the competition in Equal 13th place.
Replacement surfer Pauline Ado (FRA) along with Chelsea Tuach (BRB) and Keely Andrew (AUS) were also eliminated in Equal 13th place following Round 2 defeats at the hands of Erickson, Enever and Peterson.
Event organizers will reconvene 7:30 a.m. local time tomorrow morning to make the next call.
For more information, check out WorldSurfLeague.com
Cascais Women's Pro Round 1 Results:
Heat 1: Johanne Defay (FRA) 9.40, Coco Ho (HAW) 9.00, Sage Erickson (USA) 2.34
Heat 2: Tatiana Weston-Webb (HAW) 10.76, Laura Enever (AUS) 8.00, Alessa Quizon (HAW) 5.93
Heat 3: Tyler Wright (AUS) 13.17, Teresa Bonvalot (PRT) 8.00, Keely Andrew (AUS) 5.36
Heat 4: Courtney Conlogue (USA) 13.40, Bianca Buitendag (ZAF) 12.16, Pauline Ado (FRA) 7.57
Heat 5: Carissa Moore (HAW) 12.63, Nikki Van Dijk (AUS) 10.77, Chelsea Tuach (BRB) 7.00
Heat 6: Sally Fitzgibbons (AUS) 17.33, Malia Manuel (HAW) 11.37, Lakey Peterson (USA) 6.90
Cascais Women's Pro Round 2 Results:
Heat 1: Coco Ho (HAW) 16.00 def. Bianca Buitendag (ZAF) 11.77
Heat 2: Alessa Quizon (HAW) 15.40 def. Nikki Van Dijk (AUS) 13.67
Heat 3: Malia Manuel (HAW) 13.00 def. Teresa Bonvalot (PRT) 8.33
Heat 4: Sage Erickson (USA) 14.83 def. Pauline Ado (FRA) 9.50
Heat 5: Laura Enever (AUS) 12.83 def. Chelsea Tuach (BRB) 6.40
Heat 6: Lakey Peterson (USA) 15.06 def. Keely Andrew (AUS) 11.90
Cascais Women's Pro Round 3 Results:
Heat 1: Tatiana Weston-Webb (HAW) 13.66, Johanne Defay (FRA) 13.43, Alessa Quizon (HAW) 12.17
Heat 2: Tyler Wright (AUS) 12.83, Sage Erickson (USA) 12.50, Laura Enever (AUS) 11.44
Heat 3: Courtney Conlogue (USA) 16.03, Sally Fitzgibbons (AUS) 15.06, Lakey Peterson (USA) 8.77
Heat 4: Carissa Moore (HAW) 18.93, Coco Ho (HAW) 14.66, Malia Manuel (HAW) 13.16
Cascais Women's Pro Round 4 Match-Ups:
Heat 1: Johanne Defay (FRA) vs. Laura Enever (AUS)
Heat 2: Sage Erickson (USA) vs. Alessa Quizon (HAW)
Heat 3: Sally Fitzgibbons (AUS) vs. Malia Manuel (HAW)
Heat 4: Coco Ho (HAW) vs. Lakey Peterson (USA)