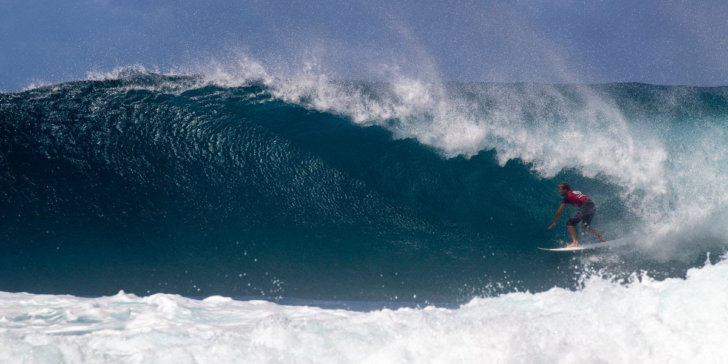 – Championship Tour Veteran Sebastian Zeitz Drops A Perfect 10
– Pipeline Standout Jack Robinson Smashes Round 4 Debut
– Maui's Billy Kemper Nearly Finds Perfection Of His Own

Kauai, Hawaii's, Sebastian Zeitz locking into the first Perfect 10 of competition in Round 4 Heat 9.
CREDIT: © WSL / Keoki
Banzai Pipeline, North Shore, Oahu, Hawaii
Volcom Pipe Pro Men's QS 3,000
Round 3 Heats 14- 16, Round 4 Completed
BANZAI PIPELINE, Oahu/Hawaii (Monday, February 4, 2019) – Top-seeded competitors made their long-awaited debuts and fireworks ensured at the World Surf League (WSL) men's Qualifying Series (QS) Volcom Pipe Pro 3,000-level event. Clean, 4-to-6 foot, occasional plus NW swell (10-foot, plus wave faces) filled into Pipeline and Backdoor providing solid opportunity for some of the QS elite to showcase their talent. It became the first barrel first of the event window and competitors showed absolute commitment, throwing themselves into

Championship Tour (CT) veteran and Kauai, Hawaii's, Sebastian Zietz left fans and fellow competitors in awe with a solid Backdoor barrel that spit twice with him still riding through it to earn the event's first Perfect 10. Zeitz comes into this event looking to garner some extra experience at the famed Pipeline, as well as earn some extra money after losing his major sponsor and the birth of his daughter coming in April, and did just that. It's still all fun for the seasoned veteran as he moves forward with his ambitions remaining high.

Zeitz all smiles after a dominant performance
Credit: WSL/ Keoki
"I'm stoked to get a 10, I woke up and the waves were really fun and I'm really happy to see a lot of rights — as well as the wind calming down," Zietz said. "It was a really good wave, I had second priority and Noa (Deane) was a little out of position, and got a double-barrel so I'm stoked. It's important to compete here knowing there's a contest at the end of the year and a lot of underground Pipe guys do this one. To win this thing or make the Final definitely puts you on the radar as someone who's good at Pipe so it's really important."
"(Not having a sponsor) puts some extra pressure on yourself to perform to make a comfortable living," Zeitz added. "I just have to back myself and it's been alright. I'm looking forward to the birth of my daughter and nothing can knock me down."

Heavy-wave surfer Jack Robinson took competition a notch
Credit: WSL/ Heff
One of Pipeline's most notable chargers made a statement in his Round 4 debut and Jack Robinson (AUS) is into Round 5 with a commanding win. The Australian's poise in the barrel is par-none among the world's best and a 9.43, 7.33 scoreline at Backdoor proved he's still as lethal as ever. But, the 21-year-old has much bigger aspirations in mind this season to qualify for the ever-elusive CT.
"It's good to get a strong start, but you don't want to peak too early and leave some room in the tank for the next round," Robinson said. "I'm always excited for this event so that helps. Everyone loves a barrel, it's probably the best thing in surfing so it's good to start off with some fun out there. If you can bag a result here and keep being consistent throughout the year it helps a lot."

Billy Kemper nearly found himself a Perfect 10 of his own, securing a 9.80.
Credit: WSL/ Heff
But, it was recent Sunset Open finalist and Maui, Hawaii's, own Billy Kemper who put a staple early on in Round 4 with another of the event's highest scores — a near-perfect 9.80. The two-time WSL Jaws Challenge winner took on a draining, Backdoor wave that he raced through and came flying out of after multiple sections behind the curtain. This marks an important event in Kemper's eyes and he's not holding back.
"I had a rough heat yesterday and barely made it through because I didn't start my surfing until about eight minutes remaining," Kemper said. "The game plan was to just execute two scores in the first five minutes, whether they were below average, average or excellent. After that I wanted to establish priority and wait for something in the excellent range. I saw the set come in and looked like a good angle for a good Backdoor wave and it doubled-up hard — and those usually have a lot of energy."
"Every good result I've gotten, there's always been that grindy heat and that pushes you to where momentum starts," Kemper added. "I'm healthy, I'm happy. I've got my family down here and I'm just enjoying it. It's the last event of the North Shore season for me and these events are everything. I'm out here competing like I'm trying to win a World Title at a 3,000 (laughs), but I take these events really serious."

Brodi Sale surfing beyond his years in a stacked Round 4 heat.
Credit: WSL/ Heff
Two days away from his 16th birthday, 15-year-old Big Island, Hawaii, native Brodi Sale continued his event momentum from Round 1 into Round 4 with a big upset over fellow Hawaii natives including soon-to-be Championship Tour (CT) rookie Seth Moniz, Benji Brand, and Koa Smith — eliminating Smith and Moniz. It's all fun for Sale, who still competes at the Pro Junior level, and found redemption from an early exit at Sunset just two weeks ago.
"I just went into that heat wanting to put on a good performance together and get a couple of waves. I've looked up to Seth (Moniz) and Benji (Brand) my whole life basically. They've kind of been my older brothers out here and I'm super stoked to beat them (laughs). I got the 7 and I was so stoked, but knew I had to solidify and then that wave came thinking this is going to be really sick. I have so much respect for Benji, Seth and Koa (Smith) — they're just legends and I couldn't be more stoked to have heat with them."

Soli Bailey led the past event champions list with this 8.50 gem.
Credit: WSL/ Heff
Also with notable berths into Round 5; defending event champion Joshua Moniz (HAW), 2017 event winner Soli Bailey (AUS) and former CT competitor Keanu Asing (HAW), join upcoming threats like 18-year-old North Shore standout Barron Mamiya, Nolan Rapoza (USA), and Cody Young (HAW) among many more.
The 2018 Volcom Pipe Pro will run on the four biggest and best days of surf within the holding period, determined by contest officials, and will be broadcast LIVE via worldsurfleague.com, the WSL app and volcom.com/pipepro. Tune into Spectrum SURF Channel for their live and replay television coverage of the 2018 Volcom Pipe Pro on digital channels 20 SD and 1020 HD across the state of Hawaii.
Fans can watch every minute of the Volcom Pipe Pro live and on-demand on Red Bull TV, available at redbull.tv or as a free downloadable app.
For more information about the Volcom Pipe Pro, visit worldsurfleague.com and volcom.com.
About Volcom
Inspired by creative spirit, Volcom was founded in 1991 and creates products for the persistent who are true to their passions. We were born to chase what we are true to. It's not that we want to… WE HAVE TO. We have a vision that turns obstacles into opportunity, a creative courage to tempt the impossible… And embrace the strange. Telling us to push further…To try again. Endlessly seeking elevation, we are all connected by this same internal force. Forever we chase that intoxicating moment when our vision is realized…The world around us goes quiet…And for brief moments, we are more than alive. Volcom, True To This.
About Red Bull TV
Red Bull TV features beyond the ordinary live events and videos featuring inspirational stories covering sports, music and lifestyle entertainment. Anytime, anywhere. Red Bull TV is available on the web, connected TVs, gaming consoles, mobile devices, and more.
About the WSL The World Surf League (WSL) is dedicated to celebrating the world's best surfing on the world's best waves through a variety of best-in-class audience platforms. The organization, headquartered in Santa Monica, is a global sport with regional offices in Australasia, Africa, North America, South America, Hawaii, Japan and Europe.

The WSL has been championing the world's best surfing since 1976, annually running more than 180 global events across the Men's and Women's Championship Tours, the Big Wave Tour, Qualifying Series, Junior and Longboard Championships, as well as the WSL Big Wave Awards. The League possesses a deep appreciation for the sport's rich heritage while promoting progression, innovation and performance at the highest levels, and in doing so crowns the undisputed Men's and Women's World Champions across all tours.

Showcasing the world's best surfing on its digital platform at worldsurfleague.com, the WSL has a passionate global fan base with millions tuning in to see world-class athletes like Kelly Slater, Stephanie Gilmore, Tyler Wright, John Florence, Lakey Peterson, Paige Alms, Kai Lenny, Taylor Jensen, Honolua Blomfield, Carissa Moore, Gabriel Medina, Courtney Conlogue and more battle on the most dynamic field of play of any global sport.

For more information, please visit worldsurfleague.com.