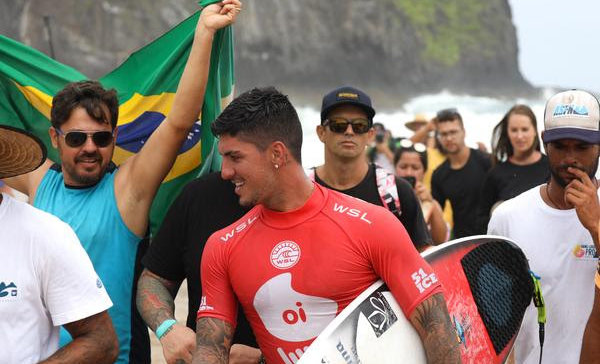 Two-time World Champion Gabriel Medina opens Round 2 with heat win at the QS 6,000 in Fernando de Noronha, Brazil.
Front page 2019 World Champion Gabriel Medina (BRA) surrounded by fans after his heat at Cacimba do Padre in Fernando de Noronha.
Credit: © WSL / Daniel Smorigo
CACIMBA DO PADRE, FERNANDO DE NORONHA, BRAZIL (Wednesday, February 20, 2019) – Gabriel Medina (BRA), the 2019 World Champion started his competitive year by winning his first heat at Cacimba do Padre at the WSL Men's QS 6,000 Oi Hang Loose Pro Contest. Local surfer Patrick Tamberg (BRA) took an early lead by finding a thick barrel for a 6.00. After a slow start, Medina quickly used his full repertoire of airs, snaps and barrels to score a 7.53 and an 8.83 to overtake Tamberg with a 15.86 total. Eliminated from competition were Tomas King (CRI) and Mateus Sena (BRA).

"It's great to be back in Noronha," said Medina. "It's been a while since my last contest here and I just wanted to thank everyone for showing so much support and for cheering me on. This island is a very special place, the vibe is great, the food is delicious, the waves are incredible…and everyone speaks Portuguese (laughs). My heat was right during low tide, so it wasn't epic Cacimba, but the forecast looks good so I'm happy to move on in the comp."

Medina elaborated on his difficult start to the heat and competitive jitters putting a jersey back on for the first time this year.

"We were all close together at the start and I felt completely out of rhythm. My heart started beating a little faster because time was running out so I decided to paddle over to the corner. After that, I started catching a few and then I started feeling normal again. It's not often that I surf on the QS, so it's great to see the whole crew again. I'm also kind of flying solo here. Charlie stayed at home and my sister Sophia is competing in Rio…but I'm a big boy (laughs), I can take care of myself," concluded Medina.

With waves in the 3-foot range (1 meter), athletes were still able to find plenty of scoring opportunities. As conditions improved throughout the afternoon, Championship Tour surfer Jesse Mendes (BRA) found the best tube of the day, earning a 9.00 from the judges.

"My plan was to stay patient in the water," said Mendes. "The heat before mine was pretty slow and with the low tide, 95% of the time it closes out. But the waves improved when I was in the water and they had a little more power to them. This is probably the best event of the year in Brazil and there's no question that everyone wants to compete here. Just look at Gabriel (Medina), he's someone that doesn't have to be at a QS contest and he made it a point of being here."
 Jesse Mendes (BRA).
Credit: © WSL / Daniel Smorigo
In what turned out to be an unexpected outcome in barreling waves, current QS rankings leader Jack Robinson (AUS) was eliminated from the competition. Lucca Mesinas (PER) and Madson Costa (BRA) advanced into Round 3.

In 2018, after moving to the United States, the young Peruvian clinched the WSL North America Regional Championship Title. Mesinas continued his momentum and began 2019 with a 3rd place finish at the QS 1,500 in the Canary Islands. He is in strong contention to become the first Peruvian to make it onto the CT along with his compatriots Miguel Tudela (PER) and Alonso Correa (PER).

"This is my first time to Fernando de Noronha and I'm speechless with how beautiful this place is," said Mesinas. "I had a good start to the year and I'm stoked to make my first heat here today at such an important QS 6,000. Us surfers from Peru have been fighting to make it on the CT. We're going to have a QS 3,000 in our country in March, so that will help us out a lot. Hopefully, one of us will make it on Tour."
 Lucca Mesinas (PER)
Credit: © WSL / Daniel Smorigo
Following in their footsteps, Tomas Tudela (PER) also advanced in 1st place in his heat alongside Jadson Andre (BRA), who is back on the Championship Tour this year. Other international surfers that advanced into Round 3 were Marc Lacomare (FRA) who completed an incredible rodeo clown for an 8.10 as well as Ramzi Boukhiam (MAR) who advanced along with Miguel Pupo (BRA) in their heat.

Competition ended after Heat 12 of Round 2 and still have several other CT surfers to hit the water tomorrow including: Yago Dora (BRA), Deivid Silva (BRA), Peterson Crisanto (BRA) and Italo Ferreira (BRA).

When competition resumes, Heat 13 will see Yago Dora, Samuel Pupo (BRA), Bernardo Miranda (BRA) and the 2018 WSL South America Regional Champion Wesley Santos (BRA) hit the water. For more information, go to www.worldsurfleague.com
About the WSL The World Surf League (WSL) is dedicated to celebrating the world's best surfing on the world's best waves through a variety of best-in-class audience platforms. The organization, headquartered in Santa Monica, is a global sport with regional offices in Australasia, Africa, North America, South America, Hawaii, Japan and Europe.

The WSL has been championing the world's best surfing since 1976, annually running more than 180 global events across the Men's and Women's Championship Tours, the Big Wave Tour, Qualifying Series, Junior and Longboard Championships, as well as the WSL Big Wave Awards. The League possesses a deep appreciation for the sport's rich heritage while promoting progression, innovation and performance at the highest levels, and in doing so crowns the undisputed Men's and Women's World Champions across all tours.

Showcasing the world's best surfing on its digital platform at WorldSurfLeague.com, the WSL has a passionate global fan base with millions tuning in to see world-class athletes like Kelly Slater, Stephanie Gilmore, Tyler Wright, John Florence, Lakey Peterson, Paige Alms, Kai Lenny, Carissa Moore, Gabriel Medina, Courtney Conlogue, Mateus Herdy, Kirra Pinkerton, Steve Sawyer, Soleil Errico and more battle on the most dynamic field of play of any global sport.