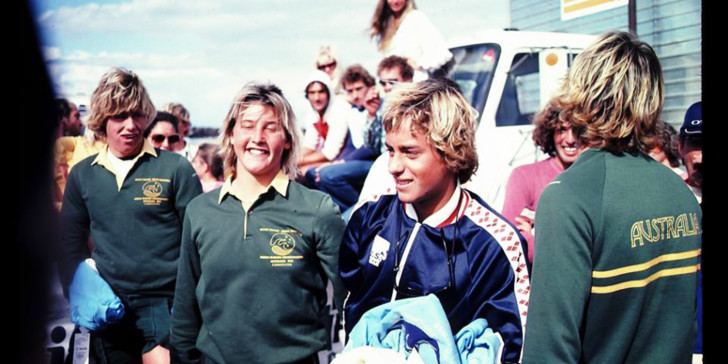 3X World Champ was crowned ISA World Jr Champ in 1980 at Grande Plage in Biarritz
Surf News Network, 12 March, 2017 – Nearly two months out from the 2017 ISA World Surfing Games in Biarritz, France, the International Surfing Association (ISA) and French Surfing Federation have announced that Tom Curren will be an Honorary Patron of this historic edition of the event.
Curren, a legendary surfer from California who spent many years living in Biarritz, will be present to watch the world's best National Surfing Teams unite in competition from May 20-28 at Grande Plage, the same beach where Curren was crowned the first ISA Junior World Champion in 1980.
Curren stands alone in ISA history as the only athlete to be crowned World Champion in the Junior (18 and under), Open, and Master (35 and up) competitions. He took Gold at the first ISA Junior World Championship in France in 1980, the ISA World Surfing Championships in Australia in 1982 and the ISA World Masters Surfing Championship in El Salvador in 2011.
The 2017 ISA World Surfing Games will allow Tom Curren and Surfing fans around the world to lay eyes on the potential future stars of Olympic Surfing that will strive to represent their countries at Tokyo 2020.
Three-time ISA World Champion and Honorary Patron of the 2017 ISA World Surfing Games, Tom Curren, said: "I was really honored to get the invitation to be an Honorary Patron of the 2017 ISA World Surfing Games. I've spent a lot of time in Biarritz, so it means a lot to me. I have a lot of fond memories of my time in France. It gives me another reason to come back.
"When I first came here it was in 1980 for the ISA World Surfing Championships. It was the first time that I traveled overseas. I ended up getting first in the Juniors and third in the Open Men. That first trip made a big impression on me.
"I think Surfing in the Olympics is good news for the sport. I was happy to find out that it was in the Olympics because the idea of surfing and representing your country is great. It's a good way to see countries get together through Surfing."
ISA President, Fernando Aguerre, said: "Tom Curren is a living legend in the Surfing world and an extraordinary ambassador for our sport and the ISA. We are truly grateful that he's accepted to be Honorary Patron in Biarritz. His presence lends great prestige to the event, which will feature some of the world's top surfers.
"With Tom's support, we look forward to showcasing our sport in one of the world's great surf destinations. Crowning World Champions in France will be another large step forward on our path towards Surfing's Olympic debut in 2020."