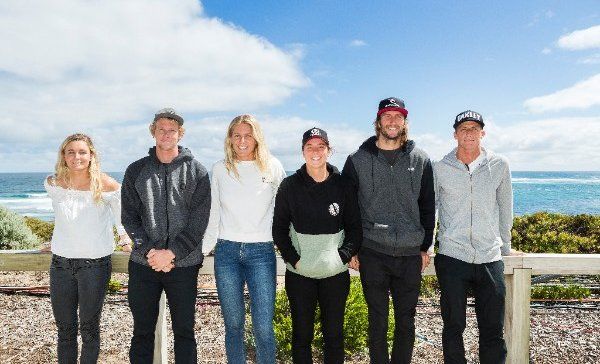 – NORTH POINT IS A LIKELY START (EVEN BOX IS AN OPTION AGAIN THROUGH HOLDING PERIOD) TUESDAY WE'VE BEEN WAITING SINCE 130PM HI TIME (730AM Wednesday in West Australia). NEXT CALL IS AT 4PM HI TIME. For more information, check out WorldSurfLeague.com
– TRIALS WINNERS JACOB WILLCOX AND LAURA MACAULAY TO REPRESENT WA IN MAIN EVENT(Left to Right) Bronte Macaulay (AUS), John John Florence (HAW), Stephanie Gilmore (AUS), Tyler Wright (AUS), Owen Wright (AUS) and Sebastian Zietz (HAW) are ready to do battle at the 2017 Drug Aware Margaret River Pro.
Credit: © WSL / Cestari
MARGARET RIVER, Western Australia/AUS (Tuesday, March 28, 2017) – The Drug Aware Margaret River Pro, the second stop on the World Surf League (WSL) Championship Tour (CT), beings tomorrow with a competitive window of March 29 – April 9, 2017.
An abundance of swell and energy in the ocean looks to provide excellent surf for the opening day of the event window. All eyes will be on tomorrow morning's call as Margaret River will offer solid options at North Point,  Main Break and The Box for the competitors. If conditions allow for North Point to be called on tomorrow, the world will witness the best surfers on the planet compete at this prominent break for the first time ever in a WSL competition.
Owen Wright (AUS), current World No. 1, will wear the coveted Jeep Leader Jersey coming into this event after an incredible comeback to the CT at the Quiksilver Pro Gold Coast. Wright has been familiarizing himself with the various breaks of Western Australia over these past few days, including the infamous Box. He will look to continue his incredible form through this event and will match up against 2017 CT rookies Connor O'Leary (AUS) and Ian Gouveia (BRA) in Round 1.
"To be leading the rankings this early in the year was definitely a bit of a surprise," Wright said. "It has meant I have adjusted my goals a bit and am excited to see what the rest of the year brings. The forecast this week looks really good and like we could be surfing at few spots, which is exciting. I have been getting re-acquainted with The Box and am really excited about seeing North Point. I have never surfed there but have seen plenty of footage and it looks incredible."
Reigning WSL Champion John John Florence (HAW) will look to make a splash in WA and hunt down his first CT event win in Australia. Florence has previously has had success in Margaret River at the QS in 2012, but will fight the first Round to position himself to surpass last year's 13th place finish. Round 1 will see Florence up against rookie Frederico Morais (PRT) and Trials Winner Jacob Willcox (AUS) in Round 1.
"I would love to get a win here as it's one of my favourite places to come," Florence said. "It offers so many options between Main Break, The Box and North Point, it has everything. It's such a raw stretch of coastline and can get massive, so it's always exciting to come here whether it's to film for a movie, freesurf or compete at this event."
Florence will have his work cut out for him as he faces off against Margaret River local Willcox, who put on a dominating display to win the trials at Main Break today. Willcox is no stranger to the CT having competed at the Drug Aware Margaret River Pro in previous years as well as the Rip Curl Pro Portugal where he eliminated 11-time WSL Champion Kelly Slater (USA) with his trade-mark technical attack.
Defending event winner Sebastian Zietz (HAW) will battle against Brazilian threat Filipe Toledo (BRA) and rookie Ethan Ewing (AUS) in the last heat of Round 1. Zietz, who is currently ranked 13th, will look to improve his rating with a back-to-back win in Margaret River.
"It's amazing to be back in Margaret River," Zietz said. "We have already been scoring really fun waves in the lead up so I'm feeling ready to go. If we score waves at all three locations in the event window, it would have to be one of the best stops on tour. This coast has a lot of similarities to Hawaii so I feel really comfortable here."
Stephanie Gilmore (AUS), six-time WSL Champion and current Jeep Rankings Leader, is committed to challenging herself in the wild and woolly conditions that Western Australia has to offer. Gilmore will match-up against Nikki Van DIjk (AUS) and injury replacement Bianca Buitendag (ZAF) in Round 1 Heat 4.
"To start the year off with a win and get the yellow Jeep Leader Jersey is pretty awesome," Gilmore said. "I am feeling confident. Margaret River has always been a tough spot for me. I think the waves here are really challenging. I've grown up on groomed, perfect, sand-bottom waves, so to come over here and be challenged in raw ocean is much tougher. I hope to push myself out of my comfort zone and get a good result so I can keep the yellow jersey going into Bells Beach."
Tyler Wright (AUS), 2016 WSL Champion, will be one to watch at this event as she is determined to defend last year's event win. Wright is currently in fifth place on the Jeep Leaderboard, but a solid finish here could vault her back to the top of the rankings. Wright will see 2016 Rookie of the Year Keely Andrew (AUS) and Trials Winner Laura Macaulay (AUS) in Round 1.
"I've been here preparing for a few days so I'm feeling comfortable," Wright said. "Coming into an event as reigning champion doesn't change much for me. There are seventeen other competitors hungry for results so anything can happen. I'm stoked we have such a good forecast, it looks as if it will be a great event."
Local favorite Bronte Macaulay (AUS) will charge into this event for the first time as a full-time CT competitor. The powerful goofy-footer placed 9th as wildcard in 2016 and will be looking for a finals berth at her home event when she takes on Johanne Defay (FRA) and Malia Manuel (HAW) in the opening  Heat of Women's Round 1.
"I'm feeling really relaxed coming into this event," Macaulay said. "It's such an exciting time for everyone in the Margaret River region so it's so special to be a part of it, especially with the fantastic forecast we have on offer. Laura [Macaulay] and I have been dreaming about competing in the event together since we were kids and now we finally get too. I think she will be really dangerous out here. We are all so stoked and excited for the week ahead."
Taking out the local trials to win a spot in the main event was Macaulay's sister Laura. Having overcome her sister in the trials three years ago, it will be the first time the local duo have competed in a CT event together.
"This will be the second time I have competed at this event," Macaulay said. "It will be the first time Bronte [Macaulay] and I have done it together, which is so cool. The two of us competing together at home with our family watching is going to be so special. I feel really lucky to be able to do this."
When competition gets underway, first up for the men's event will be all-star heat between Slater, three-time WSL Champion Mick Fanning (AUS) and rookie powerhouse Leonardo Fioravanti (ITA) in the opening heat of Round 1.
Italo Ferreira (BRA) has withdrawn from the Drug Aware Margaret River Pro after an ankle injury he suffered at Duranbah a few days after his  fifth place finish at the Quiksilver Pro Gold Coast. Ferreira's position has been filled by Nat Young (USA). On the women's side, Laura Enever (AUS) will not be competing at this event due to a knee injury. Enever will be replaced by Bianca Buitendag (ZAF).
Event organizers will convene at 6:30 a.m. local time to assess the conditions and make the first call.
If conditions permit the event to run at North Point or The Box, in-person press will not be tenable until the event relocates to the main site.
A very large SSW swell will build in Wednesday, fading for the end of the week. A much smaller, but still solid, SSW swell is looking more and more likely for Friday afternoon and Saturday before fading into early next week. Favorable wind also looks likely, especially in the mornings, for the first several days of the waiting period. Beyond that, another run of medium to potentially strong surf is possible over the last 3-5 days of the waiting period, although local wind looks a little dicey at this time.  Surfline.
For more information, check out WorldSurfLeague.com
Drug Aware Margaret River Pro Men's Round 1 Match-Ups:
Heat 1: Kelly Slater (USA), Mick Fanning (AUS), Leonardo Fioravanti (ITA)
Heat 2: Kolohe Andino (USA), Stuart Kennedy (AUS), Ezekiel Lau (HAW)
Heat 3: Matt Wilkinson (AUS), Miguel Pupo (BRA), Jack Freestone (AUS)
Heat 4: Jordy Smith (ZAF), Kanoa Igarashi (USA), Nat Young (USA)
Heat 5: Gabriel Medina (BRA), Wiggolly Dantas (BRA), Jesse Mendes (BRA)
Heat 6: John John Florence (HAW), Frederico Morais (PRT), Jacob Willcox (AUS)
Heat 7: Owen Wright (AUS), Connor O'Leary (AUS),  Ian Gouveia (BRA)
Heat 8: Joel Parkinson (AUS), Caio Ibelli (BRA), Jadson Andre (BRA)
Heat 9: Adriano de Souza (BRA), Adrian Buchan (AUS), Jeremy Flores (FRA)
Heat 10: Michel Bourez (PYF), Conner Coffin (USA), Joan Duru (FRA)
Heat 11: Julian Wilson (AUS), Josh Kerr (AUS), Bede Durbidge (AUS)
Heat 12: Filipe Toledo (BRA), Sebastian Zietz (HAW), Ethan Ewing (AUS)
Drug Aware Margaret River Pro Women's Round 1 Match-Ups:
Heat 1: Johanne Defay (FRA), Malia Manuel (HAW), Bronte Macaulay (AUS)
Heat 2: Courtney Conlogue (USA), Sage Erickson (USA), Coco Ho (HAW)
Heat 3: Tyler Wright (AUS),  Keely Andrew (AUS), Laura Macaulay (AUS)
Heat 4: Stephanie Gilmore (AUS), Nikki Van DIjk (AUS), Bianca Buitendag (ZAF)
Heat 5: Carissa Moore (HAW), Lakey Peterson (USA), Pauline Ado (FRA)
Heat 6: Sally Fitzgibbons (AUS), Tatiana Weston-Webb (HAW), Silvana Lima (BRA)