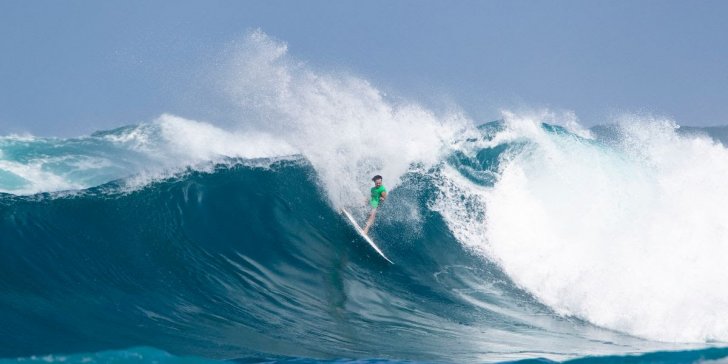 …Headline Vans World Cup of Surfing
• Gabriel Medina, Jordy Smith Top Seeds at Sunset
• Ezekiel Lau in Pursuit of Vans Triple Crown Title
• Community Calendar Features Skating, Films, Music and More
Front Page: Jordy Smith (ZAF) is on the hunt for two maiden titles this season, World Champion and Vans Triple Crown of Surfing Champion.
Credit: © WSL / Heff
Haleiwa, Oahu/HAWAII — (Wednesday, November 20, 2019) – The final event of the World Surf League (WSL) Qualifying Series (QS) and second jewel of the Vans Triple Crown of Surfing, the Vans World Cup of Surfing will see twenty-six of the world's best from the Championship Tour (CT) confront a fierce field of international contenders as the race for the Vans Triple Crown title builds alongside more XL North Pacific swells. 128 men will have the opportunity to prove themselves at one of the most physically demanding big wave breaks in the world as the professional surfing industry shifts from Haleiwa Ali'i Beach to Sunset Beach for the Vans World Cup from November 25 – December 7.
Two-time World Champion and 2015 Vans Triple Crown Champion, Gabriel Medina (BRA) enters the event as the top-seeded surfer and No. 2 in the world, while 2016 Vans World Cup winner and No. 3 in the world, Jordy Smith (ZAF), has built momentum toward a maiden Vans Triple Crown title with a strong performance in the Hawaiian Pro. As the final QS 10,000 competitions of 2019, the Hawaiian Pro and Vans World Cup will determine the frontrunners for the 37th Vans Triple Crown and all but crystallize the roster for the 2020 CT.
The Vans World Cup will take place at Sunset Beach, a wave venerated for its power, consistency and historical value in surfing's greatest narratives. The wave has been notoriously dominated by power surfers including last year's winner Ezekiel Lau (HAW). Currently sitting in the No. 28 spot on the CT (requalification cut-off is at No. 22) and No. 48 on the QS (requalification cut-off at No. 10), Lau is laser-focused on defending his title to boost his ranking on the QS. With multiple wins at Sunset Beach under his belt, including his first Vans World Cup victory in 2013 and two wins at the Vans Pro (2017 and 2011), the Hawaiian will be the man to beat.
 Ezekiel Lau (HAW) will look to lock in another win at Sunset Beach.
Credit: © WSL / Keoki
Lau made it apparent after his runner up finish in the Vans Pro last month that his intent is to capture a Vans Triple Crown title this year: "I just want to carry this on and keep going through the whole Vans Triple Crown. I'm looking at clinching that Triple Crown for Sunny (Garcia) this year, I want to bring that trophy home to him." Garcia, the unprecedented six-time Vans Triple Crown athlete from Waianae, Oahu, has played a formative role in the careers and powerhouse styles of surfers like Lau and Billy Kemper (HAW).

As the competition reaches a crescendo, the community experiences will also ramp up during the Vans World Cup as the surfing industry descends upon the North Shore of Oahu to take part in a variety of skate, art, music and movie-centered activations. Fans and the North Shore community will have the opportunity to experience the surfing culture that makes up the Vans Triple Crown heritage series through a cross-section of local activations, including:
December 3
Vans Skate Jam + Movie Night
4-9pm, Banzai Skate Park
North ShoreDecember 5
Vans Duct Tape Festival
Open surf sessions + board demos
12-4pm, Pua'ena Point, HaleiwaDecember 6
Surf Night
6pm, Sunset Beach Elementary
North Shore
December 6
Vans Women's Surf Film Showcase:
Sambal Sambal, Doll Riot, Getting Better at Canada and more
7pm, Farm to Barn, HaleiwaDecember 7
World Premiere of Vans Surf Film 'Pentecoastal'
Directed by Wade Goodall
7pm – midnight, Aloha Beer Garden, Honolulu
Vans World Cup competitor Patrick Gudauskas (USA) and brothers, Dane and Tanner, helped host this year's Stoke-O-Rama, a free youth surfing event and one of the cornerstone community activations of the Vans Triple Crown, last month in Makaha.
Credit: © WSL / Vans / Green
Because Sunset is positioned to receive the strongest swells from the North Pacific, its coastline is particularly susceptible to erosion and has seen a fair amount of degradation in recent years. The WSL and Vans Triple Crown have made significant strides to reduce further impact to the shoreline by operating off from the sand, reducing the event footprint and partnering with local organizations on Sunset Beach restoration. The project includes native coastal plant propagating and planting, fence construction and repair, designated footpaths, temporary signage for public education and year-round maintenance.

The Sunset Beach Dune Restoration Project is one of many facets of the Vans Triple Crown's sustainability program, which has been working in partnership with Sustainable Coastlines Hawaii for seven consecutive years. The 360-degree sustainability program includes waste diversion, recycling, upcycling, composting and public education around plastic elimination and sustainable waste management.
The WSL and North Shore Community Land Trust are partnering for the second year on Sunset Beach shoreline restoration.
Credit: © WSL / Rolland
The sustainability program has grown to include partners such as Hydro Flask, who supplies water stations at Vans Triple Crown event sites in addition to providing insulated hydration bottles to all event crew in an effort to encourage plastic reduction from visitors and eliminate single-use plastics on-site from staff. TropicSport, a mineral-based reef-safe sunscreen, will also be on-site this year to promote reef-safe awareness at Vans Triple Crown events. In an effort to educate the public, TropicSport will offer sunscreen swapping, free samples and more.

The Vans Triple Crown is also powered by renewable energy through Pacific Biodiesel, using an 80/20 fuel blend (80% biodiesel / 20% petroleum diesel) made locally by collecting and recycling used cooking oil from Hawaii restaurants. Carbon emissions, such as air travel and hotels for athletes, are also measured and 100% offset through certified carbon credits, while traffic around the North Shore is mitigated by promoting the WSL broadcast and on-demand shuttles to/from Turtle Bay Resort.

WSL and Vans have committed to progressive sustainability pledges that help protect the longevity of the Vans Triple Crown and surf events around the world. Through environmental consciousness, the organizations are championing the blueprint for event sustainability while preserving world-class opportunities for competitors and the community alike.

The Vans World Cup of Surfing has a holding window from November 25 – December 7 and will be broadcast LIVE on WorldSurfLeague.com, VansTripleCrownOfSurfing.com, Facebook.com/wsllive and the free WSL app. Fans can also tune into Spectrum SURF channels 20 and 1020HD to watch the event LIVE and in replay across the state of Hawaii.