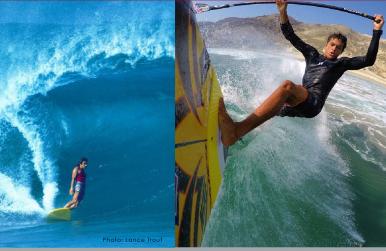 Surfer, the Bar Media Lounge presents one of the greatest surfing legends of all time. Doors open at 6pm, talk begins at 7pm
Gerry Lopez, the surfing legend known as Mr. Pipeline for his mastery of the massive waves on Oahu's North Shore, lives a quiet life in Bend, Oregon. Lopez still loves to surf and travels frequently as a brand ambassador for Patagonia and as a leader of yoga retreats that happen to take place near his favorite surfing spots in Hawaii, Mexico and Bali. Lopez is also an enthusiastic snowboarder and mountain biker and enjoys the open spaces of Central Oregon, a different environment than where he grew up in Hawaii. He was a leader of the generation of surfers who moved away from longboards and turned big-wave surfing into a creative art and a competitive sport. Lopez was known for his casual, confident style and for riding in the tube of a wave, a technique he perfected at Pipeline and later in Indonesia. Lopez also is an innovate surfboard designer and shaper whose Lightning Bolt boards were extremely popular back in the day. He still shapes and sells surfboards and is revered as an elder statesman in surfing.
When:
Wednesday, October 14, 2015 –

8:00pm

to

10:00pm
And also….joining Gerry…it's Talk Story with TEAM NAISH:  Kai Lenny & Noa Ginella
8-10pm Wednesday, Oct.14 Doors open at 6pm.
Kai Lenny is an experienced waterman, a champion in multiple disciplines, including 8 World stand up paddle titles, and all at the age of 22 years old. Kai Lenny is one of the world's most complete waterman, and more versatile than most. He can paddle his gun into bombs at Jaws, huck massive airs on a thruster, kite and windsurf with equal skill.
Noa Ginella comes from the mecca of surfing raised on Oahu's North Shore and has been brought up in the best way possible – with exposure to all forms of ocean riding. Noa can expertly ride an alaia, longboard, shortboard, stand up paddle boards, all with style and flow.
$5 suggested donation at the door benefits: Turtle Bay Foundation. 
Kai & Noa will Also be at Turtle Bay to host & coach alongside Gerry Lopez for a unique waterman & yoga Retreat October 12-15. For more info click here.
Photo: Lance T
Hit STB and all Events on FB HERE