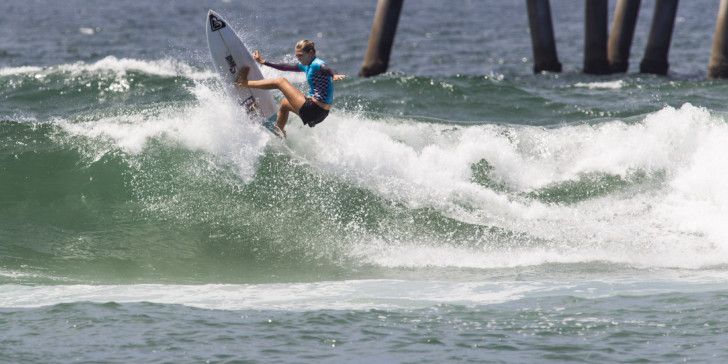 – GILMORE, WRIGHT, PETERSON & CONLOGUE THROUGH TO QUARTERFINALS
– CALIFORNIANS CONLOGUE AND PETERSON ON FIRE IN HUNTINGTON BEACH
Stephanie Gilmore (AUS), six-time WSL Champion, defeat three-time WSL Champion Carissa Moore (HAW) and Coco Ho (HAW) in Round 3 Heat 4. Gilmore will advance to the Quarterfinals. Moore and Ho will battle to avoid elimination in Round 4.
Image: WSL / Morris
| | |
| --- | --- |
| Location:    | Huntington Beach Pier, Huntington Beach, California |
| Event Window: | July 25-31, 2016 |
| Today's Call: | Women's CT Round 3 complete |
| | |
| --- | --- |
| Conditions:   | 2 – 4 foot (0.5 – 1.0 meter) |
HUNTINGTON BEACH, California/USA (Wednesday, July 27, 2016) – The Vans US Open of Surfing, Stop No. 6 of 10 on the 2016 Samsung Galaxy WSL Championship Tour (CT), saw exciting action today as the women completed non-elimination Round 3 in two-to-four foot (0.5 – 1 metre) waves in Huntington Beach, California.
Courtney Conlogue (USA), hometown hero and current World No. 1 on the Jeep Leaderboard, captured the Round 3 win against Laura Enever (AUS) and Sage Erickson (USA). Enever found an early rhythm on her backhand to post excellent scores and take the lead. The Australian held off the Americans with her 13.10 through the majority of the heat, forcing them to chase big scores. With ten minutes left in the heat, Enever's lead demanded that Conlogue answer with a 6.53 or better. Under pressure, Conlogue answered with a strong 6.77 to gain control. Conlogue's 16.27 combined score will advance her to the Quarterfinals. Enever and Erickson will surf again in Round 4.
"I think I probably started surfing my heat before I even paddled out this time,"Conlogue said. "I know these conditions are very tricky and trying, and I had to be on those opportunities. I was just trying to get in sync with the ocean. It is amazing to have my fans, family and friends coming down supporting me.  I spend so much of the season traveling around the world and to have these two events, here and Trestles, is really amazing. The support always gives you the extra bit of energy that you need."
Lakey Peterson (USA) defeated Sally Fitzgibbons (AUS) and Tatiana Weston-Webb (HAW) in the opening heat of Round 3, and the Californian will advance straight to the Quarterfinals. All three surfers got off to a quick start, with Weston-Webb claiming the lead on her opening exchange. Peterson and Fitzgibbons wasted no time to put more points on the board, forcing multiple lead changes throughout the heat. Peterson got the edge over the field by locking in an incredible 7.67 and an excellent 8.60 to secure the win. Peterson, who suffered a sidelining injury at the beginning of the year has returned to her first event of the season in peak condition, having yet to drop a heat at this event.
"I am feeling really good coming back after the injury," Peterson said. "It is funny because before my injury I would rarely win the first round and then the third round again, so maybe I have got some good mojo from it all. It is good to pick up where i left off. Into the Quarters is a great result and obviously I am going for the win. Hopefully that can happen. I definitely made a few priority mistakes, but I learned a lot. I am happy to be back in the water and stoked to be surfing."
The last heat of Round 3 witnessed Stephanie Gilmore (AUS), six-time WSL Champion, earn a spot in the Quarterfinals by taking down Carissa Moore (HAW), three-time WSL Champion, and Coco Ho (HAW). Gilmore garnered a 13.60 combined wave score, giving her a 2.60 lead over Ho and a 2.77 lead over Moore. The Hawaiians were not able to combat the Australian and will surf again in elimination Round 4.
"Conditions are pretty difficult out there today so it's just about catching waves and doing the best with what you've got," said Gilmore. "I haven't really had much luck with three-man heats this year so it felt really good to get through that heat, especially against Carissa (Moore) and Coco (Ho). My last heat prior to this was against two Hawaiians as well and they are tough competitors. I am happy to make it through."
Tyler Wright (AUS) blazed through Heat 3, taking down Malia Manuel (HAW) and 2016 WSL Rookie Keely Andrew (AUS). Andrew got a jumpstart with a strong 6.50, but Wright was ready to attack back with an excellent 7.17. Wright locked in a solid 6.10 back up score to give her a 0.47 point lead against the rookie. Wright and Andrew went wave for wave, with the rookie only needing a 6.78 to regain the lead. Andrew landed a 6.30 and was unable to close the gap required to skip Round 4.
"I came here about a month ago to train specifically because I am a heavy-footed surfer," said Wright. "This is such a different type of wave than I am used to. We do not get these type of waves at home. I came over to work hard and train. I am having fun. This is the first event that I've actually felt prepared for – It is so different and amazing."
The event is also being carried by the WSL's LIVE broadcast partners Fox Sports Australia, CBS Sports in the United States, ESPN Brasil, Globosat, Edgesport, Sky NZ, Sport TV, Canal + Deportes, Channel Nine, MCS, Starhub, and Oceanic Time Warner Cable 250 & 1250 in Hawaii.
For a full schedule of events and more, please visit WorldSurfLeague.com. All Vans US Open of Surfing events are free and open to the public.
Vans US Open of Surfing Women's Round 3 Results:
Heat 1: Lakey Peterson (USA) 16.27, Sally Fitzgibbons (AUS) 13.10, Tatiana Weston-Webb (HAW) 10.54
Heat 2: Courtney Conlogue (USA) 14.90, Laura Enever (AUS) 14.66, Sage Erickson (USA) 9.23
Heat 3: Tyler Wright (AUS) 13.27, Keely Andrew (AUS) 12.80, Malia Manuel (HAW) 10.67
Heat 4: Stephanie Gilmore (AUS) 13.60, Coco Ho (HAW) 11.00, Carissa Moore (HAW), 10.83
Vans US Open of Surfing Women's Round 4 Match-Ups:
Heat 1: Sally Fitzgibbons (AUS) vs. Sage Erickson (USA)
Heat 2: Laura Enever (AUS) vs. Tatiana Weston-Webb (HAW)
Heat 3: Keely Andrew (AUS) vs. Carissa Moore (HAW)
Heat 4: Coco Ho (HAW) vs. Malia Manuel (HAW)