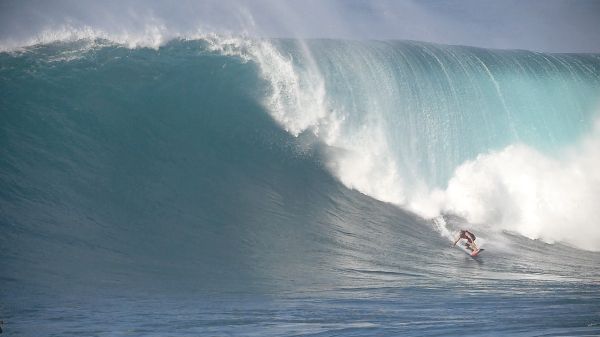 Tuesday the 20th.
LOS ANGELES, CA/USA (Tuesday, January 20, 2015) – World Surf League (WSL) Big Wave Tour's (BWT) Pe'ahi Challenge in Maui, Hawaii has been postponed, just 24 hours after being greenlighted for a Thursday morning start. A significant downgrade in swell projection has forced event organizers to put the brakes on the event for now.
"The challenge with BWT events is that we're dealing with some of the rawest energy on Earth which is required to create waves of significant size," said Peter Mel, WSL Big Wave Commissioner. "These swells require a very specific intensity, direction and wind component to be successful. 24 hours ago, the elements were aligning for Thursday and our Green Alerts go out 72 hours in advance to get all the various event mechanisms into gear. The swell looked good and so we called it on. Today, it's a different story unfortunately and we're calling the event off for now."
"It's disappointing and no one is more passionate about running these events than I am, but the BWT has a standard to uphold and this swell is unfortunately not going to do it for us," Mel continued. "That said, we still have five weeks left in this year's season and a very active North Pacific swell cycle so we'll be monitoring conditions for Pe'ahi, Todos Santos and Nelscott Reef."
The 2014/2015 BWT season is divided into Southern Hemisphere and Northern Hemisphere components, each hosting three possible events. The Pe'ahi Challenge in Maui together with the Todos Santos Challenge in Mexico and the Punta Galea Challenge in the Basque Country (won by Nic Lamb) comprise the Northern Hemisphere half of the season.
The Southern Hemisphere season ran from April 15 to August 31, 2014 with event options in Chile, Peru and South Africa. The Billabong Pico Alto was the only event to run, and on Thursday, July 3, 2014 Makua Rothman (HAW) claimed his maiden WSL BWT victory. With two events complete, the Hawaiian sits atop the BWT rankings heading into the Pe'ahi Challenge, the third BWT event of the season.
A team of experts track swell systems all over the world waiting for those that will produce waves in the 30-foot-and-larger range necessary for a BWT event to run.
Surfline, official forecaster for the 2014/2015 WSL BWT season, are calling for:
After a couple of good days over the weekend, the data we've been able to gather today indicates that the storm has underperformed a bit in the last 12-18 hours. In particular, and critically, for Jaws it appears that the energy that we were watching to develop in the 305-315 degree band today has been a little weaker than forecast thus far.  
So swell direction is the real limiting factor here for Jaws with the peak energy centered around 300 degrees and a spread from 290-310 (swell window starts to open up around 305 degrees, but 320+ is best). Both Wed and Thur should have some good waves wrapping in (peak Wed PM, Thursday levels off to slowly eases) but should top out around 12-15' (20-30' faces) with roughly half the size of the most open and exposed breaks of Oahu and especially Kauai (and buoy 01). Consistency also on the lower side with the swell shadow. 
Big Wave Commissioner Peter Mel and the rest of the big wave community will continue to monitor swells for remaining events at Pe'ahi and Todos Santos as well as the qualifying event at Nelscott Reef.
The 24-man field for the Pe'ahi Challenge will be comprised of the WSL BWT Top 12, led by reigning world champion Grant 'Twiggy' Baker, as well as six WSL BWT wildcards and six local wildcards.
Top 12 WSL BWT Surfers:
1 – Grant Baker (ZAF)
2 – Ken Collins (USA)
3 – Nic Lamb (USA)
4 – Shawn Dollar (USA)
5 – Kohl Christensen (HAW)
6 – Alex Gray (USA)*
7 – Greg Long (USA)
8 – Ryan Augenstein (USA)
9 – Anthony Tashnick (USA)
10 – Ramon Navarro (CHL)
11 – Jamie Mitchell (AUS)
12 – Tyler Fox (USA)
*Adur Letamendia (EUK) will be filling in for Alex Gray who has withdrawn due to injury.
WSL BWT Wildcards:
1 – Kelly Slater (USA)
2 – Mark Healey (HAW)
3 – Shane Dorian (HAW)
4 – Dave Wassel (HAW)
5 – Makua Rothman (HAW)
5 – Gabriel Villaran (PER)
Pe'ahi Local Wildcards:
1 – Ian Walsh (HAW)
2 – Billy Kemper (HAW)
3 – Albee Layer (HAW)
4 – Shawn Walsh (HAW)
5 – Kai Lenny (HAW)
6 – Tyler Larronde (HAW)
The World Surf League (WSL) Big Wave Tour (BWT) is greenlighting the Pe'ahi Challenge in Maui, Hawaii for an 8 a.m. start (local time) this Thursday, January 22, 2015. Watch the world's best big wave surfers riding giant waves live at WorldSurfLeague.com as a projected 30-to-40-foot faces descend upon the region.
"Pe'ahi is a very special place and conditions are lining up for Thursday so we're pulling the trigger," said Peter Mel, WSL Big Wave Commissioner. "We've greenlit the Pe'ahi Challenge for an 8am start on Thursday. It will be the second event of the Northern Hemisphere season and the third of the 2014/2015 season. We've seen Makuakai Rothman victorious in Pico Alto and then finish Runner-Up to Nic Lamb (USA) in Punta Galea so the Hawaiian is firmly in the driver's seat in this season's title hunt. Pe'ahi is a serious wave and we're excited to see this historic event come to life on Thursday."
Conditions look good to excellent at this point: light southerly wind for the first half of the day, possibly turning lightly onshore for the afternoon.
Big Wave Commissioner Peter Mel will assess conditions on Thursday morning a final time before calling the Pe'ahi Challenge on for the day.
The Pe'ahi Challenge will be webcast LIVE via World Surf League homepage. See more of this season's Pe'ahi highlights on XXL Page. GO HERE