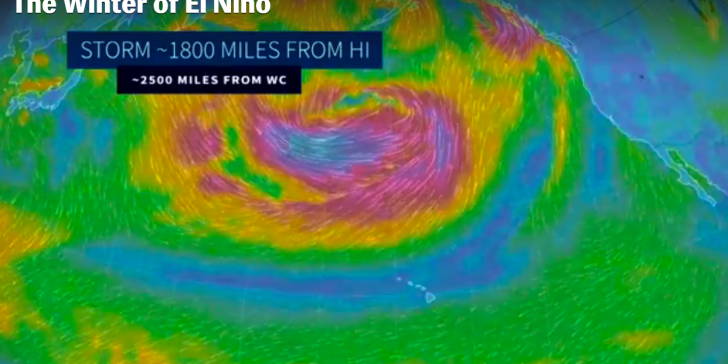 We've heard tons of scientists explain what El Niño is and isn't doing this winter. Is California's drought going to end? How strong will La Niña be? When will this El Niño peak? Yada yada. As surfers we're inclined to equate El Niño to more waves, both in size and frequency. Cut all the science chatter and give us a forecast. So who better to discuss that side of the 2015-2016 El Niño than the guys reaping the benefits…or taking The Boy's punishments? Billy Kemper, Jamie O'Brien, Dave Wassel, Ian Walsh and more have all had front row seats all winter.
Let's take an inventory: Pipe has legitimately maxed out more than once. In fact, the Volcom Pipe Pro didn't kick off on the first day of the contest window because it was too big, not the other way around. We've seen a lot of Jaws and Waimea already. A lot. We've probably already seen both of those waves break more since Thanksgiving than most entire winters. We've watched Kelly consistently step into the big wave world. We've even seen John John out in the XXL arena.
"The hype definitely kicked in," Kemper says. "As far as wave quality we've got unbelievably swells with crazy amounts of light wind, which is so beyond what we've been used to." No doubt, the size has been one side of the equation. But it seems the epic conditions that rarely come together in other years have almost been commonplace this winter.
"I've never seen a run of big waves with overall clarity in the weather in my entire life," Ian Walsh says. Adding that it's been a monumental season for big wave surfing. Maybe the craziest part is we might not have seen the craziest part yet. We did just barely start February, you know?