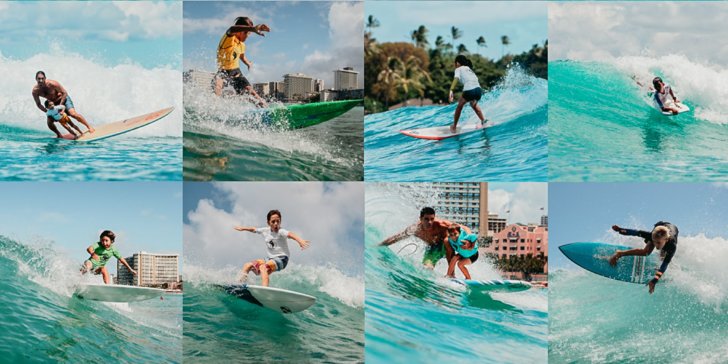 The weathers great all weekend . The Surf's super fun and clean at 1-2'+ from the SSW! It's been too long! Let's goooo…SNN

Presented By:
Since 1997, the mission of the T&C Surf Grom Contest has been to get more of Hawaii's youth in the water with a non-competition style event. For over twenty years, unrated groms have enjoyed this specialty event at Queen's Break right in the heart of Waikiki. T&C Surf and Boys & Girls Club of Hawaii, our non-profit partner, helps us to produce the event each year to introduce young surfers to the world of competitive surfing. This family friendly two-day contest is open to inspiring surfers ages three to twelve years old who want a taste of competitive surfing in a fairly mellow setting. The Grom Contest is designed so all entry level surfers are eligible to surf only one division providing more kids a chance to compete. The ever popular Kokua Division allows parents to assist their keiki and help them catch waves! It gives the youngest of surfers the opportunity to take part in a contest with some extra support from a grown-up.

Duke's Canoe Club presents this years event as it enters into its twenty fourth year and will take place on June 4-5, 2022. Together, we encourage you to gather your family at Queen's in Waikiki and join in the competition in this fun surf comp for Hawaii's keiki. The entry fee is just $30 per competitor and a portion of the proceeds will be donated to the Boys and Girls Club of Hawaii. Entering is easy… register and submit your payment to enter online.
T&C Surf produces the event each year to introduce young surfers to the world of competitive surfing in a less-intense setting. The general rule of thumb is groms who have participated in NSSA or HASA or any other organized competitive surfing branch are strictly prohibited. "This is the greatest thing we do. It's our way of giving back," says T&C Surf Owner/Founder Craig Sugihara. "I am SO excited to bring back our GROM CONTEST in-person on the beach at Waikiki! Our team pivoted to keep things going remotely during the pandemic, but there is no substitute for the energy and endless smiles when we get our keiki together for friendly competition in the water. I am STOKED that we can gather again this summer!" The contest is usually at full capacity each year, so make sure to register online early. The top six competitors in each division will be awarded with medals and prize packs filled with surf products from event sponsors like Dakine, Vertra, Vans, RVCA and more. Plus, a few lucky participants will win a T&C custom surfboard.