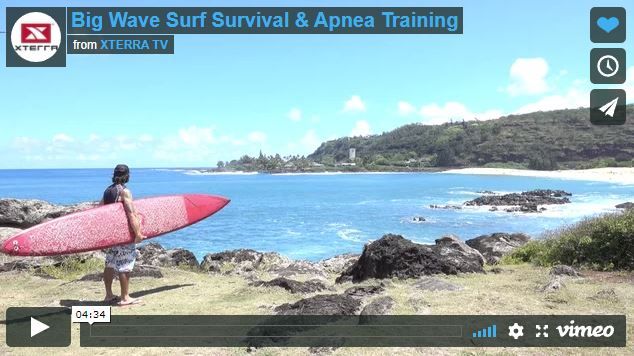 "I can hold my breath for 2 minutes and 37 seconds!
After taking just one class!" Dave Kelly: Owner of Hawaiian South Shore
The next class is in town for the first time 

Sat-Sunday April 28th and 29th.
Location: Hawaiian South Shore!
From Dave Kelly:
"Last winter season in November, I attended the Apnea Surf Survival Course and after the second day of class, I was able to hold my breath for 2 minutes and 37 seconds!! Before I went through the Apnea Surf Survival Course, I would've never imagined that I could hold my breath that long! But, the thing is… most of the 25 or so in the class, after day two could hold their breath up to 3 minutes and some even at 4 minutes!"
Why did I take the class?
Last year I was surfing country often and I wanted some guidance from an expert who could give me advice for when I wipe out and get held down.
Ricardo of Hawaii Eco Divers has trained the best in the world. Matter of fact, we had some famous big wave riders in our class and some of the regulars that surf Waimea retraining with us!
It was really cool to see Liam Wilmott (WSL Hawaii Director Jodi's Husband) retaking the class. He and his crew actually have surf survival class (which is a next level training course). This just goes to prove the legitimacy of the Apnea & Surf Survival class.
What is Apnea? According to Ricardo of Hawaii Eco Divers, Apnea is the momentary suspension of external breathing, more commonly know as holding one's breath. During apnea, there is sufficient oxygen in the lungs and bloodstream to allow a person to stop breathing for several minutes while remaining consciousness… READ MORE.
Every surfer should take this course as it promotes personal wellness and safety in the water. Even the pros and prominent members of the surfing community like Eddie Aikau or Billabong's team manager and surfer, Rainos Hayes have taken this course!
Day 1, April 28th


Time: 4:00 pm to 9:00 pm

Location: Hawaiian South Shore (320 Ward Avenue, Honolulu HI, 96814)

What will be covered?: the physiology of Apnea and how to improve ventilation through lecture and breathing exercises. We won't be getting in the water on this day.

Day 2, April 29th

Time: 8:00 am to 4:00 pm

Location: Ala Moana Beach

What will be covered?: We will be training all day on the beach/in the water. We will perform a series of Apnea exercises related to surfing.

What to bring: Yoga mat, watch, fins, mask + snorkel, warm wetsuit, surf leash, hat,  sunglasses, sunscreen, food + water.

** Price: $189.00 + tax
The biggest thing I learned from the class was how to breathe from my diaphragm and how to oxygenate myself. You are sure to take a lot out of this training session! There is a maximum of 24 spots, so click the banner below to make your reservation today!
RESERVE YOUR SPOT FOR THIS EVENT TODAY.
Once you place your reservation, we will be sending you additional information and a manual for the course. If you have any more questions, please let us know. We are happy to help and we're super stoked to be able to host an event like this. Water safety is obviously super important to us and so we hope this educates and helps everyone!
Words from the instructor, Ricardo:
"This course is designed with one main goal in mind: to increase your breath hold ability in stressful situations underwater, while remaining calm and in total control of your mind. In this apnea course for surfers, you will learn different techniques of apnea and breathing exercises to fully oxygenate the body, and strengthen and increase the capacity of the lungs .The class is designed to help you spend more time underwater  and utilizes lectures, intense breath hold training and multiple breathing and swimming exercises.
It's main purpose is to aid surfers in dealing with extreme situations where mind control and the ability to remain calm are the main factors in your survival.
In addition to apnea theory and breathing techniques to maximize oxygenation and breath hold, we also emphasize high surf risk management in order to recognize, minimize and avoid unnecessary risks found in the surf zone. We also present and work on many surf rescue scenarios encountered in the sport of surfing and other water activities. Finally, we will cover the importance of providing CPR and rescue breathing to unconscious drowning victims.
This is a course that every waterman and woman should take.
It will make you and your surfing community safer!"