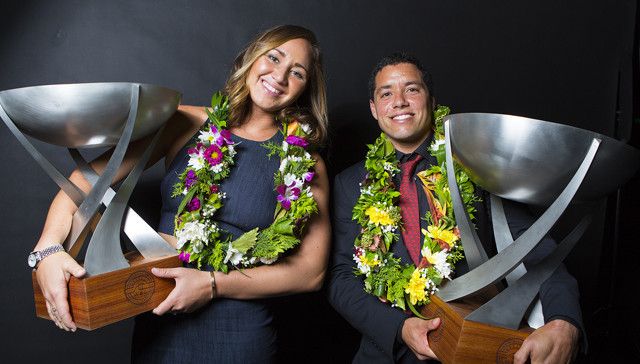 PC: Kirstin / Article courtesy of SurfersVillage.com
New WSL Champ Trophies Revealed at Gold Coast Gala
World Champions Adriano de Souza and Carissa Moore were honored at the WSL's annual Gold Coast gala with their newly designed world championship trophies. The stunning works of art mounted on koa wood include engraved names of all former world champions. The design also includes sand from each of the beaches where all previous world champions were groomed.
The historic evening was attended by a number of former world champions and surfing greats as the WSL celebrates the beginning of surfing's 40th year. The world's best surfers looked sharp dressed in their red-carpet garb, and enjoyed a swanky dinner while enjoying the touching speeches and nods to several of the 2015 season standouts.
Adriano de Souza paid tribute to his heroes in the room, his late friend Ricardo de Santos, and his family members and friends who supported him through the incredible highs and lows that make up his amazing journey.
He recounted his humble beginnings: from the hopelessness of his neighborhood and its muddy streets, to the seven-dollar surfboard that gave him purpose, and the time when he was 14-years-old, couldn't speak a word of english, and headed to South Africa on his own with his family's blessing. When he arrived he was stuck for 18 hours waiting for his ride to show up. Where most would have lost their mind, Adriano was already mature enough to see that struggle as a learning experience….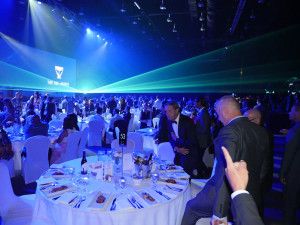 PC: King
Heat of the Year: Mick Fanning (AUS)/John John Florence (HAW)/Kelly Slater (USA) at Banzai Pipeline & Sally Fitzgibbons (AUS)/Carissa Moore (HAW) at Honolua Bay
Move of the Year: Gabriel Medina (BRA) and Silvana Lima (BRA)
Wave of the Year: Owen Wright (AUS) and Carissa Moore (HAW)
WSL Junior Champions: Lucas Silveira (BRA) and Isabella Nichols (AUS)
WSL Longboard Champions: Piccolo Clemente (PER) and Rachel Tilly (USA)
WSL Big Wave Tour Champion: Greg Long (USA)
CT Breakthrough Performers: Filipe Toledo (BRA) and Courtney Conlogue (USA)
CT Rookies of the Year: Italo Ferreira (BRA) and Tatiana Weston-Webb (HAW)
WSL Women's Runner-Up: Courtney Conlogue (USA)
WSL Men's Runner-Up: Mick Fanning (AUS)
WSL Women's Champion: Carissa Moore (HAW)
WSL Men's Champion: Adriano de Souza (BRA)