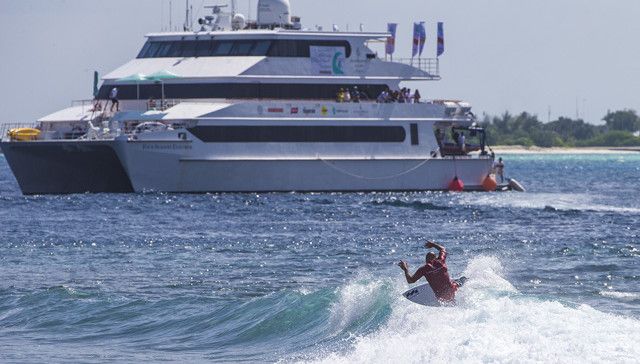 Retired Goofy footed Travis Logie & Jamie O'Brien join in a cool concept…check this out then eat ur heart out.
Photo: Kuda Huraa, Maldives © WSL
Four Seasons Maldives Surfing Champions Trophy
World Surf League
Kuda Huraa, Maldives
August 2016
The Surfing Champions Trophy mixes single-fin, twin-fin, and thruster
Surf News Network, 22 June, 2016 – Momentum is building for the world's most luxurious surfing contest, the Four Seasons Maldives Surfing Champions Trophy with the first two contestants of the 2016 event being announced.
South Africa's Travis Logie (ZAF) and Pipeline specialist Jamie O'Brien (USA) will join the 2015 event champion Shane Dorian (USA) in the pristine waves on offer in the Maldives. Event co-ordinator, Mark Winson of Tropicsurf is excited with the first two fresh competitors that have been announced and believes this well-rounded draw could lead to one of the most exciting events yet.
"With a freesurfer, an all-rounder and a big wave slayer announced so far, we're already in for an epic battle this August," Winson said. "We still have three contestants yet to be announced so I think the 2016 instalment of the Four Seasons Maldives Surfing Champions Trophy is going to be one to watch."
WSL Deputy Commissioner Travis Logie (ZAF) will put the competitive jersey on for the first time since he retired from the WSL Championship Tour (CT) at the end of the 2014 season. Logie, who won the 2002 ISA World Surfing Games for his beloved South Africa has been a fan of the Champions Trophy Event for several years and is stoked he'll be able to mix it with the rest of the field in paradise.
"Shauna (Logie's Wife) and I are so excited to be invited to this event at the Four Seasons," Logie said. "I've followed the Champions Trophy online for years and can't wait to get amongst those perfect Maldivian waves myself. Hopefully I can give Shane and Jamie some stiff competition in the line-up too.
Apart from being the youngest surfer to ever take out the most iconic event in surfing in 2004, the Pipe Masters, Jamie O'Brien is best known for his progressive free surfing. Whether it's taking the biggest beasts at his beloved Pipe or throwing his fins to the wind a Rocky's, there is a reason this North Shore local is one of the biggest names in the sport. One of O'Brien's best attributes is his ability to have fun no matter what, which will see him fit in perfectly at the Four Seasons Maldives Surfing Champions Trophy event.
I can't wait to surf in the Champions Trophy with Shane and Travis," O'Brien said. "This event looks like everyone is always enjoying themselves and that's what life is about."
Winning the Four Season Surfing Champions Trophy means earning the honour of returning to the event the following year. Returning this year is 2015 Champion and big wave hell-man Shane Dorian.
"Lisa and I can't wait to return to the Maldives to enjoy the chilled out vibe of the Champions Trophy," Dorian said. "It's such a unique concept with fun waves and great company and definitely one of the highlights of our year."