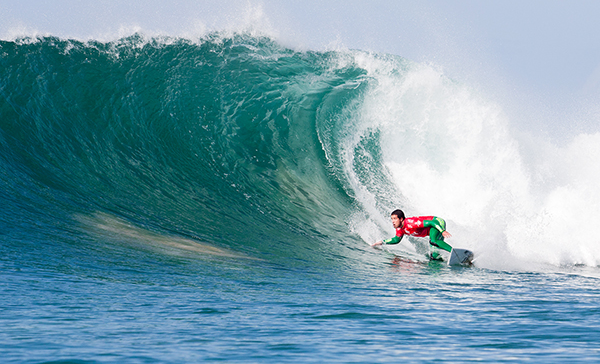 ….from competing at the acclaimed righthander of Supertubes at Jeffreys Bay for Stop No. 6 on the 2015 Samsung Galaxy World Surf League (WSL) Championship Tour (CT), the J-Bay Open.
-De Souza Leads World's Best To Supertubes for WSL J-Bay Open
-Dane Reynolds Confirmed as Event Wildcard, Round 1 Matches Set
Universally regarded as one of the best waves on the planet, Jeffreys Bay boasts a quality righthand pointbreak that delivers unparalleled high-speed consistency, making it the perfect platform to test the world's best. The event holds a competitive window of July 8 – 19, 2015 and is the only CT stop on the African continent.
Adriano de Souza (BRA) and Filipe Toledo (BRA) continue to hold first and second place on the WSL Jeep Leaderboard heading into the J-Bay Open with Fiji standout Owen Wright (AUS) close behind in third place.
Defending event winner and three-time world champion Mick Fanning (AUS) currently sits in fourth place on the rankings and victory at Jeffreys Bay this year would see him equal 11-time world champion Kelly Slater's (USA) record of four wins in South Africa. Fanning matches up against compatriot Kai Otton (AUS) and wildcard Dane Reynolds (USA) in the opening round while Slater will take on Jadson Andre (BRA) and Fredrick Patacchia (HAW).
Reynolds, former World No. 4, will once against join the WSL Top 34 as a wildcard at the J-Bay Open following a 9th-place finish at the recent Fiji Pro. Reynolds' allocation comes via the WSL Commissioner's Office which cited the Californian's incredible talent, ability to lift the event's performance level and recent surfing in Fiji as reasons for his selection. Reynolds will face Mick Fanning (AUS) and Kai Otton (AUS) in Round 1 of competition.
Slade Prestwich (ZAF) will complete the field after earning a coveted wildcard entry into the event with a win at the JBU Supertrials on June 14, 2015. The Durban-based Qualifying Series (QS) surfer will battle Adriano de Souza (BRA) and Adam Melling (AUS) in Round 1.
"I have nothing to lose and will give everything I have in the J-Bay Open," said Prestwich. "I love surfing at Supertubes and to get another chance to surf Supers with just one or two other guys in the water is going to be really cool. I cannot wait to surf against the likes of Kelly Slater, he's a total legend."
The J-Bay Open will be webcast LIVE on WorldSurfLeague.com.
The world's best surfing will also be broadcast LIVE on Fox Sports in Australia, MCS Extreme in France, EDGE Sports in China, South Korea, Malaysia and other territories and on Globo TV in Brazil.
The J-Bay Open is the showcase event at the J-Bay Winterfest, a multi-sport and music festival in Jeffreys Bay from July 8 – 19. More details at www.jbaywinterfest.com.
J-Bay Open Round 1 Match-Ups:
Heat 1: Taj Burrow (AUS), Matt Wilkinson (AUS), Glenn Hall (IRL)
Heat 2: Julian Wilson (AUS), Sebastian Zietz (HAW), Dusty Payne (HAW)
Heat 3: Owen Wright (AUS), Michel Bourez (PYF), Brett Simpson (USA)
Heat 4: Filipe Toledo (BRA), Miguel Pupo (BRA), C.J. Hobgood (USA)
Heat 5: Mick Fanning (AUS), Kai Otton (AUS), Dane Reynolds (USA)
Heat 6: Adriano de Souza (BRA), Adam Melling (AUS), Slade Prestwich (ZAF)
Heat 7: Josh Kerr (AUS), Wiggolly Dantas (BRA), Adrian Buchan (AUS)
Heat 8: Kelly Slater (USA), Jadson Andre (BRA), Fredrick Patacchia (USA)
Heat 9: John John Florence (HAW), Jordy Smith (ZAF), Ricardo Christie (NZL)
Heat 10: Nat Young (USA), Jeremy Flores (FRA), Keanu Asing (HAW)
Heat 11: Italo Ferreira (BRA), Joel Parkinson (AUS), Kolohe Andino (USA)
Heat 12: Bede Durbidge (AUS), Gabriel Medina (BRA), Matt Banting (AUS)