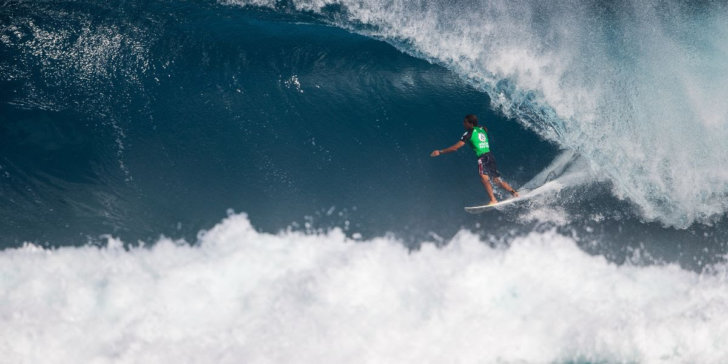 front page: One of Hawaii's best all-around waterman Kai Lenny (pictured) is up in Round 1 Heat 8 to finish up the round.
CREDIT: © WSL / Tony Heff
Banzai Pipeline, North Shore, Oahu, Hawaii
Volcom Pipe Pro Men's QS 3,000
Round 1, and Round 2 Heats 1 – 11
BANZAI PIPELINE, Oahu, Hawaii (Saturday, February 2, 2019) – The World Surf League (WSL) men's Qualifying Series (QS) Volcom Pipe Pro QS 3,000 is ON. A field of 144 will begin competing in 3-to-5-foot NW swell with beachbreak-like conditions to start proceedings at 8:00 a.m., beginning with Round 1 Heat 1.

"We're looking at an 8:00 a.m. start to get the event underway and will get a full day of competition in with three-to-five foot surf on offer," Hawaii/Tahiti Nui Tour Manager Marty Thomas said. "Heats will be 25-minutes and we'll get through all of Round 1, as well as Round 2 Heats 1 – 11. Good luck to all our competitors today."

This is the highest-rated event in the first half of the WSL Hawaii/Tahiti Nui regional season with valuable points on the line to help competitors begin their run toward the Championship Tour (CT).

Contest organizers expect to finish Round 1 and get straight through Round 2 Heat 11 by day's end. The 25-minute, 4-man priority heats will be highlighted with some of the region's top QS talents in Round 1. Just a few names set to debut in Round 1 from the Hawaii/Tahiti Nui circuit; Da Hui Backdoor Shootout winner Tyler Newton (Heat 1), one of the top young talents in the world Eli Hanneman (Heat 2), former Big Wave World Champion Makuakai Rothman(Heat 5), Pipe specialist Eli Olson (Heat 7) and all-around threat Kai Lenny(Heat 8) are just a few standouts to watch for in the early goings.

The 2018 Volcom Pipe Pro will run on the four biggest and best days of surf within the holding period, determined by contest officials, and will be broadcast LIVE via worldsurfleague.com, the WSL app and volcom.com/pipepro. Tune into Spectrum SURF Channel for their live and replay television coverage of the 2018 Volcom Pipe Pro on digital channels 250 SD and 1250 HD across the state of Hawaii.

Fans can watch every minute of the Volcom Pipe Pro live and on-demand on Red Bull TV, available at redbull.tv or as a free downloadable app.

For more information about the Volcom Pipe Pro, visit worldsurfleague.comand volcom.com.

Volcom Pipe Pro Round 1 Match-Ups:
All surfers from Hawaii (HAW) unless otherwise noted.

Heat 1: Landon McNamara, Kaito Kino, Ryder Guest, Tyler Newtown
Heat 2: Eli Hanneman, Olamana Eleogram, Brodi Sale, Jackson Bunch
Heat 3: Koa Rothman, Robert Grilho, Takayuki Wakita, Kalani Rivero
Heat 4: Kala Willard, Noah Beschen, Chris Foster, Danny Fuller
Heat 5: Kyle Ramsey, Eala Stewart, Makuakai Rothman, Gavin Gillette
Heat 6: Love Hodel, Luke Adolfson, Joey Johnston, Anthony Walsh
Heat 7: Eli Olson, Makana Pang, Turo Ariitu (PYF), Eimeo Czermak (PYF)
Heat 8: Ezra Sitt, Kai Lenny, Kalani David, Sage Tutterow

About Volcom
Inspired by creative spirit, Volcom was founded in 1991 and creates products for the persistent who are true to their passions. We were born to chase what we are true to. It's not that we want to… WE HAVE TO. We have a vision that turns obstacles into opportunity, a creative courage to tempt the impossible… And embrace the strange. Telling us to push further…To try again. Endlessly seeking elevation, we are all connected by this same internal force. Forever we chase that intoxicating moment when our vision is realized…The world around us goes quiet…And for brief moments, we are more than alive. Volcom, True To This.

About Red Bull TV
Red Bull TV features beyond the ordinary live events and videos featuring inspirational stories covering sports, music and lifestyle entertainment. Anytime, anywhere. Red Bull TV is available on the web, connected TVs, gaming consoles, mobile devices, and more.
About the WSL The World Surf League (WSL) is dedicated to celebrating the world's best surfing on the world's best waves through a variety of best-in-class audience platforms. The organization, headquartered in Santa Monica, is a global sport with regional offices in Australasia, Africa, North America, South America, Hawaii, Japan and Europe.

The WSL has been championing the world's best surfing since 1976, annually running more than 180 global events across the Men's and Women's Championship Tours, the Big Wave Tour, Qualifying Series, Junior and Longboard Championships, as well as the WSL Big Wave Awards. The League possesses a deep appreciation for the sport's rich heritage while promoting progression, innovation and performance at the highest levels, and in doing so crowns the undisputed Men's and Women's World Champions across all tours.

Showcasing the world's best surfing on its digital platform at worldsurfleague.com, the WSL has a passionate global fan base with millions tuning in to see world-class athletes like Kelly Slater, Stephanie Gilmore, Tyler Wright, John Florence, Lakey Peterson, Paige Alms, Kai Lenny, Taylor Jensen, Honolua Blomfield, Carissa Moore, Gabriel Medina, Courtney Conlogue and more battle on the most dynamic field of play of any global sport.

For more information, please visit worldsurfleague.com.