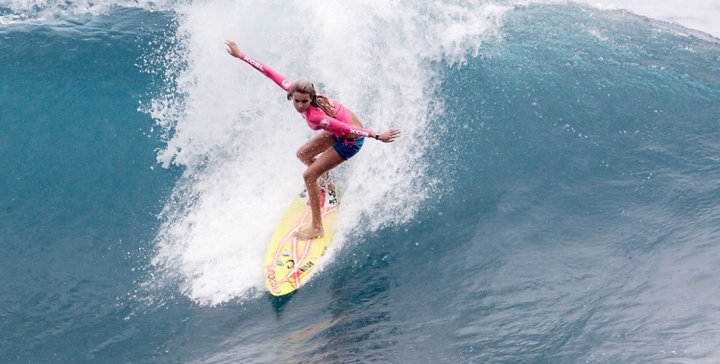 Don't miss The 2019 Surf n Sea Pipeline Women's Pro!
Presented by the North Shore Surf Girls Surf School and Banzai Betty Enterprises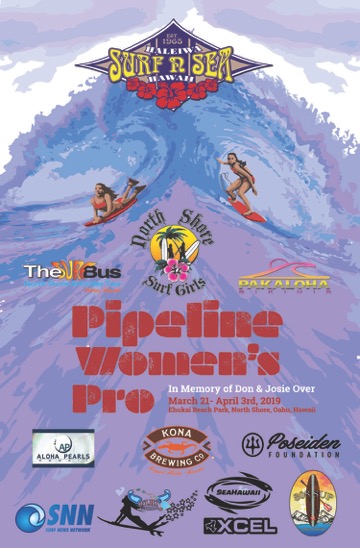 Waiting Period: March 21-April 3, 2019
What: Women's Shortboard, Longboard, and Bodyboard, One day 
Runs in conjunction with the NS Lifeguard Assoc. Body Surfing Contest, Two days
Who: Women who love Pipeline and charge the tube!
In Memory Of Josie Over
Time: 8am to 4pm, Best days of waves from 6 feet to 15 feet, face scale
Information: Surf News Network, 808-596-7873, facebookpipelinewomenspro
Prize Purse: $4,000.00 in Cash and Prizes
Mahalo to our Sponsors: Surf n Sea Surf Shop, The North Shore Surf Girls Surf School, Banzai Betty Enterprises, The North Shore Surf Bus Activities Tour, Pakaloha Bikinis, Aloha Pearls, 808 SUP, Surf News Network, North Shore News, Sea Hawaii, Xcel 
Artist: Mariela Acosta 
It's that time of year when the Wahine challenge themselves to the tubing waves of the Banzai Pipeline.
This years event will have Short boarding, Bodyboarding, and Longboarding in a one day format and runs in conjunction with the Body surfing competition, a total three days of surfing.
Surf n Sea Surf Shop in Haleiwa is the main supporter of the event and have been for many of the 22 years that the event has been organized.
The contest originally started in 1990 for Women Bodyboarders when a core group of wahine got together to organize the contest.
Later shortboard surfers wanted the challenge and were added on to the competition.
This year the event is non rated but still, there are a core group of ladies that want to surf the break! 
The North Shore Surf Girls Surf School are also onboard to support.
"Sponsoring this event is kind of a dream come true for me." explained owner Carol Philips, one of the original Pipeline contest organizers. " I love Pipeline and I'm humbled to be in a position to be able to support an event for women." Also founding wahine, Betty Depolito is working hard on providing this opportunity to the Wahine.  "This is another rare opportunity for the women to have an event on the North Shore. We are anticipating a great day of waves and look forward to a great experience for all the athletes." This will be the last year for a three year period due to the new permit structure. "We want to go out with a bang for now", said Depolito. "We do hope that there will be another opportunity with another organization to have a Women's Pipe event, I think that more and more girls want to be a part of Pipeline. Especially the bodyboarders who excel at the break."
     The contest is in Memory of Josie Over who was a well-known actress and a bodyboarder herself. Her husband Don Over set up a fund in her honor many years ago to have an event at Pipeline for Women bodyboarders. "Josie was on the original TV shows, Magnum P.I., Hawaii Five-O, Jake and the Fatman and more. She died of cancer in 1992", remarked Carol Philips. "It's nice to bring back the memory of Don's beloved wife, Josie." 
On board, this season is the Poseidon Foundation. This foundation mentors kids and plan on going to a few schools to do outreaches in the Hawaii community to inspire the youth.
Nika Washington (
https://theboardr.com/profile/6558/Nika_Washington
) and from Hawai,i Hiro Itto & Kody Tamanaha. There will also be a BBQ gathering with the skaters and surfers at Banzai Skate Park on the North Shore on March 31st. Everybody is welcome!  They will also be supporting the Waikiki walk, "Kids Hurt Too" on the 30th the day before. The Poseidon Foundation conducts skate and surf clinics, contests and tours. They are an extreme sports-oriented group but are now reaching out to environmental clubs as well and mentoring keiki and teaching them about their environment!