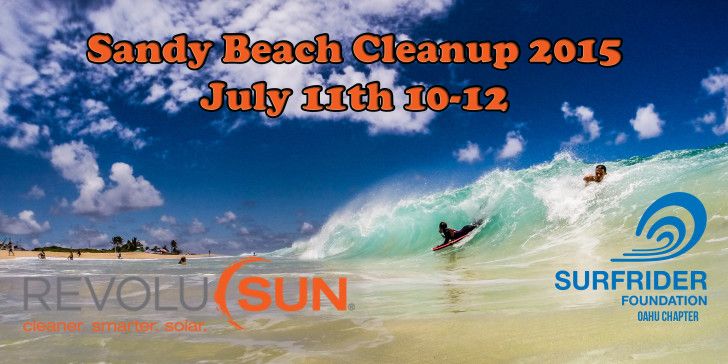 On Saturday July 11th, Surfrider Foundation – Oahu Chapter & RevoluSun return to Sandy Beach for our annual cleanup and day in the summer sun. Join us from 10-12 and help us keep the world's most famous bodysurfing beach clean.
Our amazing partner Revolusun will be rewarding volunteers with special event t-shirts, prizes, and a lunch after we mālama this beautiful stretch of sand.
We'll be cleaning the main beach as always, but we also want to cover the coastline towards Alan Davis as our partners @808 cleanups continue to battle the after effects of pallet bonfires along the Ka Iwi Coastline. Bring your magnets, sand sifters, and gloves to makes sure we get as many nails out of the sand as we can.
Last month we cleaned nearly 2000 lbs of trash and debris from the slopes of Diamondhead and its beaches. Rally the family, gather your friends, and join us for another huge volunteer effort.
Don't forget your fins and sponges for a cool down session post cleanup.
Aloha and mahalo to all our volunteers for your continued support!