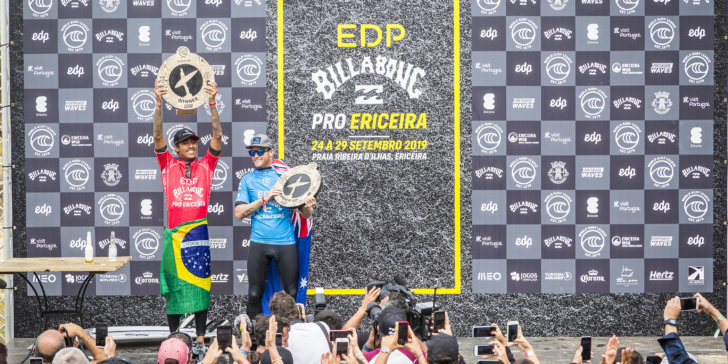 Samuel Pupo claims the career-defining win and integrates QS top 10

Stu Kennedy turns the season around with huge result in Portugal

Legends Taj Burrow and Tiago Pires take it to the lineup on finals day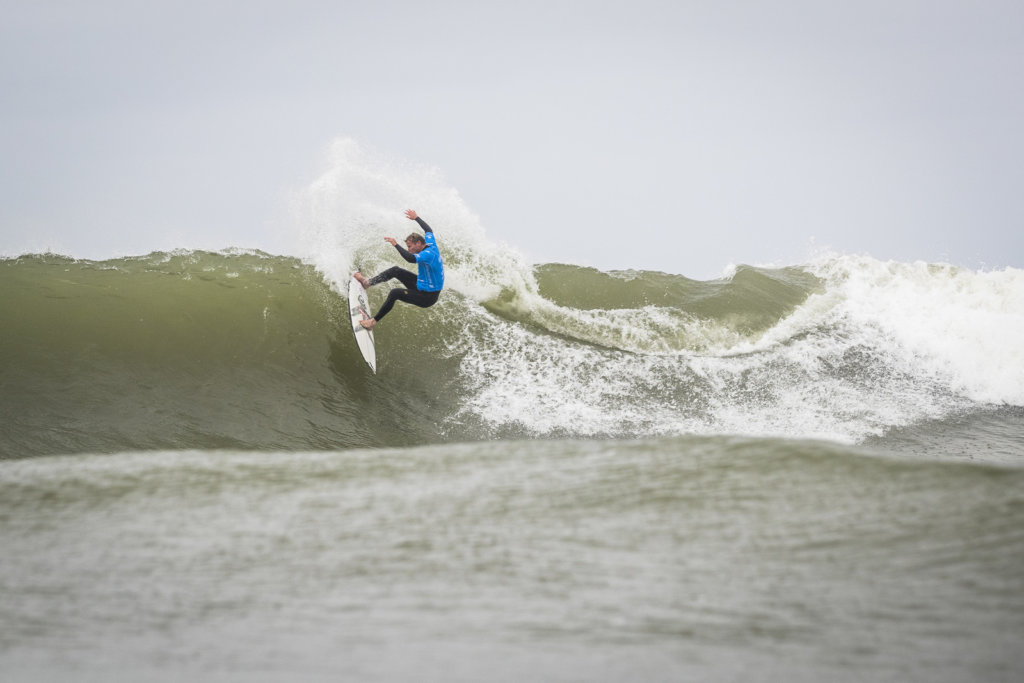 Taj still ripping. Credit: © WSL /  Poullenot
PRAIA DE RIBEIRA D'ILHAS, Ericeira / Portugal (Sunday, September 29, 2019) – Samuel Pupo (BRA) has won the QS10,000 EDP Billabong Pro Ericeira in exciting fashion today, claiming victory in the Final bout against Stuart Kennedy (AUS) held in three-to-four foot rights at Ribeira d'Ilhas.

The final stop on the 2019 World Surf League (WSL) European Qualifying Series (QS), the EDP Billabong Pro Ericeira has been treated to an abundance of swell and incredible performances by some of the world's best surfers both on the Championship Tour and Qualifying Series, culminating today with Pupo's victory.

"It's been an amazing week here at this contest," Pupo said. "We got all types of conditions and I'm just so glad to get my first win on the QS. I'm super happy to be here with my brother and all my friends who have been helping me, it's been incredible their support through every single heat. Stu is an amazing surfer and I never counted him out, even with 3 minutes left I knew he was capable of getting that score."

This result comes as a confirmation of the young natural foot's current form as he put together an impressive European leg with back-to-back 9th place results in Pantin and Azores and his major victory today in Ericeira. The 19 year-old came to Galicia as an alternate and turned his season around with brilliant surfing which catapulted him into qualifying talks as he leaves Portugal ranked 9th in the Qualifying Series.

"It's just crazy how things go in surfing," Pupo continued. "I don't even want to think about the qualification, I still have so many things to figure out before I get to Hawaii. I really just want to go home and see my family now, get some rest and get back to work. I've been stressing less and enjoying myself a lot more in the water and I think that was key."

Pupo's victory comes only a few weeks after his older brother and former CT surfer Miguel Pupo (BRA) claimed his own QS10,000 win at the ABANCA Galicia Classic Surf Pro.

Pupo and Kennedy took it to the lineup on the incoming tide for the Final, with three-to-four foot rights peeling down the point and virtually no wind. They both started with a 6+ score to get their feet in the wax, but it was Pupo who swiftly changed gears to nail a combination of aggressive turns and post two excellent scores of 8.50 and 8.07, his opponent requiring a near-perfect score.

Kennedy tried his best with the cards he was dealt but his wave-selection was slightly off and he could never really challenge the Brasilian for the lead. As time ran away, the situation remained and Pupo claimed the biggest win of his young career in Ericeira, his first on the Qualifying Series.
 The emotion was palpable as the two brothers celebrated their historic rise to the top of the Qualifying Series with back-to-back QS10,000 victories.
Credit: © WSL /  PoullenotAfter two seasons on the Championship Tour, Stuart Kennedy (AUS) fell off tour and struggled ever since to put together a big qualifying campaign on the QS. The runner-up today and 8,000 points could turn his year around as he jumped 35 spots up into 15th place on the rankings, with a good shot at cracking the Top 10 with a big finish in Hawaii.

"I can't give up now if I'm making finals!" Kennedy said. "Hopefully I can get back on the tour and make some damage up there, I'd love to make the tour with Connor O'Leary (AUS) cause I've put a lot of focus into helping him and it'd be great to share this with him. The Brazilians have overtaken the world with all their event wins and we're just trying to keep up."

In a battle of youth, Jacob Willcox (AUS) came up just short in the opening Semifinal against Pupo, despite having his chances in the lineup. The talented goofy foot from Western Australia continued to slay the long open walls of Ribeira d'Ilhas and combined big vertical hits on his backhand on his best wave. He unfortunately narrowly missed the last section to post an 8.00 which begged the question: could it have been the score if he landed his last big turn?

Either way Willcox will leave Portugal with a career-best result and 6,500 more ranking points to his name, moving all the way up to 23rd on the Qualifying Series to cement his spot in the remaining big events of 2019 and even an outside shot at a Top 10 finish by year's end.

"It's a great way to end up my European leg for sure," Willcox said. "It hurts a little bit, I can't stop thinking what if I didn't fall on that turn, and if on my 5.8 I did another good snap instead of that floater I might have been close to the win. But congrats to Sammy he's been surfing great. It's been a really fun event and I'll take a lot of positive out of it and towards Hawaii."

In the second Semifinal, two more experienced surfers took it to the lineup and the current World No. 22 Yago Dora (BRA) finally succumbed to the CT curse that saw 17 Championship Tour surfers fall out of the draw in Ericeira, this time the executioner was Kennedy.

After a huge win at the Vans US Open of Surfing and a runner-up at the Oi Hang Loose Pro Contest earlier this year, Dora adds a third major result to his 2019 QS campaign and has taken a massive leap towards defending his spot on the Championship Tour for 2020, sitting second on the QS after Ericeira.

"My goal was to re-qualify for the CT next year and I believe I did that so yeah I'm super happy," Dora said. "It hurts to be that close and not make the Final but Stu has been surfing so good he deserves to be on that Final. Yesterday I honestly thought I'd lost the heat with 30 seconds remaining and that's another lesson for me to just never give up and have faith."

In between the Semis and Final of the EDP Billabong Pro Ericeira, the 'You and the Sea Heritage Heat' brought back two legends of the sport for a special heat between Taj Burrow (AUS) and Tiago Pires (PRT). Both surfers put on an amazing show, clearly showing they have lost nothing of their past magic as they ripped apart the long rights of Ribeira d'Ilhas. Burrow's progressive turns came up stronger than Pires' experience in his home lineup and eventually the Australian took out the heat.

With the completion of the EDP Billabong Pro Ericeira.

The global Qualifying Series rankings have been drastically altered, here's the new current Top 10:

Men's Qualifying Series Top 10:
1 – Jadson Andre (BRA)
2 – Yago Dora (BRA)
3 – Alex Ribeiro (BRA)
4 – Miguel Pupo (BRA)
5 – Jake Marshall (USA)
6 – Frederico Morais (PRT)
7 – Jorgann Couzinet (FRA)
8 – Connor O'Leary (AUS)
9 – Samuel Pupo (BRA)
10 – Deivid Silva (BRA)

With two double-qualifiers at the moment in Silva and Dora, this opens up two spots for Matt Banting (AUS) and Barron Mamiya (HAW) who would be qualified for the 2020 Championship Tour if the season ended today.

The next and second-to-last QS10,000 of the season will be the Hawaiian Pro at Haleiwa from November 13-24, 2019.

The EDP Billabong Pro Ericeira will be broadcast LIVE on worldsurfleague.com, the free WSL app and WSL Facebook Live. Also, check local listings for coverage from the WSL's broadcast partners.

The EDP Billabong Pro Ericeira is scheduled from September 23-29, 2019 in playa de Ribeira d'Ilhas, Ericeira / PORTUGAL. For all results, photos, video highlights and press releases, log on to worldsurfleague.com.

The EDP Billabong Pro Ericeira is supported by EDP, Billabong, Tourism of Portugal, Mafra City Council, Ericeira World Surfing Reserve, MEO, Jogos Santa Casa, Corona, You & The Sea Hotel and Apartments, Turkish Airlines, Brisa, Auto Estradas do Atlântico, Via Verde and Hertz.