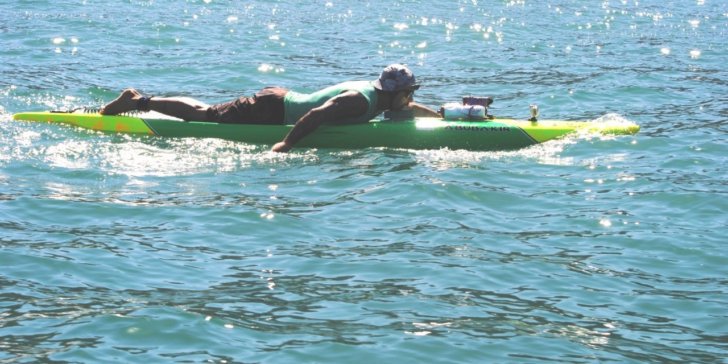 M2O VIRTUAL 2.0 EDITION – This coming Friday-Sunday JULY 23-25, 2021
2021 VIRTUAL EDITION 2.0 –  OPEN TO ALL PADDLERS: ANYWHERE, ANYTIME, ANYTHING
16 miles. Open to ALL paddlers SUP, PRONE,FOIL, OC1, SURFSKI, or anything you can paddle.
NO awards just bragging rights and great schwag.
The event is a virtual paddle open to ANYONE, ANYWHERE.
Recruit your training partners, friends and family.
Each athlete is purchasing an event package that includes a swag bag of M2O goodies and the option to upload their 16 mile paddle to our website for bragging rights.
You can team up with friends and family to relay.
In the end we just ask for the final upload race weekend to include WHERE you paddled, WHAT you paddled and with WHOM you paddled with if doing a relay.
Time and conditions also for more bragging rights.
Relay teams up to four paddlers accepted. Race in your favorite M2O jersey or gear.
All entrants will be mailed an official M2O swag bag with race t-shirt, race hat and towel.
Entry fee includes shipping.

PLEASE consider using a U.S. address for shipping of M2O Virtual gear for faster delivery and cost savings. 
Due to challenges with shipping internationally during the Covid-19 crisis, we will not be able to ship to South America this year.
Gear is scheduled to ship out between July 5-July 15 for all orders received by June 15.  For orders received after this date, product is not guaranteed to ship prior to the July 25th Virtual Edition. ALL athletes will be invited to share and upload their experience so we can share via our social channels and also create a few user content webisodes showcasing our paddlers globally.  All athletes will be provided with GPS Tracking options and upload information for final results within a few days of the Virtual Wrap Up.
  TENTATIVE DOWNWIND RACE ON OAHU
We appreciate your patience as we work to secure permits and insurance for a modified downwind race in July on O'ahu; while complying with Hawaii's Covid-19 restrictions and safety protocol. The State of Hawaii will lift a number of restrictions beginning June 1, 2021. The M2O team is exploring a 16 mile downwind shoreline race on O'ahu for weekend of July 25th.
Contact info@molokai2oahu.com with any questions.