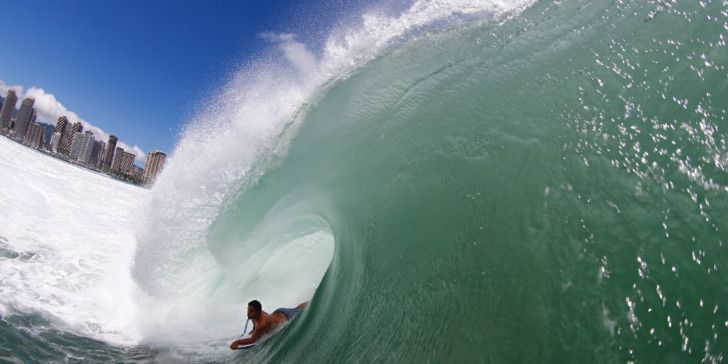 We're going to have small surf at 1-2+' from the SW Taz swell…it'll be lully but fun with moderate to brisk ENE Trades with High tide in the dawn hours. SNN.
Keanu Cazimero pulls in deep at Ala Moana Bowls. Credit: Heff/Freesurf
Haleiwa, Oahu, HAWAII – (August 2, 2016) — The first event of the Kellogg's Hawaii Bodyboarding Pro Tour will commence at the iconic South Shore wave, Ala Moana Bowls, this Friday and Saturday (August 5-6) with up to $10,000 in prize money up for grabs. Over 100 competitors will battle in 6 divisions: Men, Women, Drop Knee, Junior, Standup and Masters during the Ala Moana Bowls Challenge at Magic Island.
The premise for the Hawaii Bodyboarding Pro Tour – sanctioned by the Association of Professional Bodyboarders (APB) – is twofold: to provide a competitive arena to showcase the tremendous local talent and to prepare the athletes for the world stage of competition.
"This is the 4th year of our Hawaii Bodyboarding Pro Tour, and our events continue to gain momentum," said contest organizer Norm Skorge. "We are committed to hold our events in the best possible surf conditions at surf spots particular to the needs of bodyboarders, which is all about boosting airs and being acrobatic. As one of our tour stops, Bowls is perfect!"
Ala Moana Bowls, a popular freesurf and contest location, is notorious for barrels, carvable faces and enough power for high airs when a strong south-southwest swell is on tap.
"Bodyboarding as a sport is best showcased in this way," Skorge continued. "Our Hawaii pros are among the best in the world."
Entries are showing a talented if not legendary field of competitors, including nine-time World Champion Mike Stewart, six-time World Champion Guilherme Tamega, 2015 Hawaii Pro Tour three division-winner Sammy Morretino, current World Tour Junior's leader Tanner McDaniel, and Karla Costa, a former World Tour champion. Contest Director Ben Severson and Head Judge Pat Caldwell are both living icons of the sport.
The points accumulated at the 2016 Bowls Challenge will influence the seeding at the 2017 Mike Stewart Pipeline Invitational, which is set to run between March 25 – February 10.
"Our events can't happen without our great sponsors," said Skorge. "Kellogg's is the Tour's title sponsor, and has been since the beginning. Our presenting sponsors for the Bowls Challenge are Cutter Auto, Science Bodyboards, O.N.E Coconut Water, Pulp Surf sustainable designs and Cerave Sunscreen."
Stay tuned to the Hawaii Bodyboarding Facebook page for updates.