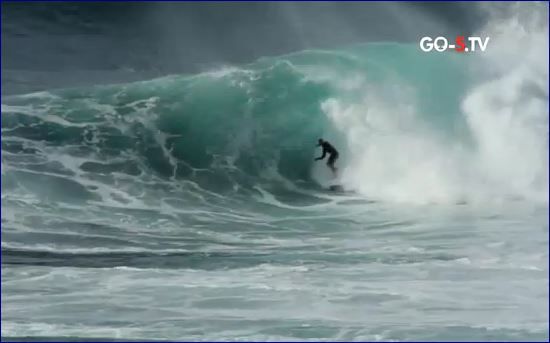 The Kelly Slater show at the Cave
'It is the best stuff I've seen from neck deep in very long time'
By Ben Mondy. GrindTV.
Kelly Slater has recovered from his shocking early round loss (and board breaking rage) at the Moche Rip Curl Pro by logging another groundbreaking freesurfing session in Portugal. "I turned up and it was 10-foot and perfect and just Kelly out," legendary water photographer Timo Jarvinen told GrindTV. "I suited up and paddled out and made it for a massive bomb. Kelly stood tall in the tube, and I reeled off a 40 shots sequence."
The wave is called the Cave, and while Kelly made it look easy in the clip above, this is an extremely dangerous wave. "It's a super heavy slab," continued Timo. "There are pinnacles of rock sticking up everywhere, and the surfers would sometimes have to take a high line in the tube, just to avoid the rocks."
Kelly had surfed the place once about three years ago, but at a much smaller size. Back then he saw the potential of the wave saying it was one of the most underutilized waves in the world and if he lived there he'd surf it every day.

Timo, who has been shooting with Kelly Slater for more than 15 years, placed this session as one of his all-time best. "It is the best stuff I've seen from neck deep in a very long time. To get a session like that, with the waves, the light, and the talent is very rare. I had one epic day with Kelly in Tahiti at the massive right in 2011, but this was up there with that."
Kelly was joined by Basque surfer Aritz Aranburu and Hawaiian Sebastian Zietz, but it was the 42-year-old who stole the show. "Kelly surfed for almost five hours, right through the tide and made every wave," said Timo. "By the end he was playing with it, doing airs on the dry end section and stalling in the tube. A week after schooling the youngsters with that 540 he was dominating again. It was special to watch."