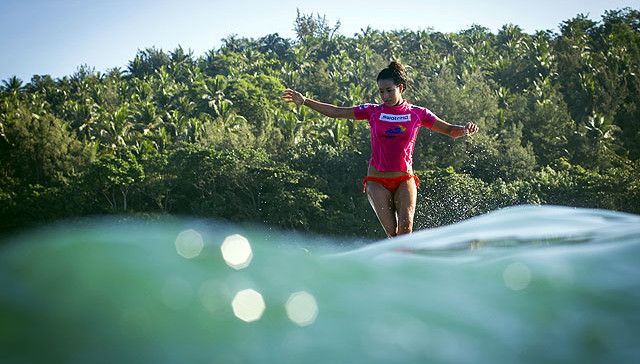 Multiple World Champ Kelia Moniz withdraws after injuring face.
Photo: Kelia Moniz © ASP/Poullenot
Slip-and-fall during Maldives boat trip injures Kelia's face, jaw
Surf News Network, 16 November, 2015 – Wanning, Hainan Island, China – Two-time WSL Longboard Champion, Kelia Moniz (HAW), has been forced to withdraw from the upcoming Jeep World Longboarding Championship hosted by Wanning, China.
The 22-year-old Hawaiian was on a recent boat trip to the Maldives and injured her face after she slipped on the boats deck in heavy rain.
"A bunch of us were hanging on the back deck, it was pouring rain and the deck was pretty slippery, I got really unlucky and slipped straight on my face," said Moniz. "I knocked out a couple of my teeth and busted my lip in half. I wish the story behind it was little more interesting but no, I just slipped."
After seeking medical attention, Moniz was given the news that not only surfing, but also competing at this year's event would not be an option.
"The bone in my gum broke pretty badly, so the doctors have been stressing to me that staying away from any sports from he next two months is important if I want a normal smile again. They say about six-to-eight weeks for my bone to heal properly, but my lip is almost fully healed, and as for teeth, it'll be about eight months."
After making the Final in China four years running, the decision to miss this year's event has been a difficult one for Moniz to come to terms with.
"It's a real shame to miss this year's event. It's always such a good way to end the year and also bring in the New Year. It's the only event I do all year so I really look forward to it and of course having that little battle with Chelsea Williams for the past four years. I'm sad I'm missing the fun this year."
"I think Riyue Bay is an incredible wave for a longboard event. It's open, there are cute little pockets for nose riding and it's a long wave. Of course I'm bias because it's a left point and I'm a goofy-footer. Chelsea will be hard to beat out there, she is such a talented surfer, a lot of power and style."
Fortunately for Moniz, and all surf fans, this year's contest will be webcast live on worldsurfleague.com, meaning not a minute of the action will be missed.
"I will definitely be glued to the webcast. I'm so happy I don't have to painfully just watch scores drop and we can all enjoy watching these ladies put on a show. You know I'll be cheering for my Hawaii sisters Geodee, Crystal, and Stacia. I can't wait to watch."
The Jeep World Longboard Championships hosted by Wanning will run from December 5 – 12. Visit worldsurfleague.com for more information and for the live webcast.