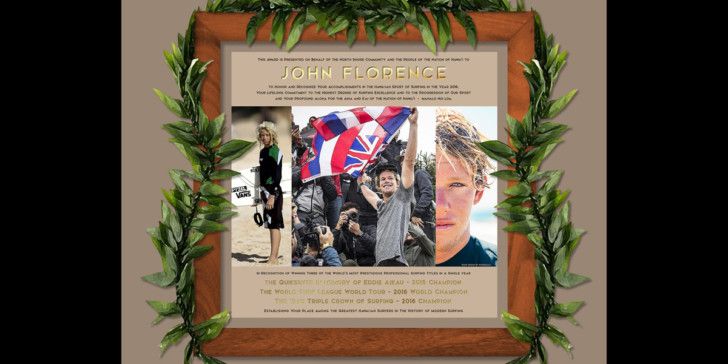 …For his Record Setting 2016 Surfing Performance with a Pono Award!
Surf News Network, 10 March, 2017 – The worlds favorite Hawaiian surfer, John Florence, was recently presented with a special award in recognition of his record-setting professional surfing performance last year. The Pono Award recognizes John for winning three of professional surfing's most prestigious titles -within a single year, the Quiksilver in Memory of Eddie Aikau (Feb 25), the World Surf League World Tour Championship (Oct 25) and the Vans Triple Crown of Surfing (Dec 19).
John Florence is the first & only surfer in history to win all three of these prestigious titles in a single year. The Pono Award was presented to John Florence on behalf of the North Shore community where he grew up and on behalf of the people of the nation of Hawai'i, Ke Aupuni o Hawai'i, The Hawaiian Kingdom.
The special award is a 3 by 3 foot, Koa framed, archival poster of John Florence smiling & holding up the Hawaiian National Flag (hae Hawai i) in victory just after he learned that he had won the 2016 WSL World Surfing Tour Championship Title on October 25th 2016 while competing in Peniche, Portugal. The picture is flanked by a picture of John John as a 10 year old north shore grom and as John Florence, pro surfer and the WSL 2016 World Surfing Tour Champion.
Above the award the inscription reads – "This Award is Presented on Behalf of the North Shore Community and the People of the Nation of Hawai'i to John Florence to Honor and Recognize Your Accomplishments in the Hawaiian Sport of Surfing in the Year 2016, Your Lifelong Commitment to the Highest Degree of Surfing Excellence and to the Progression of Our Sport and Your Profound Aloha for the Aina and Kai of the Nation of Hawai'i  –  Mahalo Nui Loa"