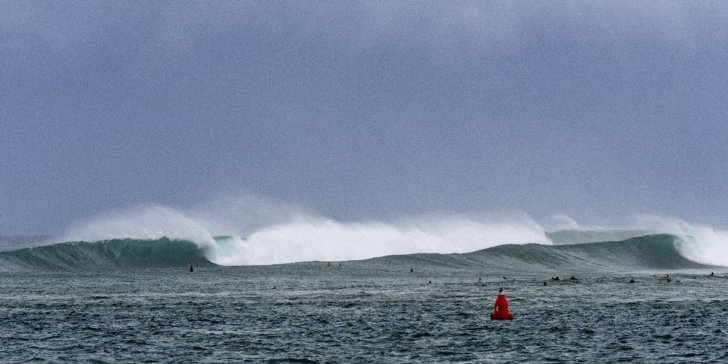 Hawaii/Tahiti Nui Contingent Converge at Famed Haleiwa
CT Standouts Join Emerging and Proven Qualifying Series Competitors
Hawaii Tourism Authority and HIC Bring All-Important Competition Back to North Shore
Pictured front page:
 The iconic wave of Haleiwa is back to provide a pivotal stop for the Hawaii/Tahiti Nui Qualifying Series beginning November 26 – December 2. 
Credit
: © WSL / Keoki
HALEIWA, Oahu, Hawaii (Tuesday, November 7, 2023) – The World Surf League (WSL) is back at the world-renowned lineup of Haleiwa for The Hawaiian Islands HIC Haleiwa Pro, a Hawaii/Tahiti Nui Qualifying Series (QS) 1,000-level event, with the island's top-tier competitors looking to make their move. Following The Hawaiian Islands Present the Sunset Pro, Keala Tomoda-Bannert (HAW) and Mihimana Braye (FRA) overtook the Hawaii/Tahiti rankings and now look to capitalize on another regional opportunity. The Hawaii Tourism Authority and HIC have combined forces to bring one of the world's most renowned breaks of Haleiwa back to competition and provide another massive opportunity for competitors.
"We're so excited to be adding Haleiwa to the Regional Qualifying Series," said Hawaii/Tahiti Nui Regional Director Robin Erb. "Just as Oahu is the gathering place of the Hawaiian Islands, Haleiwa Ali'i is a place where our North Shore community comes together around surfing. We're grateful for the opportunity to be a part of Haleiwa's rich heritage of competition, and looking forward to determining some key qualifiers with this event."

This will mark the last women's QS event of the season to determine who qualifies for the 2024 Challenger Series, as well as the last event to determine both men and women's regional representation at the World Junior Championships.
Pictured:
 Nora Liotta (HAW) left Sunset ranked No. 1 on the Hawaii/Tahiti Nui rankings. 
Credit
: © WSL / Heff
Following the Hawaiian Islands Present the Sunset Pro, the Hawaii Tourism Authority join with Hawaiian Island Creations (HIC) to bring QS competition back to Haleiwa. This marks a momentous event at one of the world's premier waves and will feature the likes of Championship Tour (CT) competitors, Challenger Series standouts, and emerging QS competitors all looking to put their name in surfing history.
"HIC is excited to continue our support of competitive surfing in Hawaii at both the amateur and professional levels," said HIC Brand Manager Mitch McKewn. "We're proud to work alongside the WSL to create a launching pad for Hawaii's surfers to pursue their dreams of qualifying for the Challenger Series and Championship Tour."
Fresh off wins at Sunset Beach, Shion Crawford (HAW) and Nora Liotta (HAW) look to continue their momentum with Liotta looking to solidify her place among the Top 3 for a place among the 2024 Challenger Series contenders. But, recent runner-up behind Crawford and Liotta, Billy Kemper (HAW) and Keala Tomoda-Bannert, (HAW) respectively, are back for more with Kemper looking to strike once again at home and Tomoda-Bannert to cement herself atop the regional rankings. Adding their name to the mix, Joshua Moniz (HAW), Chesney Guinotte (HAW), Merrik Mochkatel (HAW), Luke Tema (HAW) and more are set to contest for valuable points near home.

Also, CT competitors Barron Mamiya (HAW), Bettylou Sakura Johnson (HAW), and Gabriela Bryan (HAW) are set to take on the region's best contenders while looking to stay sharp ahead of the 2024 CT season that begins on the North Shore.

The Hawaiian Islands HIC Haleiwa Pro will run on the best three days of the event window beginning November 26 – December 7.
About the WSL
The World Surf League (WSL) is the global home of competitive surfing, crowning the World Champions since 1976 and showcasing the world's best surfers on the world's best waves. WSL is comprised of the Tours and Competition division, which oversees and operates more than 180 global competitions each year; WSL WaveCo, home of the world's largest high-performance, human-made wave; and WSL Studios, an independent producer of unscripted and scripted projects.For more information, please visit WorldSurfLeague.com.About Hawaii Tourism Authority 
The Hawaiʻi Tourism Authority is the state agency responsible for representing The Hawaiian Islands around the world, and for holistically managing tourism in a sustainable manner consistent with community desires, economic goals, cultural values, preservation of natural resources, and visitor industry needs. HTA works with the community and industry to Mālama Hawaiʻi – care for our beloved home. For more information about HTA, visit hawaiitourismauthority.org or follow @HawaiiHTA on Facebook, Instagram, Threads and Twitter.About HIC 
In 1971, Stephen and Jimmy Tsukayama, opened a small surf shop on Uluniu Street in Kailua Town on Oahu's Windward coast – and Hawaiian Island Creations was born. Fifty years and thousands of surfboards later, the company has grown to include 16 stores across Oahu, Maui and Hawaii Island; providing authentic Hawaiian surf gear to both locals and visitors alike. Through a commitment to quality, service and aloha spirit, HIC has built a reputation as an icon of Hawaiian surfing recognized by surfers across the globe. Enjoy the ride wherever you may be with HIC clothing and accessories shipped direct to you, from Hawaii with aloha.