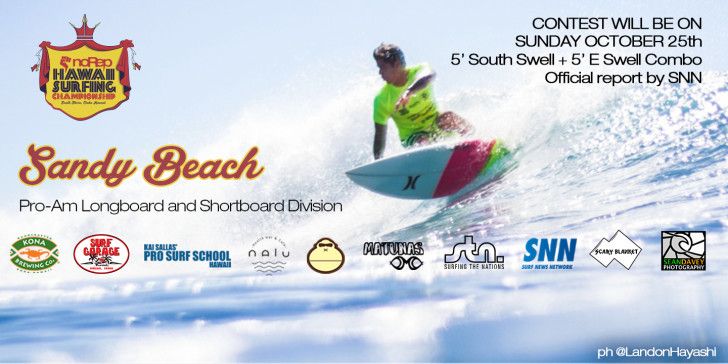 Sandy's Half Point took first place at the Hawaii Surfing Championship!
The Hawaiian Surfing Championship started off at Full Point Sandy's in great conditions and just got better. Halfway through the day when the swell filled in and the tide got just right it shifted over to Half Point and the competitors could not have been more amped! When the first longboard heat paddled out at Half Point, Nelson Ahina started it off with an aerial Superman attempt and the crowd on the beach erupted and didn't sit down until the contest was over!
It was about as good as it got for Sandy's: spitting barrels peeling left and right. In the shortboard division, Sandy Beach regular Kekoa Cazimero took first place with a backdoor barrel on the left that earned him a 10 point ride. Kainoa Haas was also on fire, finishing second after nearly landing a rip rodeo flip.
For the longboard division, Nelson Ahina was unstoppable and was manhandling Half Point. Scotty Fong also put on a great show with super long barrel rides.
By winning both of their divisions, both Ahina and Cazimero became the 2015 Hawaii Surfing Championship Champions, earning a Sean Davey canvas to go with their prize purse.
Congrats to all the competitiors for coming out and putting on an epic show. The real winner was Sandy Beach for providing epic conditions to showcase Hawaii's incredible surfers competing at the highest level.
Towards the end of the day, a special moment came when Isaiah Moniz was awarded the Mana Walthall award for his mana and aloha, taking home one of Mana's original prints. Then, right after sunset Humble Soul lit up the beach with a live concert to wrap up a perfect day.
A special thank you goes out to the sponsors:
noRep Boardshorts
Surf Garage
Kona Brewing Company
Kai Salas Surf School
Matunas Surf Wax
Nalu Health Bar & Café
Scary Blanket Productions
Sean Davey Photography
And our Judging Panel:
Makani Mcdonald, Kristian Mcdonald, Renee Harada, Anthony Ferriero and Noa Terada-Pagdilao.
We couldnt have done it with out them.
Positions:
Shortboard Division:
1st Place – Kekoa Cazimero
2nd Place – Kainoa Haas
3rd Place – Kaito Kino
4th Place – Isaiah Moniz
Longboard Division:
1st Place – Nelson Ahina III
2nd Place – Makamae Desoto
3rd Place – Kai Sallas
4th Place – Scotty Fong Jr.
Congratulations to Kekoa Cazimero and Nelson Ahina for becoming the 2015 Hawaii Surfing Champions!
Photo credits: Scary Blanket Productions
The Hawaii Surfing Championships is ramping up for the last stop on its summer tour of the South Shore.   Finishing up this summer at Sandy Beach.  Come down and watch some of Hawaii's finest surfers compete in what we hope will be epic conditions at one of the most storied competitive surf spots on Oahu with a 5' South Swell and a 5' East Swell, official report brought to you by Surf News Network.
Josh Moniz (shortboard) and Nelson Ahina (longboard) have the outright lead so far this summer.  Defending champions  Kekoa Cazimero and Kai Salas are gunning to keep the title for another year. This year overall winners will walk home with an original fine printed canvas by legendary photographer Sean Davey!
Hawaii Surfing Championship is supported by noRep boardshorts, Kona Brewing Company, Matunas Surf Wax, Surf Garage, Kai Salas Pro Surf School, Nalu Health Bar & Café, Sun Bum, Scary Blanket Productions, Sean Davey Photography, & you!
For more event details, dates, times and the leaderboard check out the Hawaii Surfing Championship web site.
Spots still available, if you'd like to enter the competition, the entries can be found here:
To enter the Shorboard division go here:
http://www.norepboardshorts.com/products/2015-hsc-shortboard-entry
To enter the Longboard division go here:
http://www.norepboardshorts.com/products/2015-hsc-longboard-entry